My gosh! Nu är jag tillbaka igen efter en rejäl förkylning. Jag trodde verkligen att jag hade klarat mig undan den där influensan, men sedan i söndags har jag inte haft någon röst och det satte sig främst på stämbanden denna gång. Plus att vårt internet inte fungerat. Snacka om mood kill när man kommer hem från en mässa med massor av blogglust och inspiration.
---
Förra helgen befann jag mig på årets upplaga av Daisy Beauty Expo, Sveriges bästa skönhetsmässa. För tredje året i rad hölls mässan i Tändstickspalatsets lokaler med 100 skönhetsnördar i form av bloggare och journalister tillsammans 35 varumärken som presenterade massor av spännande nyheter. En plats med så mycket kärlek och gemenskap så jag inte ens vet var jag ska börja…
Här kan du läsa om Daisy Beauty Expo > 2015 och > 2016.
Jag ber om ursäkt i förhand för bilderna, då årets mässa var så fullspäckad med både så många utställare och mysiga bloggkollegor så jag missade att fotografera en hel del och vissa bilder är urkassa, jag blev överväldigad helt enkelt.
Eucerin
Jag började att hälsa på ett av mina absoluta favoritmärken, Eucerin eftersom de erbjöd hudscanning, då jag hade planerat att göra en ansiktsbehandling ville jag göra scanningen först. De presenterade även sin nya serie Elasticity + Filler, en serie för mogen hy med arganolja. De lanserar en dag- & nattkräm samt ett oljeserum som efter scanningen visade sig inte skulle passa mitt ansikte då jag redan är ganska oljig. Fick reda på att jag har väldigt bra med fukt och talgproduktion, men är ändå lite yttorr nu på vintern. Resultatet var dock mycket bättre än vad jag hade väntat mig. Det märks sån skillnad när jag är noga med hudvården!
Atache / Vita Liberata / Kiss Broadway / Fabby
Christian Hallberg Cosmetics heter företaget som distribuerar märkena Kiss Broadway, Vita Liberata och Fabby. Nu presenterade de ett nytt spanskt salongsmärke; Atache. Det var hos Atache jag fick min ansiktsbehandling i form av en djuprengöring och en boost med vitamin C. Det var superskönt och efteråt kändes min hud helt underbar! Vita Liberata visade upp sin nyhet "Ten minute tan" som man kan applicera och tvätta bort efter bara 10 minuter! Kiss Broadway visade upp sina fina Blooming Lashes som jag redan testat och gillar jättemycket! Fabby var också där med sina glasfilar som jag aldrig hann få tag i på förra expot, men i år fick jag tag på både finger- & fotfilen!
Makiash / Ellos Beauty
Makiash är ett av sminkmärkena jag har varit sugen på att testa länge, men inte gjort det pga. att ingen svarat på mina mail jag skickat. Märket är skapat tillsammans med modeller då de har bra koll på vad som funkar och inte framför kameran. Jag fick själv välja produkter att testa, vilket ska bli så kul! De hade också en superfin inspirationsvägg och bjöd på världens sötaste cupcakes.
Ellos visade upp sitt eget skönhetsmärke Ellos Beauty där det ingår allt från handtvål till smink och kroppsvårdsserien Sense of Karma som nu också har träningskläder. Skapligt paff jag blev när min barndomsvän Sassa dök up bland modellbilderna på sidan, hon är en grym hälso- & träningsbloggare – den enda jag kan följa utan att må dåligt över mig själv! Jag önskar att jag hade självdisciplin nog att börja med yoga, tror det skulle vara bra för mina hjärnspöken. Okej, nog med sidospår… Fick tyvärr ingen bra bild på Sense of Karma-produkterna, men jag fick med mig några hem som jag givetvis ska skriva om.
Cinq Mōndes
Hos det franska SPA-märket Cinq Mōndes fick jag och sambon (ja, han var med på mässan ❤️) varsin handmassage med en av deras produkter. Produkterna är likt Rituals indelade efter olika ritualer hämtade från hela världen. Skämmigt nog har jag inte ens tittat i deras presspåse ännu, men jag tror att vi fick med oss samma smältande balm som hon använde. Jag blev helt klart mer nyfiken på märket!
Rosenserien
Ett märke som jag inte hört mycket om/från sedan min moster hade egen skönhetssalong är Rosenserien. Men de har också steppat upp sitt game och visade upp sina ekologiska produkter, bland annat en havtornsolja för kroppen och en hel hudvårdsserie för män. Sambon fick några produkter att testa.. och något vi planerat länge är att han ska få gästblogga om de produkter han testar. Kul va?
Garnier
Det var omöjligt att fånga Garniers fantastiska arrangemang med brännvidden på mitt objektiv, men hos Emilie kan ni se det bättre. De bjöd också på en hel del nyheter som vi fick med oss hem, de kompletterar bland annat med duschkrämer till de kroppsvårdsserier de lanserade i fjol, nya hårvårdsserien Maple Remedy och även handkrämer som sambon fick testa med ytterligare handmassage.
Dior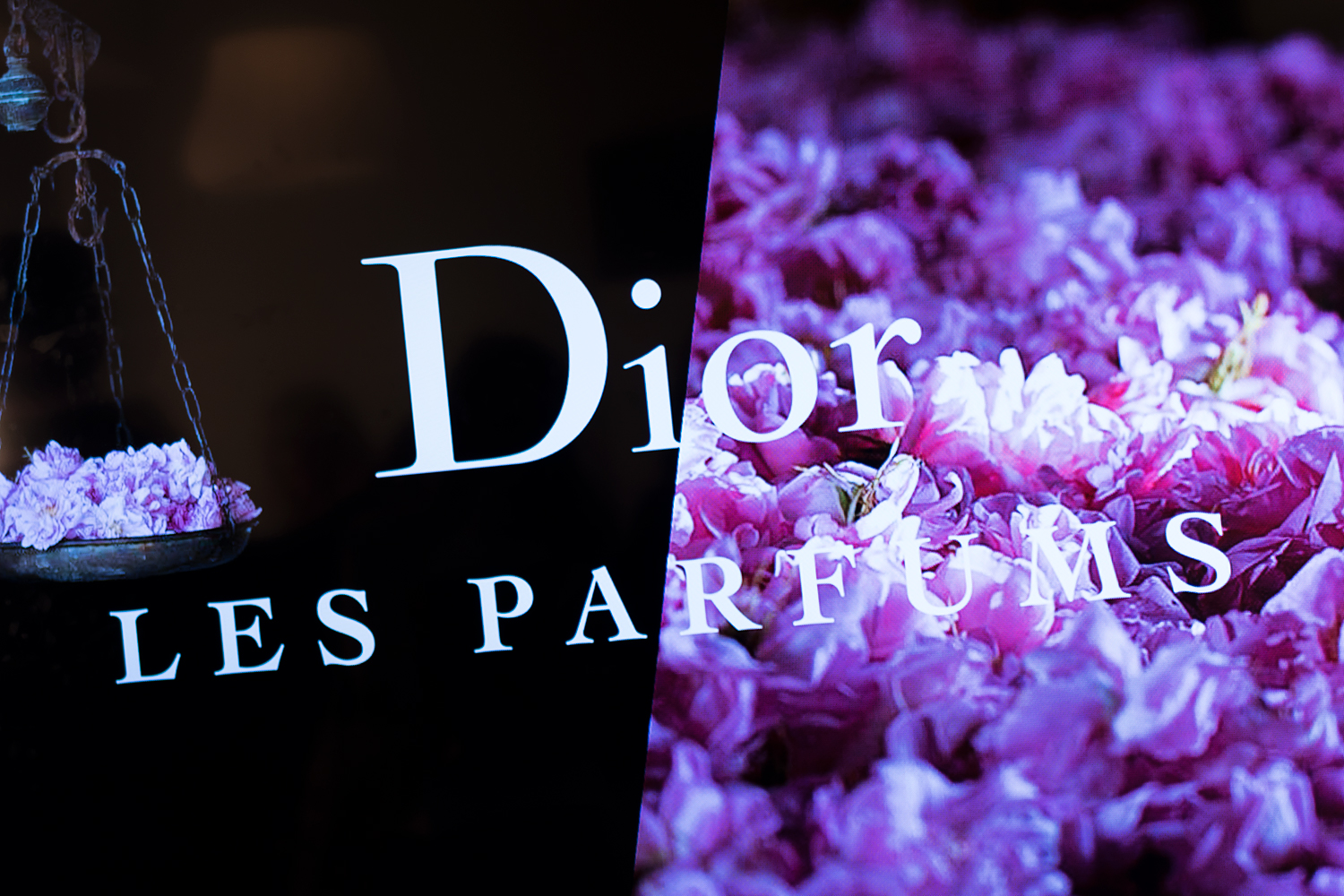 Inne hos Dior träffade jag på min älskade Emilie och bästa Sofie, så där inne blev det tyvärr inte mycket fotat.. De presenterade i alla fall sin vårlook (som såg jättefin ut!) samt den nya doften Poison Girl EdT.
Lacoste / Max Factor / Escada
Scandinavian Cosmetics hade tryckt in inte mindre än 4 märken i det minsta rummet, så det var både mysigt och lite klaustrofobiskt där inne. Men de presenterade i alla fall Lacoste's nya dofter L.12.12, både en dam- & herrvariant med viol och patchouli som var samma för båda dofterna, vilket var väldigt intressant tillsammans med de andra noterna. De doftade båda supergott, och lika fast ändå olika.
Max Factor presenterade nya matta läppstift, en ny mascara och en ögonskuggspalett. Detta fick jag tyvärr inga bra bilder på – men jag fick med mig produkter hem som jag ska visa.
Escadas limited edition-dofter firar 25 år och lanserar som vanligt en otroligt sötsliskig sommardoft alldeles i min smak! Med bland annat noter av passionsfrukt, hallon och apelsinblomma. Måste ha.
Det fjärde märket var Tweezerman som hade några få pincetter och en ögonfransböjare på ett litet bord tillsammans med Max Factor. Men jag vet inte om jag inte lyssnade eller om det faktiskt inte sades något om det, för jag minns inte om det var nyheter eller redan existerande produkter. Fick tyvärr ingen bild på det heller…
L'Occitane
L'Occitane är ett märke jag heller inte är så bekant med, men har varit sugen på att testa deras produkter. Har nog testat deras duscholja någon gång, men inget mer. De visade i alla fall en hudvårdsserie med pion för lite yngre hud, sina dofter för hemmet och den nya extra intensiva handkrämen med sheasmör.
Toni & Guy
Hos Toni & Guy samlade vi lite krafter, både för mobiltelefonerna och benen, fick håret stylat och drack kaffe. Emilie fick ett supersvall (som jag missade att fota) och själv fick jag en lite naturligare look med både lockar och vågor, jag gillade verkligen resultatet så mycket, men det är alldeles för mycket jobb. Jag är så hår-lat. Om den übergulliga tjejen som fixade håret på mig på expot kunde komma hit och göra det varje dag på mig…
Apoliva
Bästa Apoteket AB var och visade upp sina nya fina Apoliva-produkter. Alla produkter och förpackningar är uppdaterade och det är en salig blandning. Jag hittade ett till rouge till min favoritkategori; persikorosa med guldskimmer! Jag har också redan hört bra om deras foundation. Det ska bli jättespännande att testa!
L'Oréal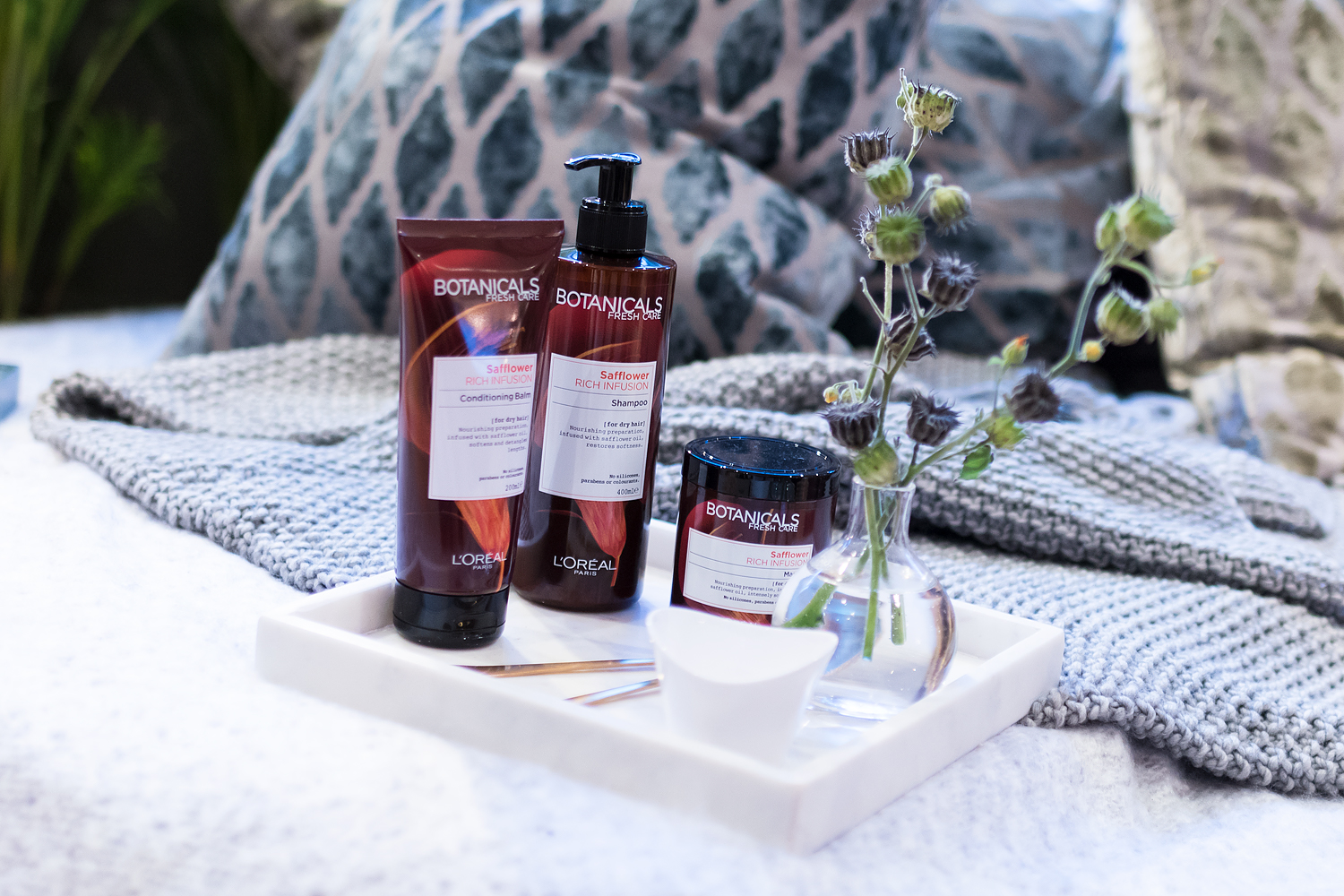 Inne hos L'Oréal var det som att komma in i en lägenhet i Paris. De hade byggt upp ett fantastiskt rum där de till och med fått in ett badkar! Här lanseras det både nytt smink i form av en concealerpalett, två rougepaletter, flytande läppstift i olika finish, übersnygga matta läppstift, en ny fibermascara, brynpennor och ögonpennor samt en helt ny sminkborttagningsserie med "rare flowers", Pure Clay-maskerna får rengöringskompisar och nya micellärvatten. De lanserar även Botanicals, en ny hårvårdsserie med tre olika inriktningar. Jag tror jag fick med mig allt hem som jag kommer att visa upp asap. Är så pepp på allt.
Palina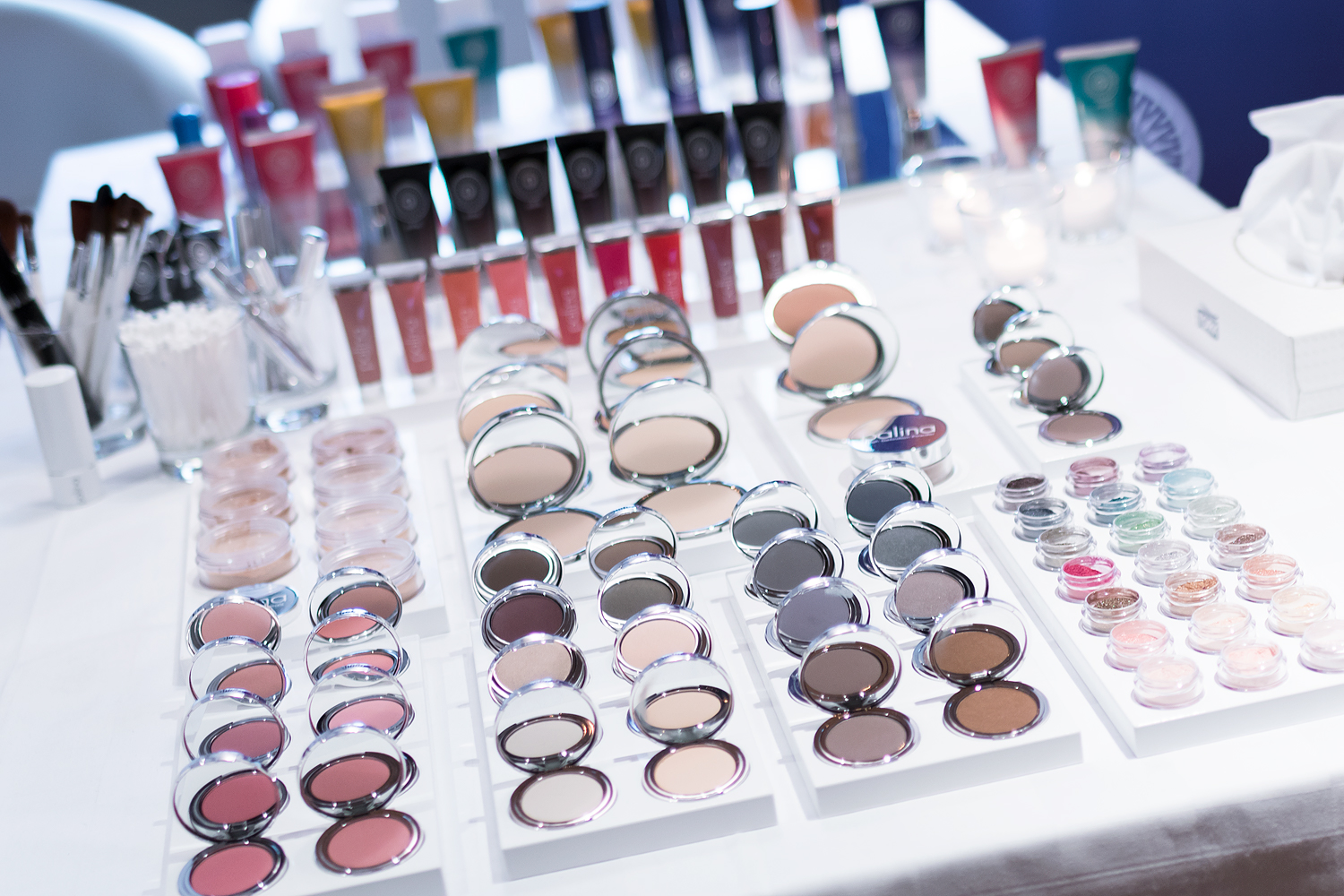 Palina är också ett av de märken jag hört talas om och sett i sociala medier, men inte själv testat. De har tidigare bara haft smink i sitt sortiment, men lanserar nu även hudvård. Jag fick med mig både lite smink och en del hudvård som ska bli jätteroligt att testa.
Revlon Professional
Revlon visade också upp ny hårvårdsserie med tre olika inriktningar. Jag fick med mig en av dem för normalt hår hem.
Yves Rocher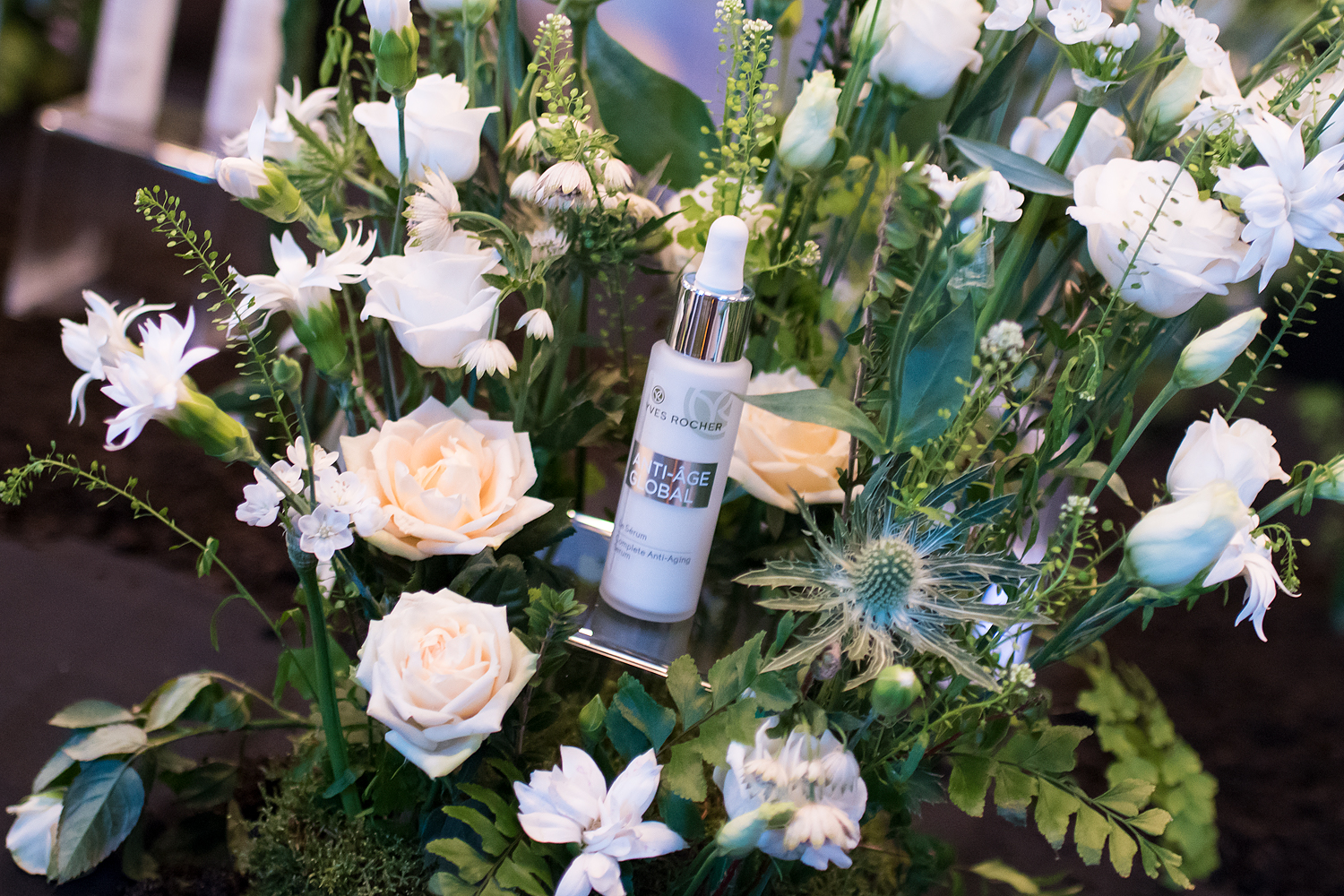 Yves Rocher visade också upp sin hudvård och även här kunde man få en hudanalys. Jag gjorde denna efter rengöringen hos Atache, så därför var nog min fukt i huden lite låg just då – men i övrigt hade jag superbra elasticitet, de flesta brukar ligga på runt 50 i skalan sa hon, jag låg på hela 92. Jag fick med mig lite anpassad hudvård utan parfym eftersom jag är lite känslig mot sånt.
Pinsam fotnot: Jag ville passade även på att smaka på de "prisbelönta" pralinerna jag hade hört talas om, men när jag insåg att jag först fick en hallon/lakritspralin höll magen på att vända sig ut-och-in. Jag fullkomligt avskyr allt som har med hallon & lakrits i kombination att göra, men det var mitt egna misstag att inte läsa på skylten. Försökte då dölja mitt misstag med att ta en Virgin Mojito-pralin istället, men den var inte bättre den, fick skölja ner de hemska smakerna med smaskig champagne. Det blir då aldrig äckligt.
Acasia
Acasia är för mig ett helt nytt märke, men vad jag förstått är det en hudvårdssalong som nu lanserar sitt eget hudvårdsmärke. En rengöring, en dagkräm, en ansiktsmask på tub och en arkmask.
M Picaut
Mette Picaut, den fantastiska människan bakom märket höll på fredagen en så rolig föreläsning att jag nästan glömde bort vilka lanseringar hon pratade om. Jag blev dock genast superexalterad över den nya nattmasken som innehåller bl a. malakit. Nattmasker är för övrigt den lates bästa vän, älskar! Hon lanserar även kroppsvård.
Annmarie Börlind
Ett märke som jag fortfarande inte har testat då mitt Beauty Pearl Serum försvann som vi fick prov på under Daisy Beauty Expo 2015. Jag blev dock väldigt intresserad av alla deras masker som jag har för mig om att jag skrev upp mig på att få hem. Den ena masken luktade som godis eller typ Piggelin, yum!
Efter en lång dag avnjöt vi lite AW med champagne och goda ting att äta. Jag började redan då känna av att jag lät som en tonårspojke i målbrottet, men det var så värt det! Två timmar rullade förbi som bara 2 minuter… Vi skrattade och hade bara så mysigt och till slut följde jag Norrköpingsborna till stationen för att vinka av dem.
Nu är det en vecka sedan och jag lever fortfarande på de rosa moln som tillkommer när man får växa och frodas bland människor med samma intressen. Detta är guld värt för mig som bor så långt bort och jag uppskattar så mycket att få träffa kära vänner och träffa nya människor.
Tack till det fantastiska Daisy Beauty-gänget som alltid fixar fantastiska event! Och tack för att jag får vara en del av detta ♥