Nu har det blivit dags att öppna de första 7 luckorna i årets julkalendrar. Jag har öppnat luckorna varje dag på Snapchat och Instastories för de som inte kan hålla sig till dessa inägg. Men nu går vi igenom luckorna tycker jag!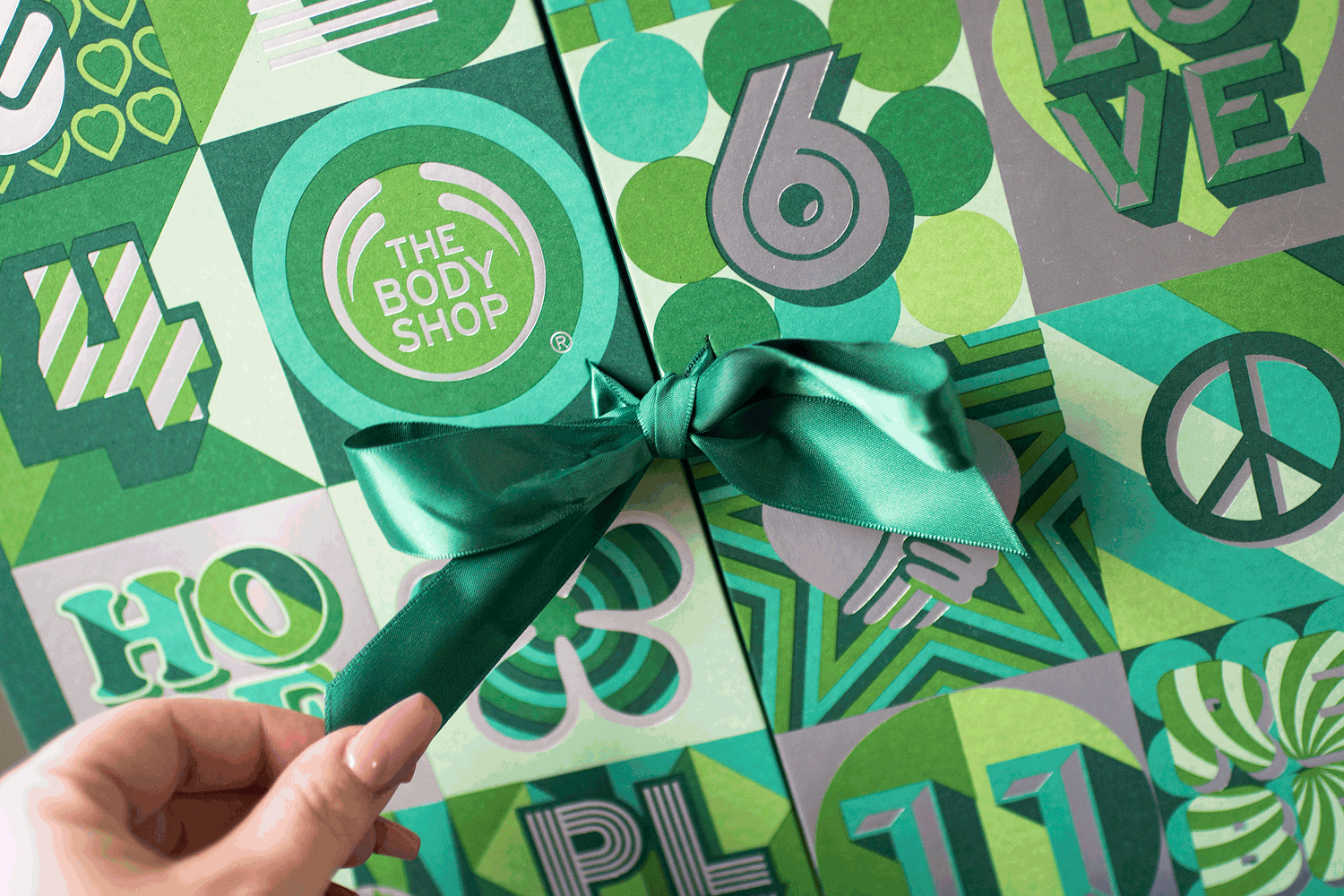 Jag har i år hela fem stycken julkalendrar. Idag ska jag visa vad som gömt sig bakom luckorna 1-7 i kalendrarna från The Body Shop, Lumene, Skincity, NYX och Lookfantastic. Klicka på "läs mer" för att kika på innehållet ♥
Lucka 1

Lucka 2
Lucka 1
The Body Shop British Rose Shower Gel
Skincity Vita Liberata Ten Minute Tan
NYX Matte Lipstick – Eden
Lumene Valo Glow Boost Essence
Lookfantastic Illamasqua Lava Lipstick
Jag tycker: En riktigt bra start på lucköppningen! Jag är riktigt imponerad av både Lookfantastic och Lumenes luckor. Jag har redan testat både TBS och Vita Liberata-produkten och de är helt okej.
Lucka 2
The Body Shop Bunny Headband
Skincity gloMinerals Suede Matte Crayon – Crush
NYX Liquid Suede – Soft-Spoken
Lumene Gel Effect Nail Polish – 3 On The Beach
Lookfantastic Ciaté Fierce Flicks Liquid Eyeliner
Jag tycker: Också bra luckor! Man måste ju bara älska kaninöronen från TBS ♥ Dessutom innehöll NYX-kalendern ett Liquid Suede som jag inte testat och Lookfantastic bjöd på en eyeliner från Ciaté som jag heller inte testat så det ska bli kul.
Lucka 3

Lucka 4
Lucka 3
The Body Shop Frosted Plum Star Soap
Skincity Bioline ESA Peptide + Green Algae Lifting/Relaxing Mask
NYX Simple Vamp Lip Cream – She Devil
Lumene Lähde Intense Hydration 24h Moisturizer
Lookfantastic Grow Gorgeous Scalp Detox
Jag tycker: Något av en tråkigare dag over all. Jag är ju så ointresserad av hårprodukter så den där skalp-produkten kändes sådär.. Och jag är skitdålig på att använda hårdtvålar, men jag har gett bort den till sambon som blev glad, luktar gott gör den i alla fall. Helt klart nyfiken på krämen från Lumene och masken från Bioline/Skincity.
Lucka 4
The Body Shop Strawberry Gel-Lotion
Skincity Medik8 C-Tetra Vitamin C Antioxidant Serum
NYX Lip Lingere – Push-Up
Lumene Lip Perfector Balm
Lookfantastic First Aid Beauty Ultra Repair Cream
Jag tycker: Alltså jag tror att det här är en av veckans bästa dagar! Älskar verkligen TBS Gel-Lotion, den är lätt och går snabbt in i huden. Plus att man luktar som en jordgubbsmilkshake av just den här, mums. Helt klart impad av att se Medik8 i Skincitykalendern och just den här produkten har jag velat testa ett tag, så den åkte direkt in i badrumsskåpet! Hos NYX kom ytterligare en läppfärg som jag inte testat. Krämen från LF fick sambon då han är en riktig torris på vintern.
Lucka 5

Lucka 6
Lucka 5
The Body Shop Ultra Fine Bath Lily
Skincity Sensai Cellular Performance Cream
NYX Soft Matte Lip Cream – Paris
Lumene Kirkas Glow Reveal 60 Second Facial
Lookfantastic balanceme Flash Cleanse Micellar Water
Jag tycker: Också en bra kalenderdag. Jag kommer att använda allt, förutom lippien från NYX – för den har jag redan testat. Älskar micellärvatten och att ha bra hudvårdsprodukter i travel size är typ det bästa som finns! Jag har hört mycket bra om Sensais kräm så den kommer att få följa med redan i helgen. Riktigt nyfiken på Lumenes Glor Reveal – om den är något som REN Flash Rinse så kommer jag att älska den!
Lucka 6
The Body Shop Crayon Khol
Skincity Biologique Recherche Lotion P50W
NYX Butter Lipstick – Seashell
Lumene Eyeshadow Primer
Lookfantastic this works In Transit Camera Close-Up
Jag tycker: Jag vet inte hur många svartakajalpennor jag har, men jag kan säga att jag inte behöver en till. Här kan vi ju gott säga att Skincity vinner dagens lucka med ett av BRs Lotion P50 i tappningen för känslig hy. Den ska jag testa snarast. Lumenes ögonskuggsprimer är en gömd juvel, har haft den förut och älskar den.. så har ni inte testat så gör det! Den ljuskoralliga nyansen av Butter Lipstick från NYX är tyvärr inte min färg, men gillar produkten i sig.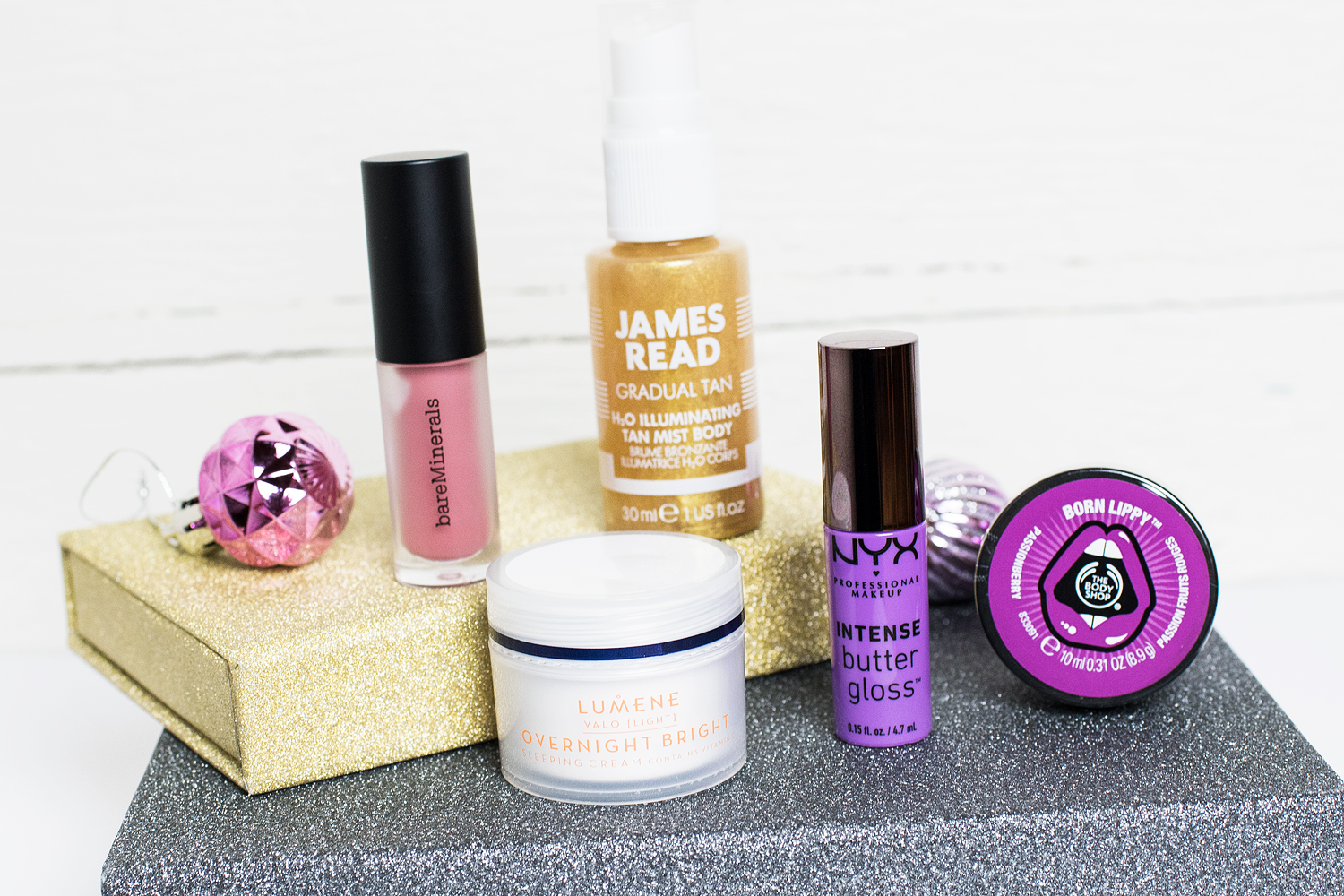 Lucka 7
The Body Shop Born Lippy Flavoured Lip Balm – Passionberry
Skincity bareMinerals Gen Nude Matte Liquid Lipcolor – Swag
NYX Intense Butter Gloss – Berry Strudel
Lumene Overnight Bright Sleeping Cream
Lookfantastic James Read Gradual Tan Illuminating Tan Mist
Jag tycker: Sista luckan består mest av läppisar, varav både bareMinerals och NYX har jag testat tidigare (swatch på NYX finns här). Ogillar läpp-gunk i burk eftersom det är ohygieniskt – så TBS kommer att lotsas vidare! Känner mig så dragen till nattkrämen från Lumene och skimmermisten med BUS från James Read.