Ja, jag är alltid sist på (och av) båten. Live with it 😂  Nej, men skämt å sido så har jag inte varit hemma mer än att äta och sova dessa veckor, men den här helgen är jag bara ledig och ska vara hemma och göra ingenting. Och idag är det ju perfekt bloggväder (läs: regnar).
---
Lördagen den 20:e maj började med att gå upp ca. kl 05 för att ta sig till stationen och möta upp de sköna bönorna Alexandra och Camilla för att tillsammans ta oss till båten. Vår taxichaufför gillrade dock en fälla, för vi stod still med taxametern igång så att det blev 100 kronor dyrare än vad det hade behövt bli. Väl på terminalen gick min irritation snabbt över då jag fick träffa många bekanta och några nya ansikten.
Under dagen gick det verkligen ingen nöd på oss, frukost, kaffe tillgängligt hela tiden, en härlig vinlunch samt en räckmacka och en hejdundrans middag. Men det viktigaste var givetvis föreläsningarna tillsammans med den fina fina gemenskapen och alla nya fina människor man lär känna på dessa konferenser. Oslagbart! Nehe, shall we begin?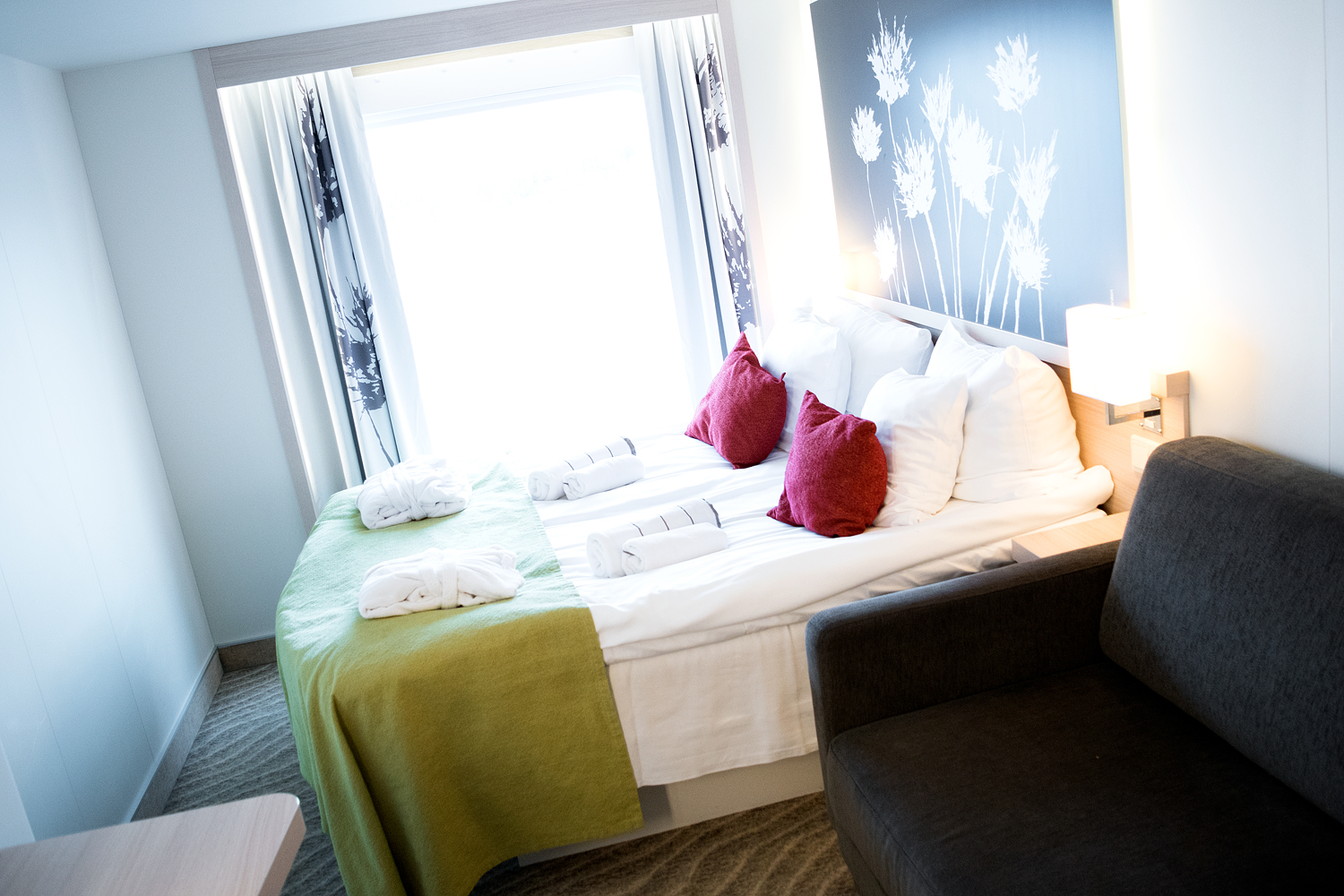 Jag fick äran att dela hytt med Karin som är en stor feministisk förebild, hon skriver dessutom toppen och är drop dead gorgeous! Önskar att jag hade den huden ♥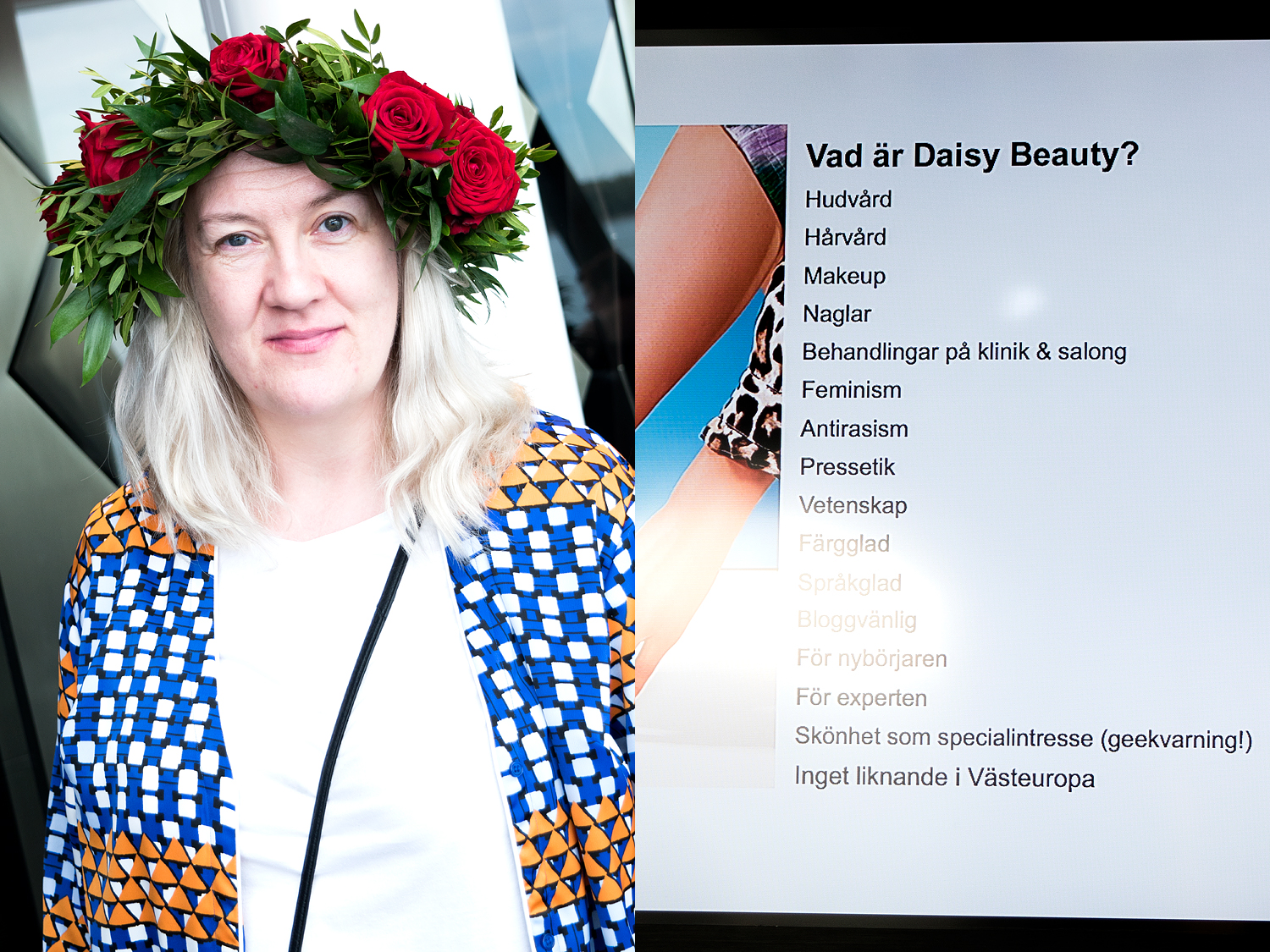 Vi började dagen med att kika på Daisy Beauty som varumärke, därefter både analysera oss själva och som föruppgift hade vi fått en annan bloggare/skönhetsskribent att analysera. Det var väldigt nyttigt och pirrigt för att se om jag lyckats branda mig själv och min blogg så att andra också ser det. Min partner blev Jannike och jag kan inte annat än tro att det var riktigt utstuderat att just vi två skulle analysera varandras bloggar – för vi kom fram till att våra bloggar ämnar sig åt samma målgrupp, samt att vi är lite som en fruktsallad, det finns något för alla! Supernyttigt och intressant uppgift.
Vi fick några alternativ att presentera oss på och jag valde att beskriva mig och min blogg som
Om jag/min blogg var en maträtt skulle jag vara
Kebabpizza, otroligt oglamourös – men tillgänglig och jävligt god
Reserol
Reserol är ett nytt varumärke för mig och deras resa har gått väldigt snabbt. För att förklara så att de flesta förstår så är detta mer eller mindre ett kosttillskott som hamnat i beautybranschen av en slump. Det aktiva ämnet Reservatrol som även finns i rödvin kickar igång en process (homesis) som stressar kroppen lite som i sin tur sätter igång andra processer i kroppen, vilket bidrar med att cellerna stärks mot yttre stress.
Efter studier tog de fram produkten i en film (ovan på bild) eftersom ämnet Reservatrol bäst tas upp av munnens slemhinnor och är därför inte optimalt i tablettform då kroppen endast tar upp 1% av 100 genom magen.
Effekten då? Ja, det är här skönhetsbranchen kommer in. Förutom att studier visat att försökspersonerna fått mer energi, fått mindre ledont och inflammationer så har de även fått "bättre hud", mer lyster, plumpad och återfuktad hy samt att de upplevt att fina linjer försvinner.
Reserol lanserar nu också ett vattenbaserat silikonfritt serum i ampuller. Serumet innehåller MAP (en form av Vitamin C) och Vitamin E samt Resistem som är ett stamcellsextrakt från tistel.
evo
evo är det största hårvårdsmärket från och i Australien som har funnits i Sverige ett tag, men lägger nu krut på marknadsföringen. De vill att man ska tänka utanför boxen. De har många slagkraftiga slogans, så som "Free your mind and your hair will follow" och "Saving ordinary humans from them-self". Ska jag vara ärlig så känns hårvård så oattraktivt och jag vill gärna bara himla med ögonen åt alla tusen produkter, men jag måste säga att jag är lite såld på evo och har redan hittat några favoriter bland produkterna!
De har lite olika serier som genom färgkoder och talar för sig själva genom att heta t ex. Hydrate, Repair, Smooth, Curl, Style och Volume och är lätta att navigera sig igenom. Här finns verkligen något för alla och mina favoritserier blev direkt den rosa som heter Smooth och den gröna som är Style-serien.
I Smooth-serien hittar vi schampo, balsam, inpackning, lotion för rakt hår, värmeskydd, shine drops och shine spray – medan i den gröna hittar vi schampo, balsam, torrsprayvax, pre-style primer, saltspray, torrschampo, blowout spray, stylingpuder, gel, working spray (bra för hårnålar), flexibelt hårspray, lacque (stenhårt) samt 4 olika vaxer.
Mina favoritprodukter kommer i ett eget inlägg!
IDUN Minerals
IDUN Minerals tror jag många av er sett på apoteken? Ett svenskt familjeföretag som säljer dermatologiskt testat (ej på djur) mineralsmink.
Denna gång hade de många fina produktlanseringar som en superfin mascara, ögonpennor, en torr ögonskuggsprimer (!) och läppennor. Och tack vare feedback från kunder/journalister/influencers har IDUN nu inlett ett samarbete med Apoteket AB för att utöka hela färgskalan i foundations, flytande och puder (18 st nyanser) samt 3 concealer och 3 nya puder. Hejja!
Lumene
Lumene har steppat upp sitt game. Det finska skönhetsmärket uppdaterade 2016 hela sitt varumärke både gällande hudvård och makeup – allt från sin logga, förpackningar, formuleringar på produkter – ja, hela sin image egentligen. Jättekul att få återuppta en gammal flamma – blåbärsmascaran var min favorit jättelänge! CC-krämen och Blur-foundationen har också varit två av mina budgetfavoriter sedan de lanserades.
Fanny som är ambassadör för Lumene i Sverige gjorde en superfin smoky look på Sarah Grundén.
Kiss NY Professional
Nu i juni lanseras Kiss NY Professional i Sverige som är ett koreanskt skönhetsmärke baserat i New York. Jag förstod inte riktigt relationen med Kiss som redan finns (som gör lösögonfransar och lösnaglar) – men nu lanserar de smink… och det är inte lite heller! Jag tror vi gick igenom hela sortimentet som innehåller allt från primer till vad som kändes som 500 olika läpprodukter. Nej men seriöst, i 46 olika linjer ingår 448 produkter.
Makeuplinjen är inspirerad av k-beauty I formulering och produktutveckling. Kärnan i märket är att de vill att alla ska kunna ha roligt med smink och kunna använda produkterna och har som slogan "be your own pro". Dessutom innehåller lanseringen hudvård, speciellt sheet masks.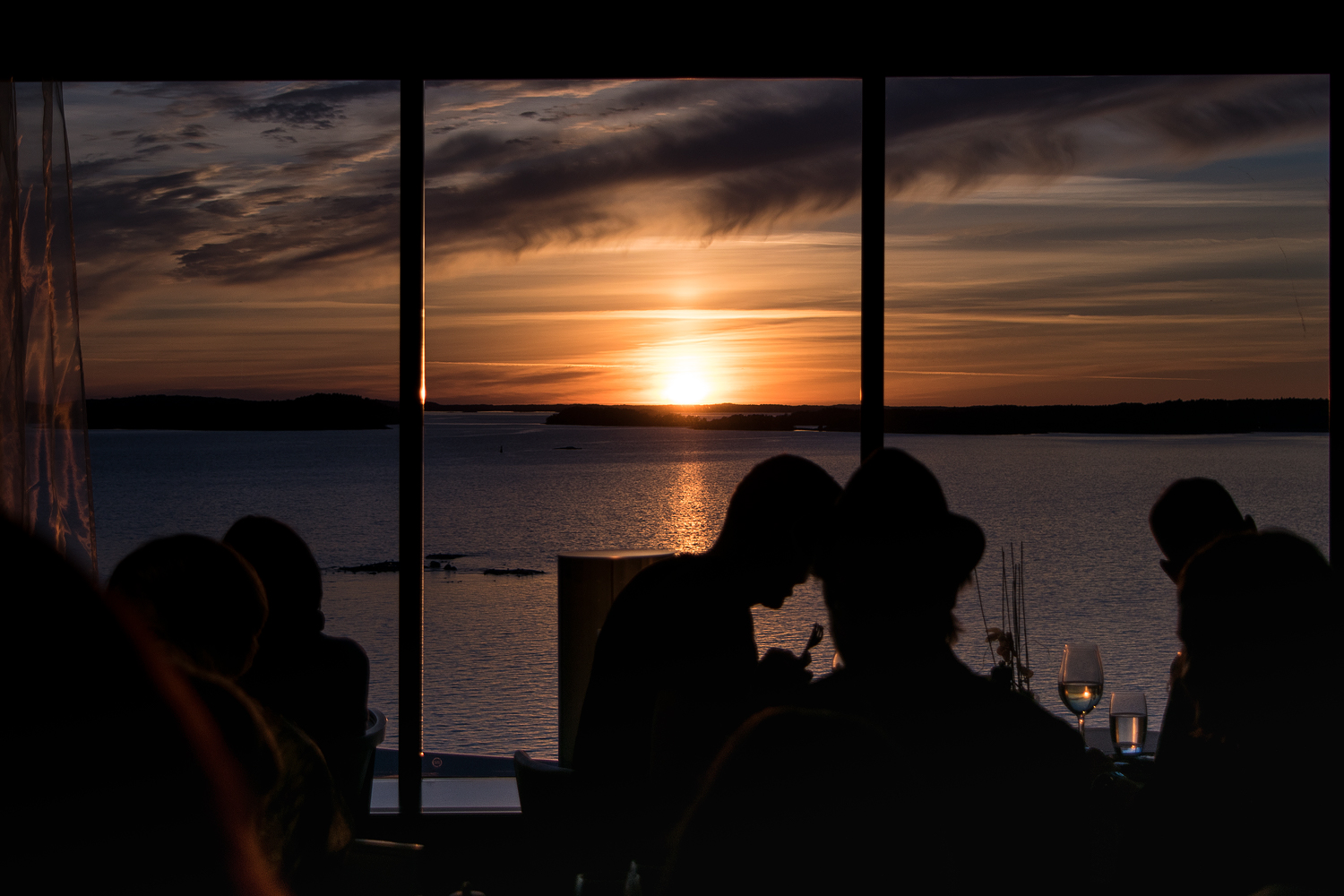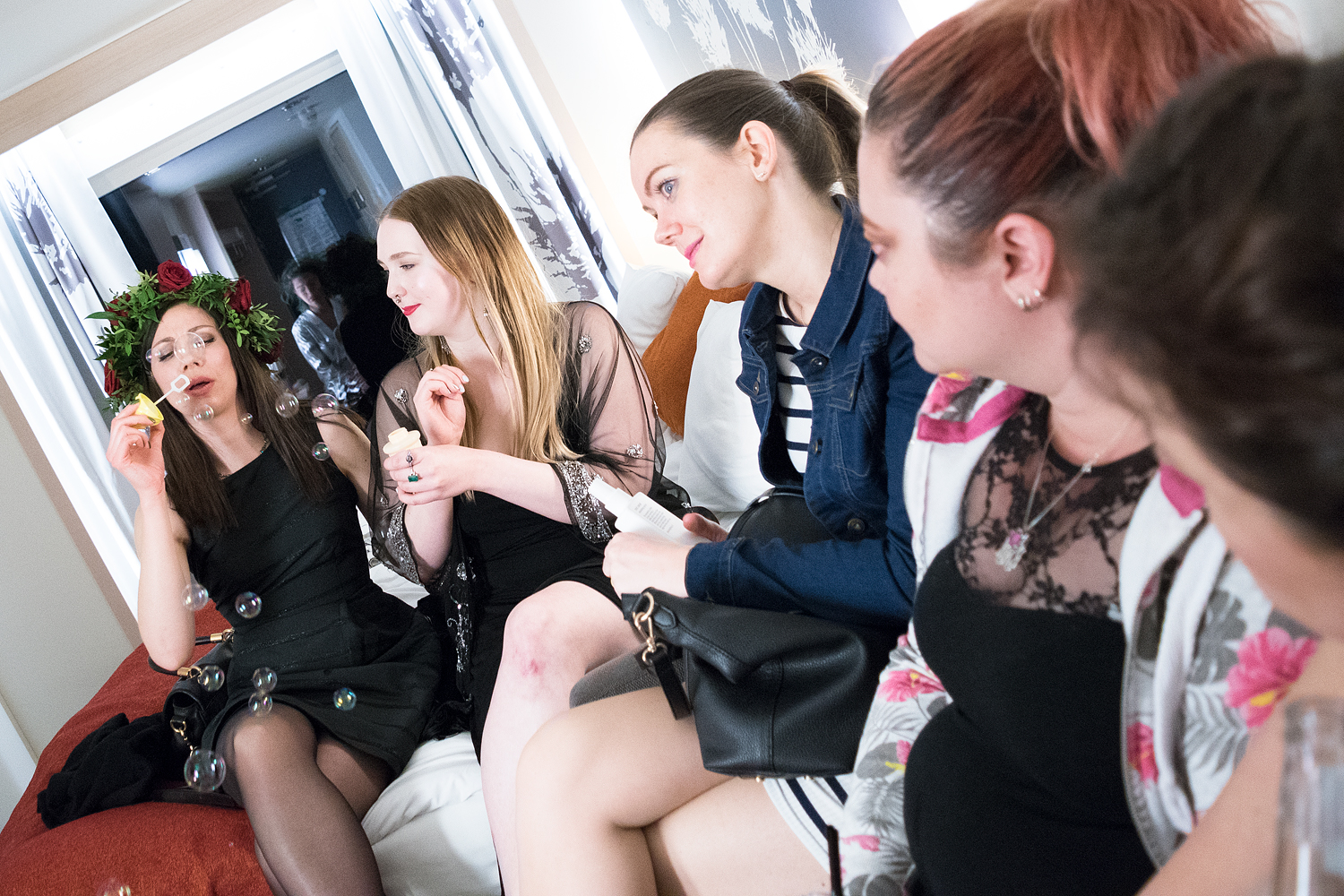 Efter SPA-timmen var det dags för att äta följt av en kväll tillsammans med fantastiska tjejer (och killar)! Vi följde med Therese, som vann det obligatoriska Quizet, till evos hytt för att få välja ut priser och personlig rådgivning. Där myntades också mitt nya livsmotto av Camilla och Jasmine;
Party in the front and spooley in the back!
---
Alltså vilket dygn! 06.30, när vi redan var i hamn vaknade jag och gjorde mig redo på 2 minuter då ingen av våra klockor hade ringt. Haha som sagt, jag är alltid sist av. Men det gick ju bra det med!
Ett stort stort tack till Kicki, Sam och alla andra på Daisy Beauty tillsammans med journalister och influencers som gör detta till oförglömliga minnen! Jag är alltid oerhört tacksam att jag får följa med på dessa fantastiska konferenser som inte bara för gamla vänner tillsammans, utan hjälper till att knyta nya kontakter ♥