Jag är nog sämst på att packa lätt, även om jag verkligen försöker… Men här är det jag tog med mig till Los Angeles. Kan säga så här i efterhand att jag inte använde mig av allt eftersom klimatet är en aning annorlunda från här. Hur gör folk för att få sitt smink att sitta i 44 graders värme? It beats me!
---
Vad jag har saknat er! Sedan vi kom hem har jag levt i ungefär alla tidszoner känns det som. Trodde inte att det skulle påverka mig så mycket, men vår dygnsrytm har verkligen skakats om ordentligt! De senaste två dagarna har vi vaknat vid typ 04, ätit frukost och kollat på serier i sängen, somnat om vid 10 och vaknat igen runt 17, ätit middag, sen somnat inom 3 timmar igen och vaknat runt 04. Skapligt trötta. Men idag ska jag tvinga mig själv att vara vaken hela dagen så jag slipper vakna vid 04 i morgon igen.
Idag vill jag i alla fall visa vad jag hade med mig när vi var i väg. Många av produkterna har ni redan sett, men here we go!
Sol-, hår- & lite hudvård
Det absolut viktigaste för mig är solskyddsprodukter när man åker till ett ställe som har strålande sol 325 dagar om året. Då jag precis fick hem The Body Shops Aloe Vera-gel innan vi åkte passade jag på att testa den som after-sun, vilket jag tyckte att den passade utmärkt som. Den svalkade skönt på kvällen och jag använde den även fast jag inte brände mig. Optimalt hade ju varit att ha den i kylen, men det tänkte jag inte på. Jag valde också att ha med mig två solskydd, L'Oréal Paris Sublime Sun SPF30 (som tydligen har utgått överallt?) och Hawaiian Tropic Satin Protection SPF 50+ som är ett av mina favoritsolskydd eftersom det luktar som päronglass ♥
Till håret var jag rätt säker på att jag inte skulle behöva ha så mycket produkter eftersom jag inte har det i vanliga fall heller, men det är skönt att bara kunna rufsa till det med evo Salty Dog Salt Spray eller fräscha till det med evo Water Killer Dry Schampoo efter en varm dag.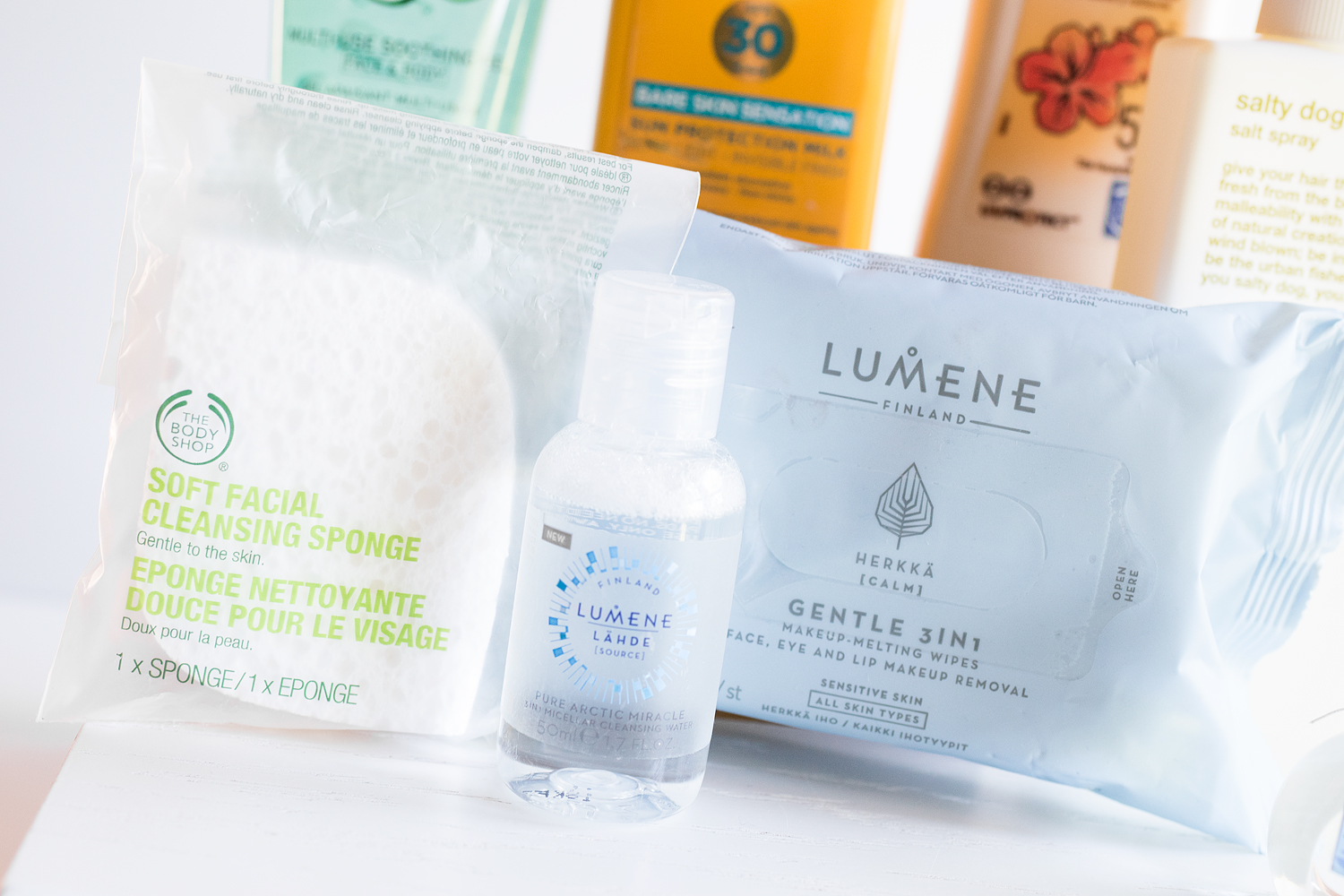 Förutom delar av min vanliga hudvårdsrutin hade jag med mig The Body Shop Facial Cleansing Sponge att använda för att gnugga bort eventuellt envis vattenfast mascara tillsammans med Lumene Lähde Pure Arctic Miracle 3-in-1 Micellar Cleansing Water. Jag behövde dock inte använda dessa så ofta då jag fick bort mer eller mindre ALLT med Lumene Herkkä Gentle 3in1 Makeup-melting Wipes. Wipes är så smidigt att ha med sig för att slippa bomullsrondeller och dessa är för mig riktiga vinnare, inget svid och jag behövde inte gnugga, utan bara svepa dem över ansiktet för att få bort sminket.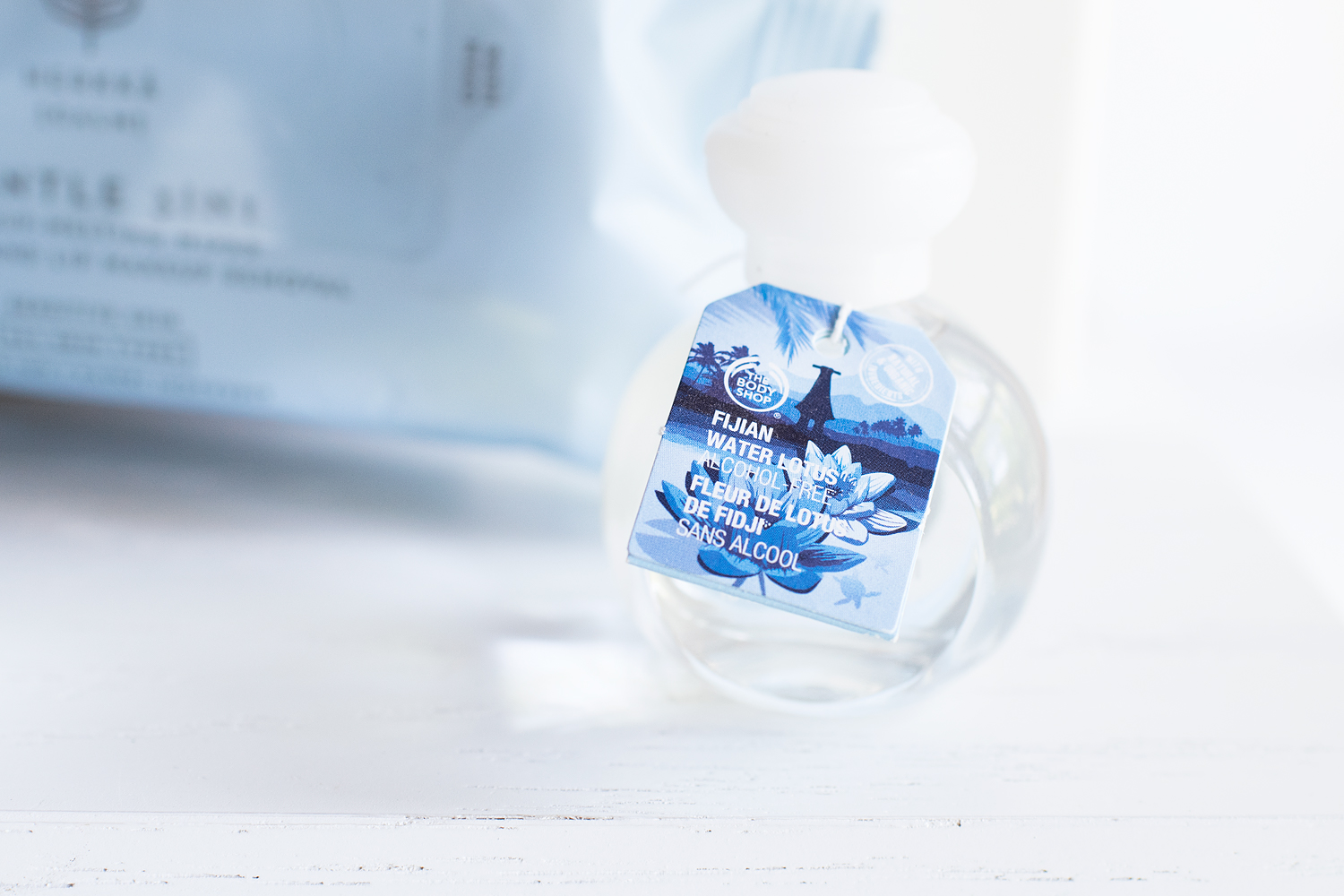 För att slippa eventuella tråkigheter i necessären under resväskans färd tog jag bara med mig en liten härlig doft från The Body Shop. Fijian Water Lotus Perfume Oil (finns tyvärr inte längre att köpa) är en koncentrerad parfymolja medupplyftande toppnoter av mandarin och litsea, med hjärtnoter av vattenlotus och ros för att avsluta med en basnot av lätt och livlig havsbris. Doften är så där lagom söt och fräsch på samma gång. Jag får riktiga semester- och sommarkänslor av den här!
Smink
Det är väl mest sminket jag inte fått så mycket användning av som jag trodde att jag skulle få. Klimatet var alldeles för varmt och kladdigt och de dagar jag hade "lagom mycket" smink på mig som jag har här hemma kändes det mest som att det skulle smälta bort. Nedan kommer ni läsa om de produkter jag faktiskt använde.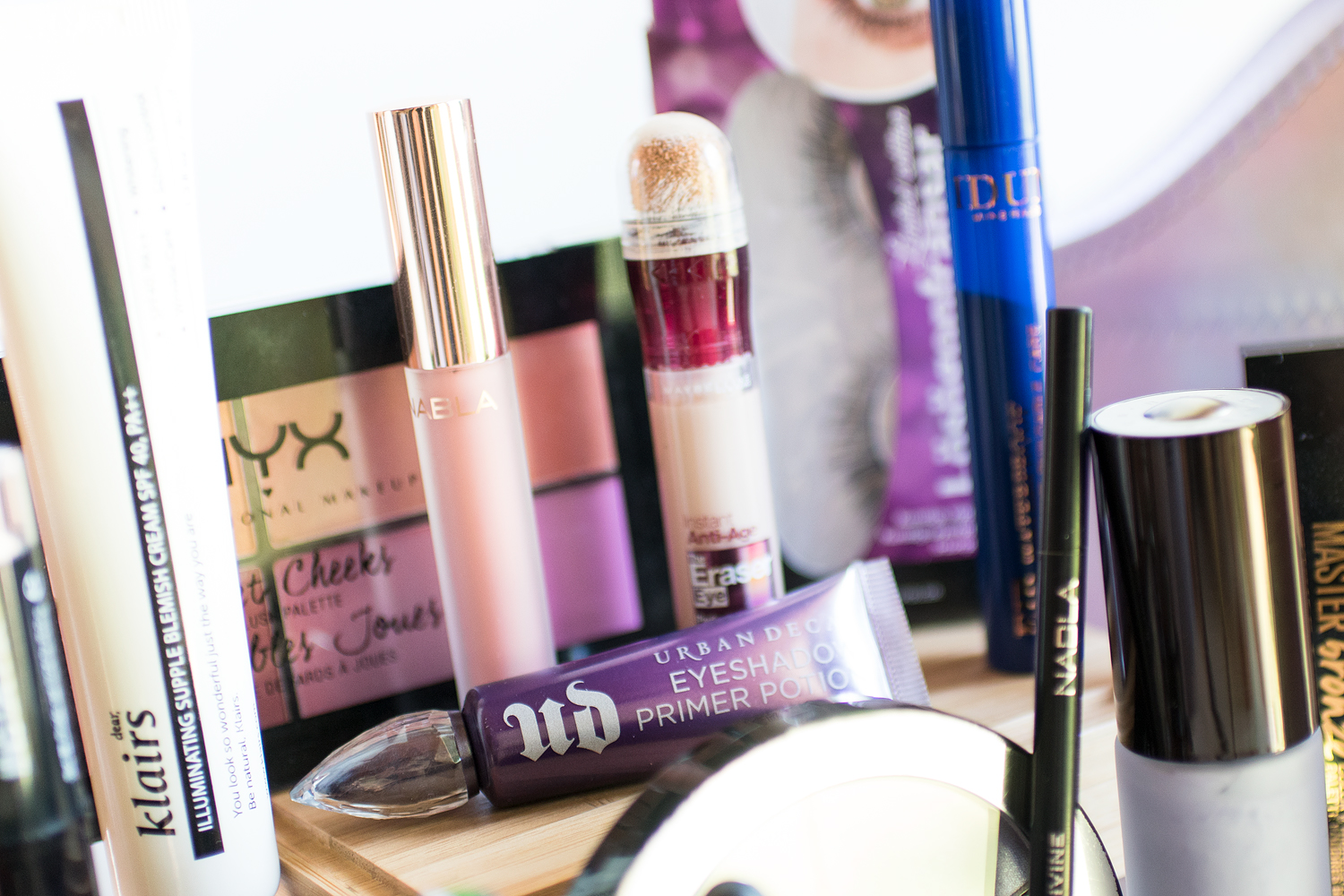 Klairs Illuminating Supple Blemish Cream SPF 40, PA++ var en av de produkter jag använde varje dag när jag hade smink. På mig blir den så fin och smälter in fint i huden. Jag har skrivit mer om produkten här! Vill ni se en hel recension med före- och efterbilder så klicka på hjärtat under inlägget ♥
"Nyheten" Maybelline Instant Anti-Age The Eraser Eye blev också en stadig följeslagare i sminkrutinen för att få bort mina fräknar som blir mörkare under sommaren trots solskydd. Jag använde den främst under ögonen och på kindbenen där det är som värst. Jag gillar verkligen formulan, den är lätt och enkel att blanda ut.
IDUN Minerals Eir Mascara Waterproof var min räddare i nöden. Mascara var faktiskt det jag hade på mig varje dag för att se lite piggare ut. Den höll alla dagar utan nedfall eller kladd. Gav mig en superfin böj och svärta. Och trots att den är vattenfast var den inte svårt att få bort på kvällen med wipsen från Lumene. I like!
Under tiden fick jag faktiskt lite färg trots att jag använt både solskyddskräm och smink med SPF i. Jag har alltid haft lätt för att få färg på sommaren så i förebyggande syfte tog jag med mig en av mina favoritprodukter; The Body Shop Honey Bronze Drops of Sun Holiday Glow Creator droppar jag bara ned i min sminkbas för att få en gyllende glöd och mörka ned basen en aning. Så slipper man ha med sig flera olika nyanser av foundation eller dylikt.
bareMinerals Blemish Remedy Foundation är en svårslagen kompanjon, så självklart fick den följa med. Som jag sagt innan är det egentligen en puderfoundation, men jag använder den som setting-puder för att få mer täckning och den ger mig så fint resultat. Den mattar ned huden samtidigt som den innehåller Aloe, Aspenbark, Tea Tree-olja och Salicylsyra som har vårdande egenskaper på huden.
IsaDora Face Glow Prisma Wheel är redan en välanvänd produkt hos mig. Ni ser ju de nötta kanterna på dosan? Älskar glowet i alla fina färger och jag tror jag använde alla nyanser de olika dagarna när jag hade smink. LOVE!
Too Faced Hangover 3-in-1 Primer & Setting Spray finns ännu inte på Sephora i Sverige, utan lanseras här i höst. TF hakar på trenden att kombinera primer, setting spray och fuktmist. Den luktar Piña Colada jag gillar hur den smälter in i huden och ger sminket ett fint glow.
Till brynen använde jag slut på min favoritpenna, NABLA Brow Divine i nyansen Neptune. Så enkel att applicera och få snygg oavsett hur mycket eller lite man använder. Här har jag jämfört Brow Divine med andra brynpennor.
NYX Professional Control Freak Eyebrow Gel är en genomskinlig bryngelé som stelnar och håller brynstråna på plats hela dagen. Jag gillar att använda den här även om jag inte fyller i brynen, utan bara vill att stråna ska ligga still.
Vad har du i din reseneseccär?