Juli har verkligen bara flugit förbi och jag börjar redan få ångest över att det snart är höst… men jag har försökt att njuta av det härliga sommarvädret vi haft och har en hel del produkter jag använt flitigt under månaden.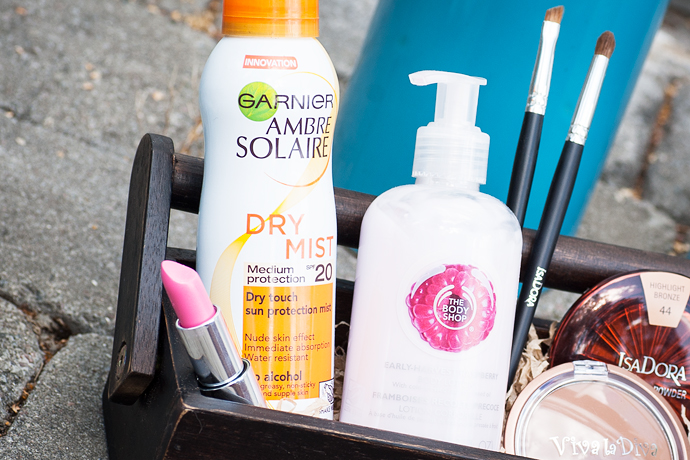 IsaDora Jelly Kiss – 53 Pink Parfait
Ett halvtransparent bubbelgumsrosa läppstift med en härlig doft. Perfekt att bara smacka på utan att behöva en spegel!


.

Garnier Ambre Solaire Dry Mist SPF 20
Ett väldigt smidigt solskydd som jag haft med i badväskan. Torkar snabbt och kladdar inte!


.

The Body Shop Early-Harvest Raspberry Body Lotion
En härligt hallondoftade lotion som känns återfuktande länge. Kan sniffa på mig själv hur länge som helst när jag smörjt in mig med den. Hela serien är underbar, men det är nog denna jag använt mest.


.

IsaDora Eye Shadow Brush Angled
Perfekt liten pensel till ögonbrynsprodukter. Ger mycket kontroll och jag kan få de där precisa linjerna jag vill ha.


.

IsaDora Eye Shadow Brush Round
En rundad spetsig pensel som jag fullkomligt älskat och använt den till att applicera ögonskugga i globlinjen, applicera highlighter i ögonvrån och under brynbenet, blandat ut ögonskugga och sudda ut kajal på undre fransraden.
Viva La Diva Matte Bronzing Powder
Som produktnamnet avslöjar, ett matt bronzingpuder som jag använt till contouring och det har passat mig som handen i hansken. Ett riktigt budgetfynd!


.



IsaDora Bronzing Powder – 44 Highlight Bronze (Limited Edition)
Ett skimrigt bronzingpuder som ger massor av härlig lyster till min solbrända hy.

Nu när jag fått lite solbränna kan jag faktiskt

kunna dra på rätt mycket bronzer, and I like it.


.

The Body Shop All-In-One InstaBlur™
Nedmattande primer som fungerar bäst för sig själv, under smink har jag haft lite problem med den, men när jag inte vill ha något smink hjälper den faktiskt att matta ned min glansiga T-zon och ger intryck av en jämnare hy.


.

The Body Shop Aloe Soothing Gel
En produkt som både jag och sambon använt efter soliga dagar på sjön. Även att vi smort in oss har ansiktet en tendens att få för mycktet sol ändå och då har den en svaklande känsla och lämnat huden utan rödhet och svidande känsla.


.

Garnier Caffeine Anti-dark Circles 2 in 1 Tinted Eye Roll-on
Under sommaren har mina andra concealers varit alldeles för ljusa och då har jag använt den här som har passat jättebra. Den har täckt det jag vill täcka och har känts lätt och luftig på huden.


.
ÖVRIGA FAVORITER
Månadens färg: Guld
– Guld kanske inte är en direkt färg, men mycket av mina sminkningar har gått i guldiga toner och när jag använt smycken har det också bara varit guld.
Månadens dryck: Isvatten
– När det  varit så varmt som det varit har det gått åt mycket vatten. Men jag gillar inte vatten utan is, så isproduktionen i vårt hem har gått upp en aning.
Månadens bok: House of Night – Frestad
– Jo, jag köpte boken 2011 och läste endast några kapitel i den först förra året. Men nu när vi varit ute på sjön har jag tagit med mig den och äntligen kan jag börja läsa de två nästkommande böckerna jag fick i julklapp för två år sedan 😛
Månadens roliga: Vädret
– Alltså, vilket underbart sommarväder vi har haft. Jag tror inte jag varit så här solbränd på flera år. Jag älskar värmen och solen. Sommar in my ♥
Månadens serie: Teen Wolf
– Jag vill så gärna säga att det är True Blood som varit spännande, men de avsnitt jag sett har varit så jäkla tråkiga så Teen Wolf har åter igen toppat min serielista. Och för att inte tala om allt nytt ögongodis att titta på, herre min…
.
Har du haft några skönhets- eller andra favoriter under juli månad?