Eftersom mitt inlägg om The Ordinary från 2017 fortfarande är mitt mest besökta inlägg varje dag så tänkte jag ge er en liten uppdatering! The Ordinary och dess skapare Brandon Truaxe har nog varit bland de mest omtalade under de senaste året.
The Ordinary har lanserat massor av nya produkter sedan jag skrev om dem sist, men jag har valt några produkter som jag tyckte verkade spännande och passar min hud OCH mitt hår!
Hör här, ett serum för håret! Multi-Peptide Serum är som ska ge fylligare och friskare hår. Det består av en rad peptidkomplex från bl a. lärk, tebuske, praktfrosört, vete, soja, ärt, rödklöver tillsammans med koffein, mjölksyra och zink.
Jag har rätt mycket hår, men det är rätt torrt och skulle kunna se friskare ut. Har använt det till och från (pga. tankspridd) sedan i februari och tycker ändå att mitt hår har fått en fyllighet som jag inte haft förut. Jag ser ingen jätteskillnad ännu, men håret känns fylligare. Mitt enda problem är att jag tycker det är knepigt att distribuera jämt i hårbotten eftersom det är så "vattnigt" i konsistensen. Det skulle typ vara värt att koppla in ett gammalt spraymunstycke till flaskan? Det borde ju bli lättare… Tips någon?
Som många av er vet gillar jag ju C-vitamin i min hudvård och jag har varit så nyfiken på den här. Reservatrol och ferulinsyra är rika på viktiga antioxidanter som skyddar huden mot fria radikaler (fria radikaler påskyndar nedbrytningen av cellerna). Det här serumet innehåller 3% av båda nyckelingredienerna, vilket är högre än i andra produkter.
Reservatrol kan beskrivas som antioxidanternas crème-de-la-crème och just denna är utvunnen från växten Japansk Parkslide. Ferulinsyra är en fytokemisk antioxidant med hög potens, som naturligt återfinns i växtcellernas väggar.
Om jag skulle rekommendera EN produkt för dig som är nyfiken på hudvård, förutom rengöring och en fuktkräm, så är det det här serumet! En billig Anti-Age produkt (även att man inte får säga det) med endast 3 ingredienser. Så najs!
För den som vill jobba med allt och lite till har vi här ett multiteknologiskt peptidserum som är en uppdatering av The Ordinarys klassiker "Buffet". Serumet består en bas av 11 hudvänliga aminosyror och flera former av hyaluronsyra. Här har de också tillsatt kopparpeptider som t e x. upprätthåller normal immunfunktion, kollagensyntes, fibroblastproduktion och antiinflammatoriska reaktioner. Ett serum som både återfuktar och jobbar med hudbarriären.
Det här är det perfekta reseserumet! Det har allt jag vill ha i min hudvård utan att jag behöver ha med mig massor av produkter.
Fukt från havets djup! Marine Hyaluronics är ett superlätt återfuktande serum med marina fuktkällor som bl a. röda alger, blågröna alger, aminosyror (arginin, glycin, alanin, serin, valin, isoleucin, prolin, treonin, histidin, fenylalanin och asparaginsyra), sodium PCA, natriumlaktat (naturlig fuktighetsfaktor) som binder vatten likt hyaluronsyra tillsammans med salicylsyra och citronsyra som mycket lätt exfolierar.
Exopolysackarider från marina bakterier är kanske den mest intressanta ingrediensen. Denna bakteriestam är utvunnen ur lera som finns på King George Island i Antarktis. Den sägs behålla fukt och vatten, reparera huden och stimulera kollagen- och elastinproduktionen.
Ett av mina favoritprodukter från The Ordinary är Hyaluronic Acid 2% + B5 som har en högre viskositet (tjockare konsistens), men det här serumet kan eventuellt vara är lika tunt som vatten. Därför är det lättare att jobba i lager om man verkligen vill fuktmätta huden utan att få den eventuella "korveffekten", alltså när produkter korvar sig på huden.
PRO TIP! Skaffa en roller eller någon annan form av ansiktsmassagepryl för att distribuera tunnare serum på huden, både skönt och hjälpsamt.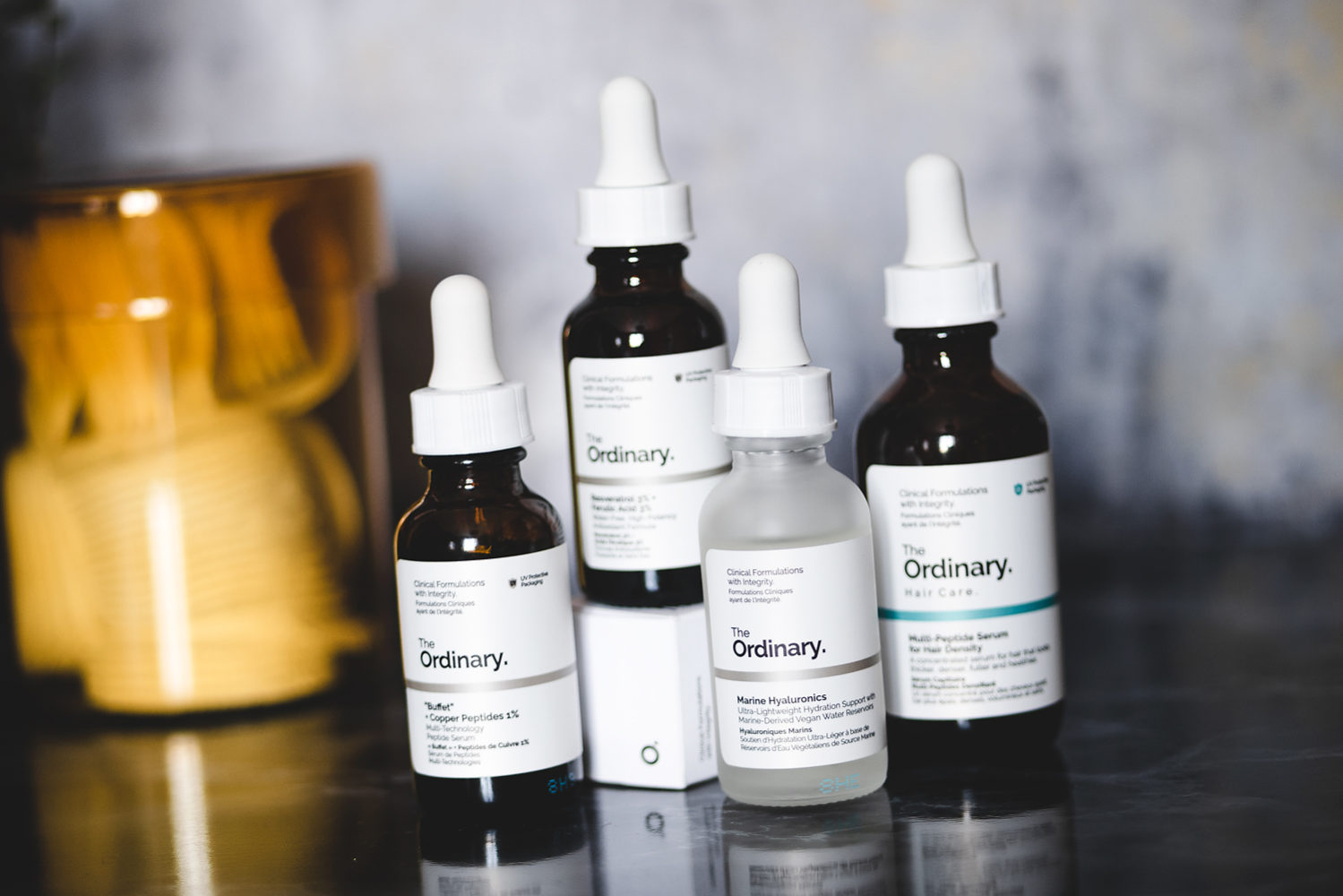 Jag väntar även på 100% L-Ascorbic Acid Powder som är ett rent C-vitaminpulver som man blandar med andra produkter (OBS! C-vitamin ska inte användas med produkter som innehåller Niacinamide eller EUK 134 då de kan slå ut varandra). Men så spännande! Men mer om det när jag faktiskt testat det.
Har du testat någon av de nyare produkterna från The Ordinary?