Drops of Youth™ Eye Concentrate är berikad med kraften från stamceller från edelweiss, en sällsynt blomma som växer i Alpernas rena luft. Edelweiss elasticitets-och förnyelseegenskaper bidrar till hudens förnyelseprocess för en mjukare och fräschare hy.

Naturen har gett Edelweissblomman otrolig motståndskraft för att klara både tuffa vintrar och varma somrar. Det tog sju år av vetenskapliga stamcellsstudier för att kunna ta tillvara denna naturliga förmåga för att använda till hudens förnyelseprocess. Stamcellsteknologi gör det möjligt att identifiera och ta tillvara på blommans egenskaper när den är som bäst för att vi ska kunna erbjuda naturens mjukgörande kraft till ögonområdet.

En mikroskopisk mängd plantvävnad utvinns och stimuleras för att producera en motståndskraftig bioaktiv som bidrar till hudens förnyelseprocess. Som ingrediens i Drops of Youth™ Eye Concentrate, tillhandahåller plantstamcellerna exceptionella hudförnyelse-egenskaper för en ögonkontur som upplevs lenare, fräschare och mindre svullen.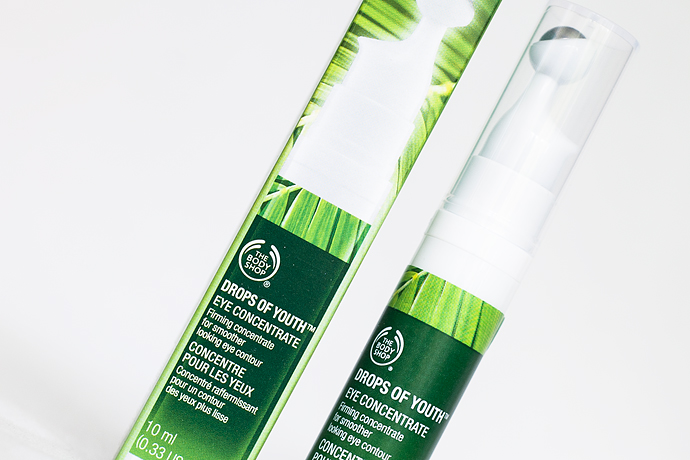 Jag tycker: En produkt som jag verkligen vill tycka om, men som tyvärr blev en jobbig upplevelse. Produkten pumpar man ut genom att trycka lätt på de vita området under kulan och sedan sprider man ut den genom att rulla kulan över ögonområdet (gärna som en liggande 8). Formulan är en gelé som glider på lätt tillsammans med metallkulan.
Jag är väldigt selektiv med hudvårdsprodukter runt ögonen då jag vet att jag har känslig hy där och kan inte smeta på vad som helst. Började testa den för ett par veckor sedan och tyckte att det kändes bra – appliceringen med den kylande kulan var skönt i värmen och huden kändes sval och uppstramad efteråt.
Efter en veckas användande märkte jag att jag fått små röda prickar under ögonen som kliade, och eftersom jag varit mycket sparsam med smink och andra ögonprodukter nu i sommar är jag 99% säker på att det är denna produkt som orsakat detta. Efter bara 2-3 dagar utan användning gick huden tillbaka till det normala.
Så jag hann tyvärr inte lägga märke till några större förändringar förutom just de röda prickarna och irritationen. Lite tråkigt då detta är den tredje ansiktsprodukten från TBS som orsakat tråkigheter i mitt ansikte (Drops Of Youth till ansiktet och Aqua Boost Sorbet har orsakat liknande symptom). Jag vet heller inte om jag kommer att våga använda den igen.. Väldigt synd då jag gillar konceptet.
Drops Of Youth™ Eye Concentrate finns att köpa på thebodyshop.se eller i butik för 295 SEK.
1/5—

.