Det är inte försent att glittra och glimma ikapp med stjärnorna! Kanske firar du jul på flera olika håll eller passar på att äta middag eller ha fest med vänner och familj och vill piffa till vardagen lite? Än inte att förglömma nyårsafton som är glittrets högtid.
Därför vill jag idag tipsa om fyra superfina helgkollektioner i budgetklass. Några av produkterna har ni redan sett i min senaste sminkning 'Hiding Stars', annars kan ni spana in den för att se produkterna in action!
---
L'Oréal Paris Merry Metals
En kollektion inspirerad av metallic-trenden. Kollektionen består av klassiska favoriter i nya limited edition-nyanser, men även helt nya produkter som en flytande highlighter och ögonskugga.
L'Oréal Paris Eye Paint, 99 SEK
Krämögonskuggor med metallisk finish i nyanserna Diamond (silver), Man Down (gunmetal) och Rude Bo (guldgul).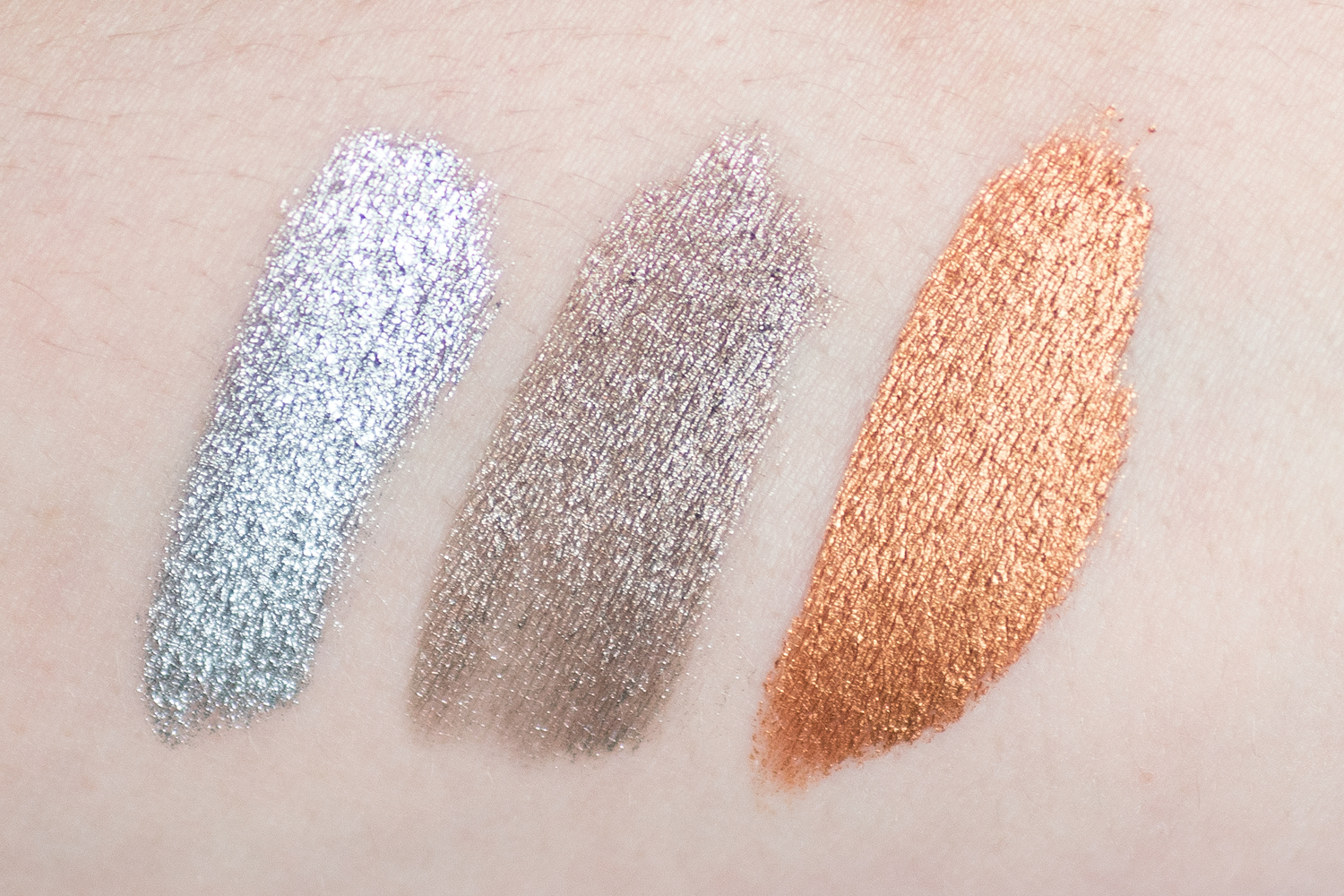 Diamond, Man Down, Rude Bo
L'Oréal Paris Glow Drops, 159 SEK
En flytande highlighter med skimrande rosa finish. Blanda ut med din foundation eller applicera på t ex. kindbenen. Fungerar utmärkt att applicera ovanpå puder.
L'Oréal Paris Ultra Precision Superliner, 119 SEK
Den populära Super Liner i två skimrande nyanser, Gold & Rose Gold. Skapa en klassisk eyeliner eller använd i ögonbrynen eller som fejkfräknar för att hotta upp sminkningen.
L'Oréal Paris Infallible Lip Paint Metallic, 99 SEK
Flytande läppstift som ger en heltäckande metallisk färg i tre nya nyanser; Pixie (roséguld), Lolita (guld) & Cute but Psycho (hallonröd).
Pixie, Lolita, Cute but Psycho
IsaDora Holiday Divine
Årets mest glammiga säsong är här och inför jul och nyår är det glitter & metalliska effekter som gäller, ju mer desto bättre! Glittrande guld, metallisk lila, brons och rosa är nyanser vi vill ha i vinter. IsaDora Holiday collection #lookdivine innehåller allt du behöver för att skapa en glittrande festlook.
IsaDora Eye Shadow Palette – 66 Divine Eyes, 189 SEK
Favoriten Eye Shadow Palette nu i en glammig Golden Edition, som garanterat gör dig till festens höjdpunkt! Rikt pigmenterade ögonskuggor i rosa och lila nyanser.
Paletten påminner lite om någon annan som IsaDora haft förut, antagligen i någon julkollektion tidigare, men jag kan inte komma på vilken…
IsaDora Lip Desire Sculpting Lipstick – 74 Divine Red, 139 SEK
Lip Desire Sculpting Lipstick kommer i många färger. Till säsongen har man släppt en klassisk röd nyans.
IsaDora Wonder Nail Golden Edition, 79 SEK
Två härliga nyanser i festens tecken; 575 Vintage Wine (mörkrödmetallic) och 576 Velvet de Luxe (mörklilametallic).
IsaDora Holographic Nail Golden Edition – 872 Jet Setter, 79 SEK
En gammal goding som varit med sedan 2013, nu i ny tappning (läs guldkork). Ett holografiskt lack med guldbas.
IsaDora Liquid Lip Chrome, 129 SEK
En ny tappning av Liquid Lip Cream med metallic/chrome-effekt i fyra nyanser; 40 Pink Diamond, 41 Ruby Red, 42 Glamour Wine och 43 Dark Decadence (läppswatches kommer!).
40 Pink Diamond, 41 Ruby Red, 42 Glamour Wine, 43 Dark Decadence
IsaDora Glitter Liner, 119 SEK
IsaDora har tidigare haft glittereyeliners i mer täckande format, men har nu uppdaterat sina glitterliners med större glitterpartiklar i transparent bas. Snabbtorkande och hållbara. Kommer i nyanserna Silver Sparkles och Gold Sparkles.
Gold Sparkles, Silver Sparkles
Nabla Holiday Collection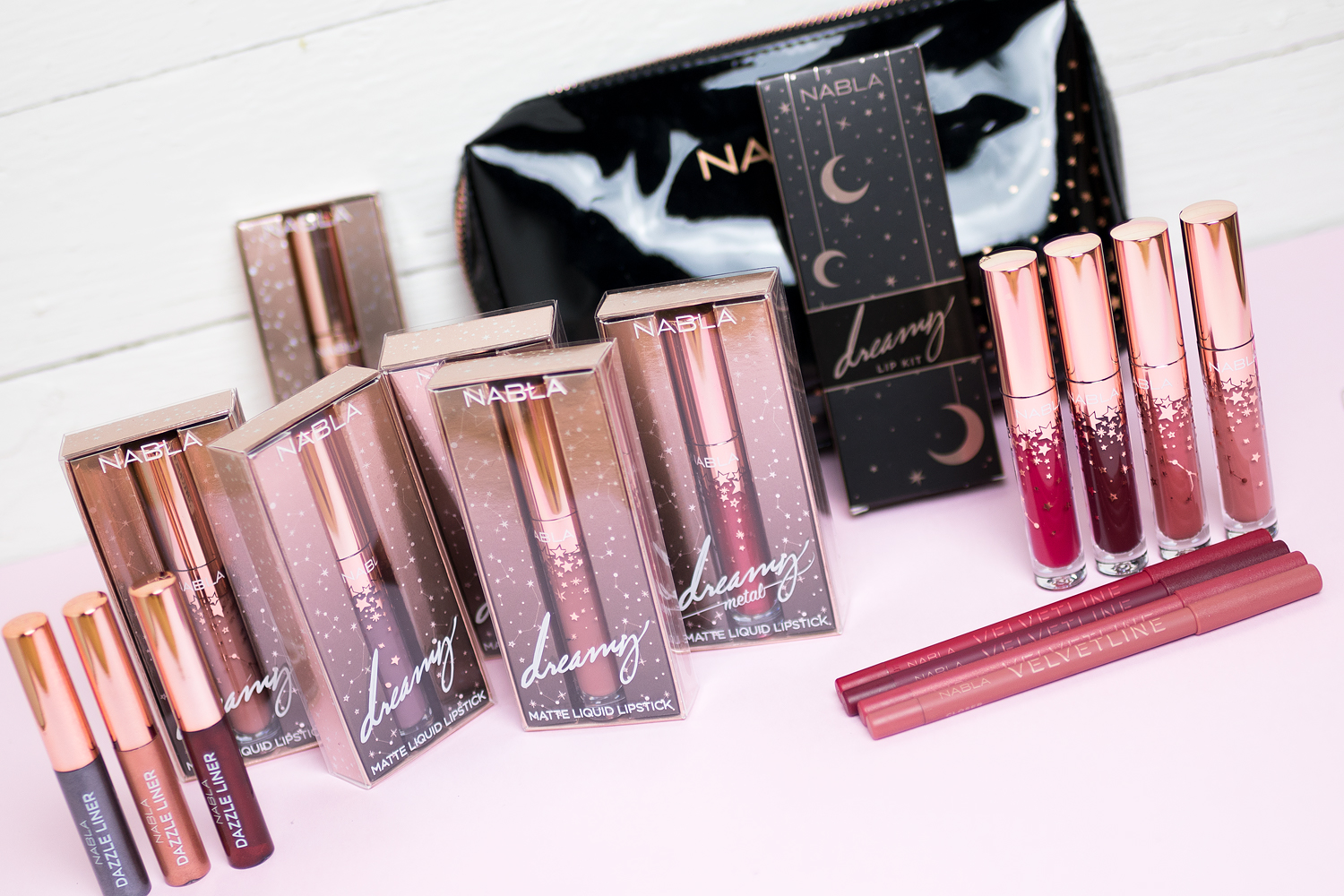 Nabla hakar också på metallic-trenden tillsammans med the never ending story of matta flytande läppstift. Kollektionen innehåller nya nyanser av förra årets favorit; Dazzle Liner, dessutom lanserar man läppkit med både läppennor och flytande läppstift, allt presenterat i limited edition-förpackningar. Dreamy, right?
Nabla Dazzle Liner, 129 SEK
Tre nyanser av favoriten Dazzle Liner – denna gång i originella färger som gunmetal, mässing och rödmetallic.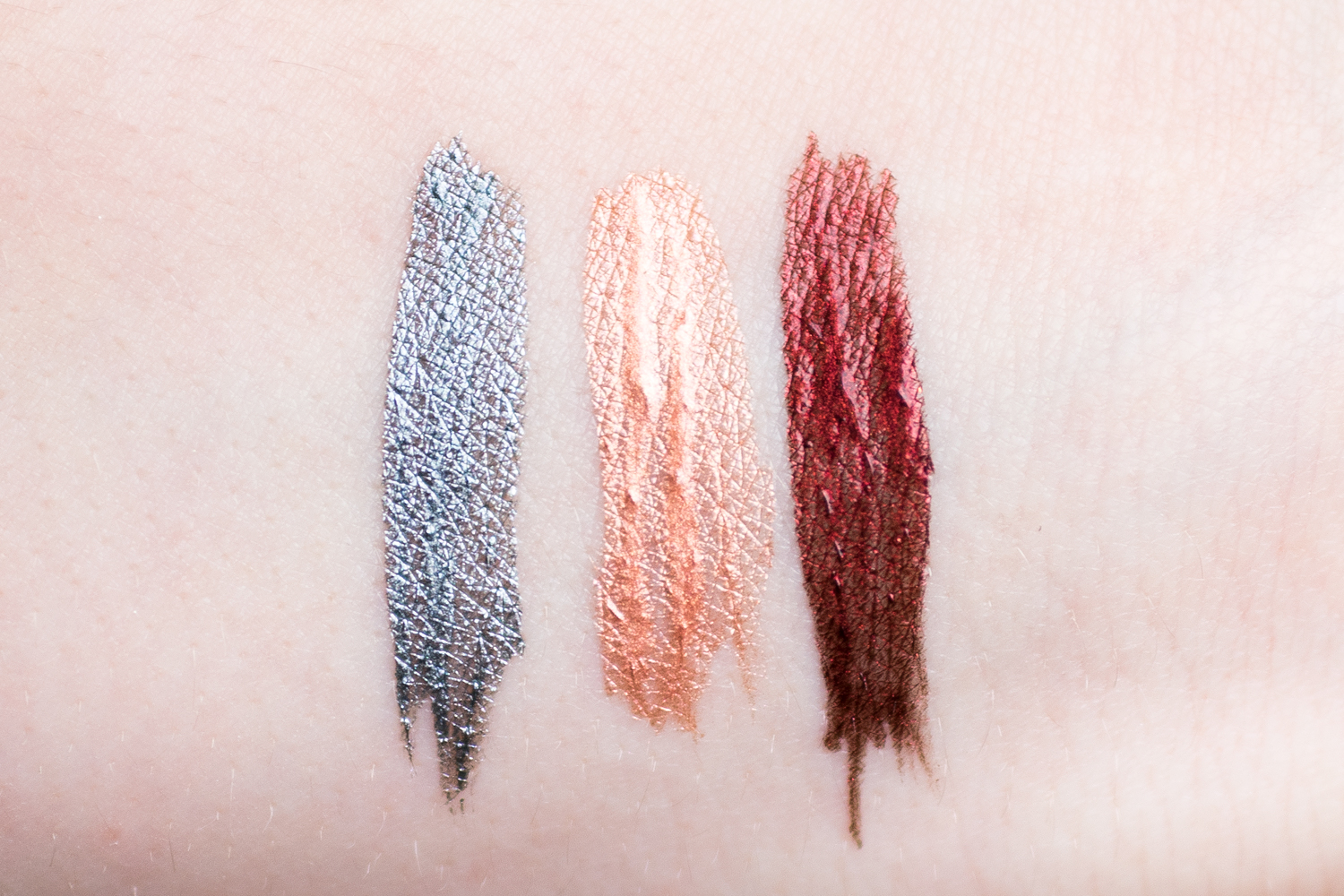 Industrial, Comet, Cruel Jewel
Nabla Dreamy Lip Kit, 209 SEK
Läppkit med både Velvetline läppenna och ett Dreamy Liquid Lipstick i 4 nyanspar; Alter Ego (matt röd), Bad Boy (matt mörklila), Grace (metallic peach) och Closer (matt varm beige).
Grace & Bad Boy
Nabla Cosmetics Dreamy Liquid Lipstick Star Edition, 175 SEK
Sex stycken limited edition-nyanser av Nablas Liquid lipstick, fem matta och en med metallic finish. Zen (matt nude), Broadway (matt rödbrun), Ritual (matt kall brun), Silk Road (metallic körsbärsröd), Noblesse Oblige (matt gammelrosa), Anarchy (matt mörk pastellila).
Zen, Broadway, Ritual, Silk Road, Noblesse Oblige, Anarchy
The Body Shop x House of Holland
I år har The Body Shop ett unikt samarbete med modehuset House of Holland som bjuder på makeupförpackningar med extra wow-faktor. De kastar sig in i partysäsongens makeuptrender med glitter, glam, punkrock och 80-talsdisco.
The Body Shop x House of Holland Shimmer Puff, 195 SEK
Ett skimrande kroppspuder som är perfekt för att highlighta nyckelben och axlar. Så fin att applicera direkt efter att du smort in kroppen för extra hållbarhet. Slutsåld online, kan finnas i butik.
Glitter är tyvärr min sambos värsta mardröm – så denna har jag fått applicera utomhus eftersom det flyger ut så mycket bara man öppnar förpackningen.
The Body Shop Metal Lip Liquid, 95 SEK
Sex stycken flytande läppstift, alla med en hållbar och metallisk matt finish. Jag har fått hem 5/6 nyanser; Scarlet Steel 015 (hallonröd), Pink Nickel 025 (gammelrosa), Fuchsia Chrome 028 (knallrosa med kall underton), Rose Gold 031 (persika med guldskimmer) och Russet Copper 038 (mörk bronze). Slutsålda online, kan finnas i butik.
Scarlet Steel 015, Pink Nickel 025, Fuchsia Chrome 028, Rose Gold 031, Russet Copper 038
The Body Shop Star Stamp Liner, 115 SEK
Vad som kan verka som en helt vanlig eyeliner, men icke! Här har vi en dubbeländad eyeliner med den vanliga spetstippen på ena sidan och på andra sidan, precis som namnet avslöjar, en eyelinerstämpel i form av en stjärna som kan hotta upp vilken sminkning som helst! Stämpla på ögonen, händerna, kinderna, eller varför inte på läpparna? Slutsåld online, kan finnas i butik.
Denna eyeliner kan vara den mest köpta makeup-produkten i vinter… För den sålde slut online direkt och när jag skulle köpa den till min svägerska i födelsedagspresent var jag i flera butiker innan jag till slut ringde till den sista butiken som hade ett fåtal kvar. Näst intill helt omöjlig att få tag på.. men förståeligt då det är en av mina favoriter! Den kommer definitivt att plockas fram på nyårsafton ★
The Body Shop Glitter Dust, 50 SEK – REA!
Ett finmalt glitter som kan användas på ögonlock, kinder, läppar, nyckelben och axlar eller håret för en total glitterbonanza! Kommer i två färger; Gold Glitter Dust och Pink Glitter Dust.
The Body Shop x House of Holland Complete Look Palette, 140 SEK – REA!
House of Holland har designat två unika multipurpose-paletter exklusivt för The Body Shop. I varje palett finns en läppfärg, en highlighter, en basfärg och en tvådelad skugga till ögonen. WE RULE THE WORLD är ett fyrverkeri av lekfulla nyanser och med THE NIGHT IS MINE får du dova, varma nyanser.
We Rule the World, The Night is Mine
---
Jag gillar verkligen alla kollektioner på sina olika sätt! Gillar det ljusa och mysiga tillsammans med lite kontrast i L'Oréals Merry Metals medan jag gillar det klassiska med twist i IsaDoras Holiday Divine. I Nablas Holiday Collection kan jag inte undgå att älska det lite oväntade, jag menar… den röda metallic eyelinern Cruel Jewel! Plus att Nabla är bäst på läppisar, så är det bara. I samarbetet mellan The Body Shop och House of Holland gillar jag det lekfulla och färgglada.
Har du hittat något bland dessa kollektioner?