Ett av mina favoritmärken när det kommer till budget är Viva La Diva och nu kommer det lite höstnyheter! Lite basprodukter och den multifunktionella paletten Vanity. Och om ni sett min video där jag testar nytt smink vet ni redan att jag gillar en av nyheterna!
Viva La Diva Foundation with Argan Oil, 119 SEK
Viva La Diva har försökt att hänga med i svängarna gällande färgutbud på sin foundation. Dock vet jag inte om de har lyckats så där jättebra. Tre "typ" mörka nyanser doesn't make it liksom. Tyvärr har jag inte swatch på nummer 3 då jag gett bort den nyansen.
Men jag gillar verkligen den här foundationen. Den ger ett så snyggt glow! Samt att den satt snyggt på mig en hel dag utan att jag behövde bättra på trots att den är oljebaserad. Skulle nog säga att den här har en medeltäckning.
Jag använder nummer 2 med en hint av IsaDoras Foundation Blender då den är aningens för ljus för mig (?) av någon anledning. Det händer typ aldrig. 1 Vanilla Sky var jättemycket för ljus för mig, vilket heller aldrig händer. Men vintermånaderna har ännu bara börjat så jag räknar med att kunna använda den i början av 2018 (Mvh likblek).
Viva La Diva Concealer with Argan Oil, 89 SEK
Concealer with Argan Oil är tillhörande concealer till foundationen ovan. Det ska vara en fullt täckand concealer som både återfuktar den tunna och känsliga huden under ögonen.
Den här har jag faktiskt precis börjat testa, så jag kan inte säga så mycket om den än. Förutom 4 nyanser av beiget kommer den här i "typ" mörka toner också. Dock vet jag inte vem som fått bestämma namnen på dessa för jag får riktigt dåliga vibbar av "Pure Light" och "Dark Truth". Känns relativt ofräscht och varför inte göra det enkelt för sig och döpa dessa efter foundation-nyanserna så att man lätt kan köpa sig båda? Tips! Sen tycker jag att de mörkare tonerna ser röda ut..
Här har jag gett bort nyansen 4 Savannah Beige, så därför finns inte den med i swatchbilden.
Viva La Diva Translucent Setting Powder, 149 SEK
Två "transparenta" puder i en varm och en kall nyans, Light Yellow och Light Pink. Mitt problem med dessa är att de först blir jätteljusa och inte så transparenta på huden – men smälter sedan in i huden och syns inte alls. De håller väldigt bra för att vara budget. Tillsammans med foundationen höll det hela dagen utan behov av förbättring.
Min erfarenhet av dessa är att de blir väldigt fina på, i alla fall på mig med ljus hy, men jag förstår inte hur dessa ska fungera på en mörkare hudton när t o m. jag känner mig vit till en början?
Jag hade velat se fler nyanser, samt ett stopp för silen. För råkar pudret komma upp-och-ned i väskan så är det puder i hela övre delen av dosan, vilket också leder till en mindre puderexplosion när man skruvar av locket.
Viva La Diva Vanity Highlight, Contour & Eyeshadow Palette, 249 SEK
En allt-i-allo palett med både ögonskuggor, rouge, highlighter och bronzer. Jag blev imponerad när jag swatchade ögonskuggorna som hastigast. Visst finns det vissa nyanser som presterar bättre än andra, men överlag är jag riktigt impad!
Till en början blev jag lite besviken på ögonskuggsnyanserna, att det kändes som att det fanns flera som var likadana, men efter swatchningen insåg jag att så inte är fallet. Ska göra en look med den här paletten asap så ni får se hur fin den är. Och riktigt bra pris för att få så många olika skuggor, samt både contouring/bronzers, rouge och highlighters. Ett härligt budgetkap!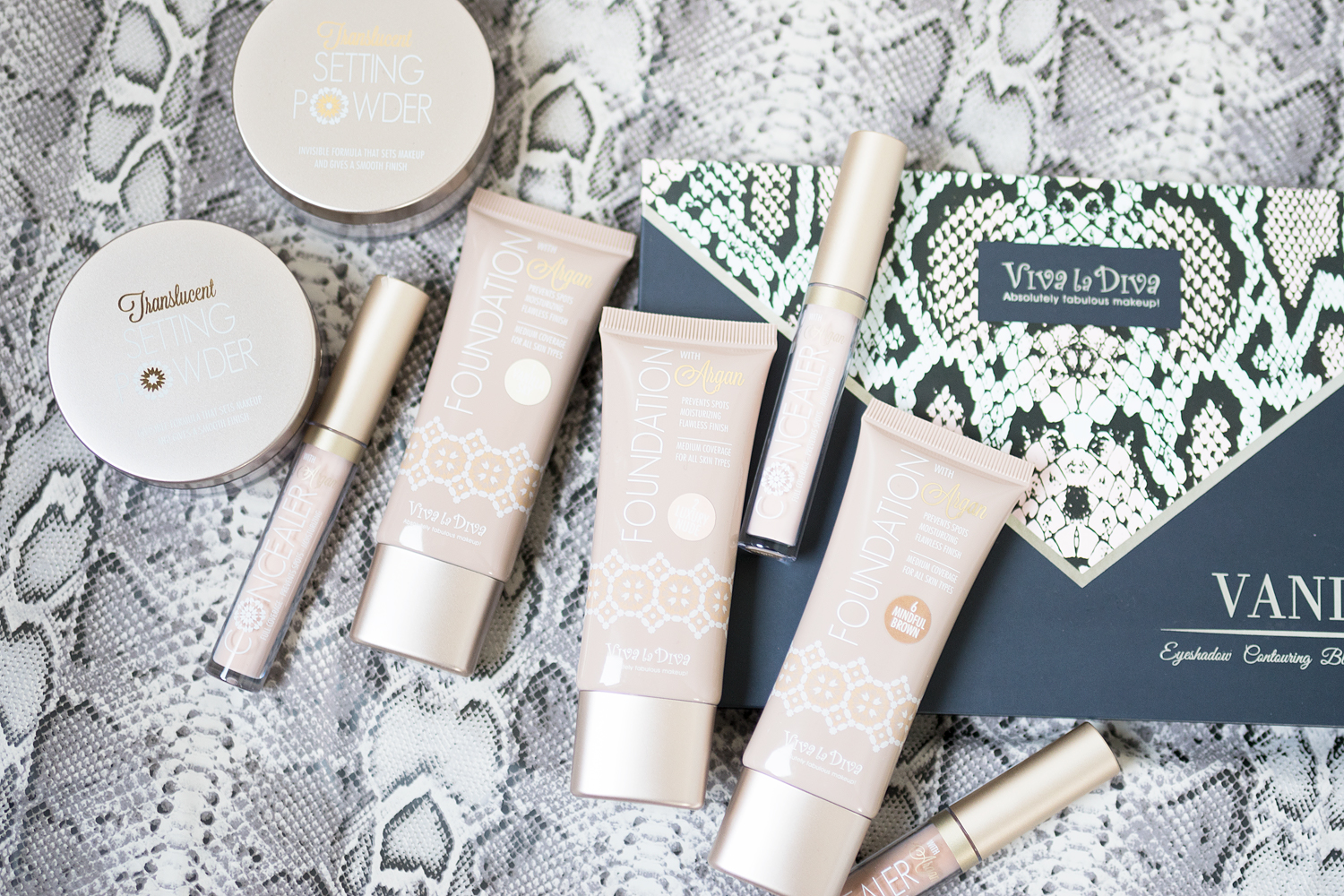 Överlag känns det som att Viva la Diva hänger med i svängarna, än om de kanske borde ta en till funderare angående de mörkare nyanserna på basprodukterna och namnen. Men jag gillar verkligen foundationen och ska verkligen ge concealern en chans också. Lite tveksam till pudren, men ska ge dem ytterligare en chans också. Vanity-paletten är den stora vinnaren bland nyheterna (tillsammans med foundationen då).
Har ni sett Viva la Divas höstnyheter i butikerna än?