Hårvårdsprodukter med banan, ingefära, grönt te eller kokosolja? Låter det som något för dig? The Body Shop har nu både lanserat nya produkter och uppdaterat bland annat den ikoniska bananserien.
BANANA – För normalt till torrt hår
Med mogen Community Trade-producerad bananpuré från Ecuador vårdar och återfuktar den här serien normalt till torrt hår. Produkterna har högt bananinnehåll och håret luktar sååå gott i flera dagar. Mitt hår blir glansigt och mjukt utan att kännas flottigt.
COCONUT OIL – För torr & flagig hårbotten
En pre-shampoo olja med kallpressade kokosnötter från den tropiska ön Samoa. Den här oljan kan vid regelbunden användning bidra med att göra håret starkare, lenare och mjukare samt att mjuka upp hårbotten. Alltså för mig som älskar kokosdoft är den här oljan rena drömmen! Och den gör inte håret mer oljigt eller flottigt än om jag inte skulle använda den.
GINGER – För torr & flagig hårbotten
Ett mjällschampo med kraftfull ingefära från Sri Lanka tillsammans med björkbark, vitpilsextrakt och honung som ger ett vårdande och lugnande schampo för flagiga hårbottnar. Tyvärr har jag inte hunnit testa det här schampot då jag sällan har mjäll eller torr hårbotten, men ibland kan jag köpa mjällschampo bara för att de oftast känns kylande mot hårbotten och doften. Ingefärsdoften är härlig och känns fräsch – så så fort bananschampot tar slut kommer jag nog att sluka den här med.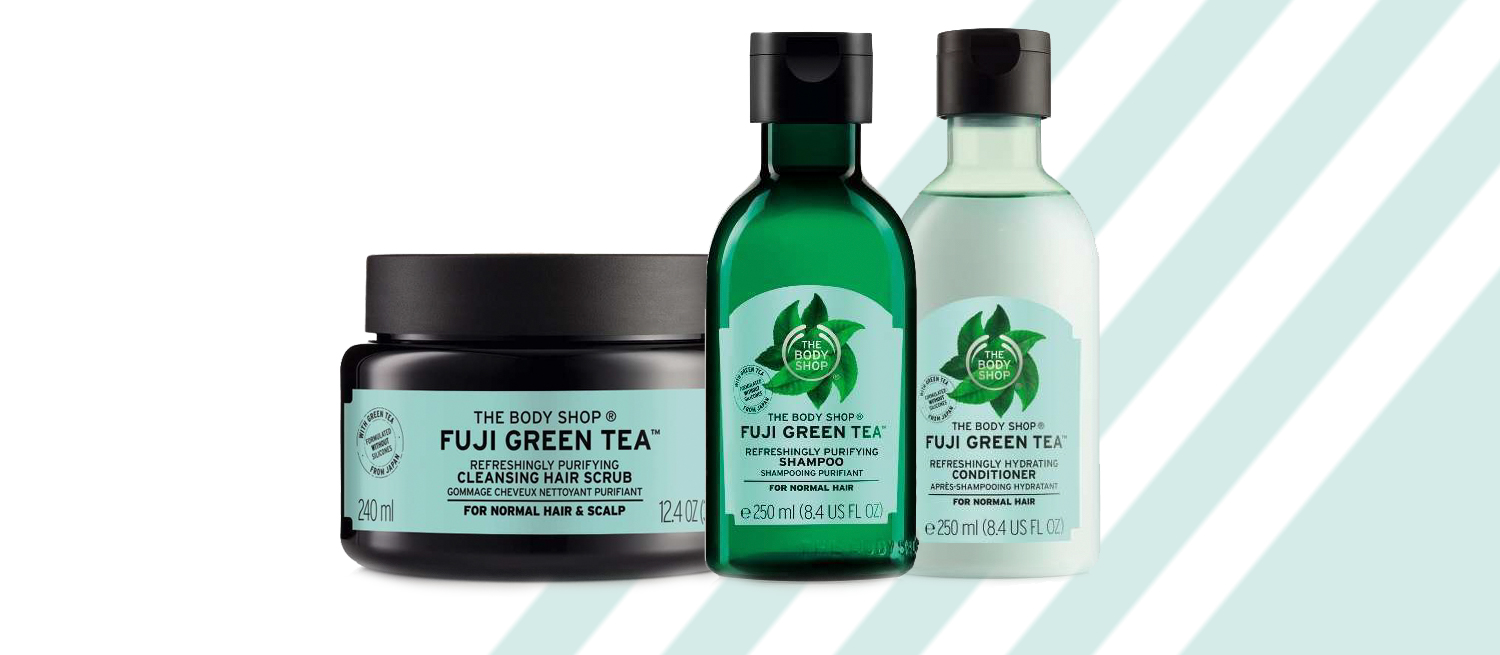 Fr o m. 1/8 har också Fuji Green Tea fått en egen hårvårdsserie med Schampo, balsam och ett skrubbschampo. Fuji Green Tea har sedan innan en hel kropps- & badserie och doftar fräscht. Jag är helt klart nyfiken på den här hårvårdsserien också!
Har du testat The Body Shops hårvårdsprodukter? Vad tycker du om dem?