Det bästa med att jobba med sin största passion är att man lär sig så otroligt mycket hela tiden, men redan för några år sedan fick jag lära mig att hudvården är A och O för att få snyggt resultat med sminket. Har du fel typ av hudvård eller inte tar hand om din hud under sminket kommer det helt enkelt inte se lika fint ut som någon som tar hand om sin hud.
Här kommer några handfasta hudvårdstips till dig som tycker att hudvård är astråkigt, men som ger dig en bra bas för att få till sminket. 3 enkla steg, mer behövs inte!
---
Hudvårdstips 1: Exfoliera
Oavsett om du har fet, normal eller torr hud kan man behöva exfoliera för att gamla hudceller ska lossna och för att sminket ska hålla längre. Jag har själv kombinerad hy där jag blir fet i T-zonen men runt näsan och hakan är jag torr och där fastnar både foundation och puder, not cute! Du kan antingen exfoliera med syror, enzympeeling eller mekaniska skrubbar med korn – eller allt i ett.
Exuviance Triple Microdermabration Face Polish är en tre-i-ett exfoliering, den innehåller både AHA-syra, papayaenzym och mikrokristaller.
Eucerin DemroPURIFYER Scrub (produkten har utgått 😩) är en oljefri mekanisk skrubb som innehåller mikropartiklar tillsammans med mjölksyra som exfolierar huden på djupet, men skonsamt.
Paula's Choice Skin Perfecting 2% BHA Liquid är en leave-on exfoliering med 2% salicylsyra som kemiskt exfolierar. Salicylsyra har även en naturligt anti-inflammatorisk och antibakteriell effekt på huden.
.
Hudvårdstips 2: Återfukta
Efter exfoliering är det viktigt att återfukta huden för att huden ska bli smidigt och följsam och inte bli stram, då finns risken att sminket antingen lägger sig som en hinna ovanpå huden istället för att smälta in, att det krackelerar eller ser kakigt ut. Återfuktande serum och dagkräm är kanske att föredra till vardags, men har du tid är en återfuktande ansiktsmask är perfekt!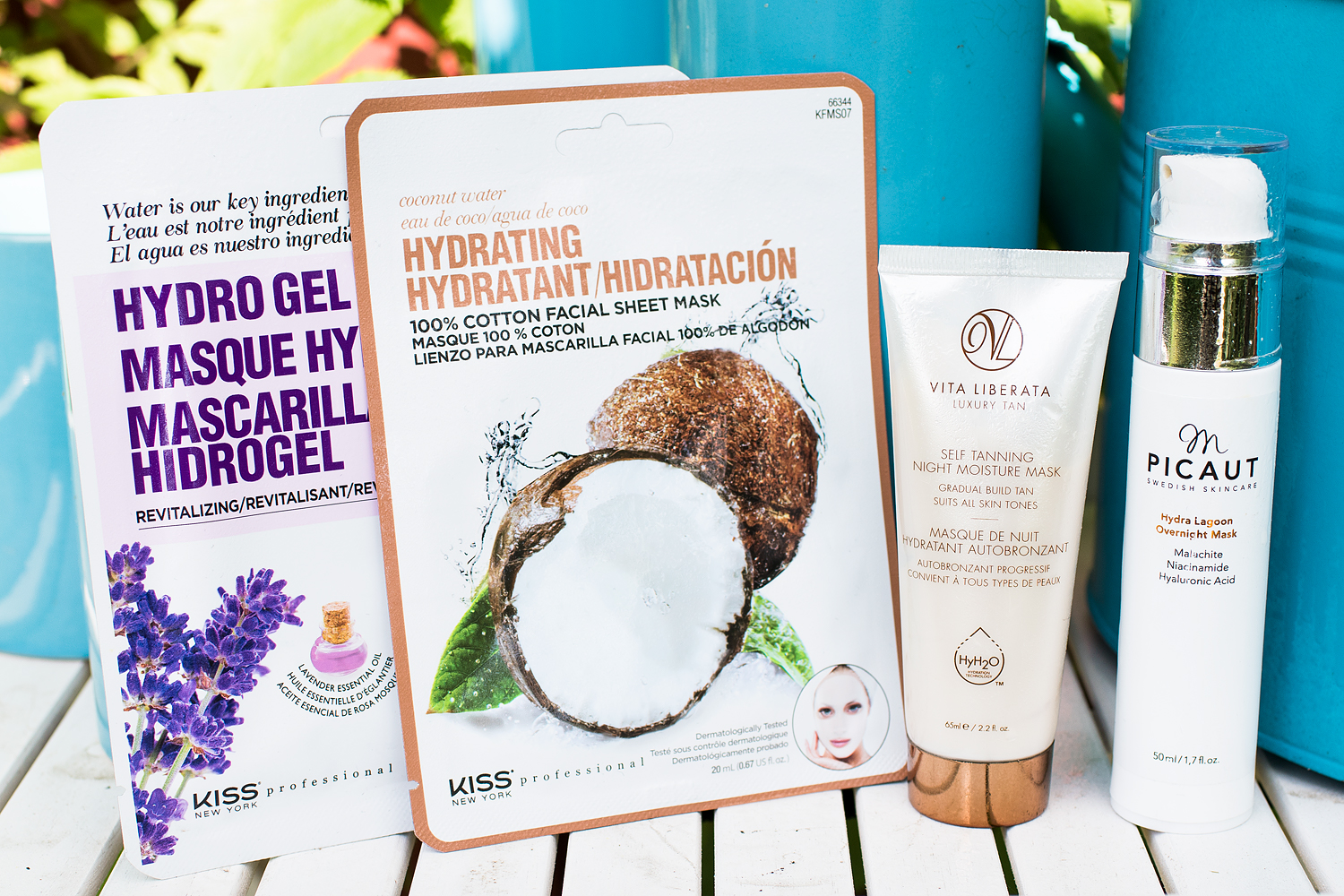 Kiss NY Professional Sheet Masks kommer i flera olika former, men dessa två är återfuktande – den ena med lanvendelolja och den andra med kokosvatten. Sheet masks are here to stay!
Vita Liberata Self Tanning Moisture Mask är en återfuktande ansiktsmask du använder under natten som också ger en lätt BUS-effekt. Kombinera nytta med nöje!
M Picaut Hydra Lagoon Overnight Mask innehåller både återfuktande hyaluronsyra, por- och rynkförminskande niacinamide och malakitpulver som verkar lugnande och och skyddar.
.
Hudvårdstips 3: Skydda
Idag finns det både smink med och utan SPF, men till vardags använder jag oftast SPF i krämform innan jag applicerar mitt smink. Att skydda huden året om med SPF är viktigt för att inte skada huden. Solen kan inte bara ge oss rynkor och pigmentfläckar, utan även hudcancer. Ska du fotograferas med blixt rekommenderas inte SPF då det reflekterar ljuset – men annars, alltid SPF!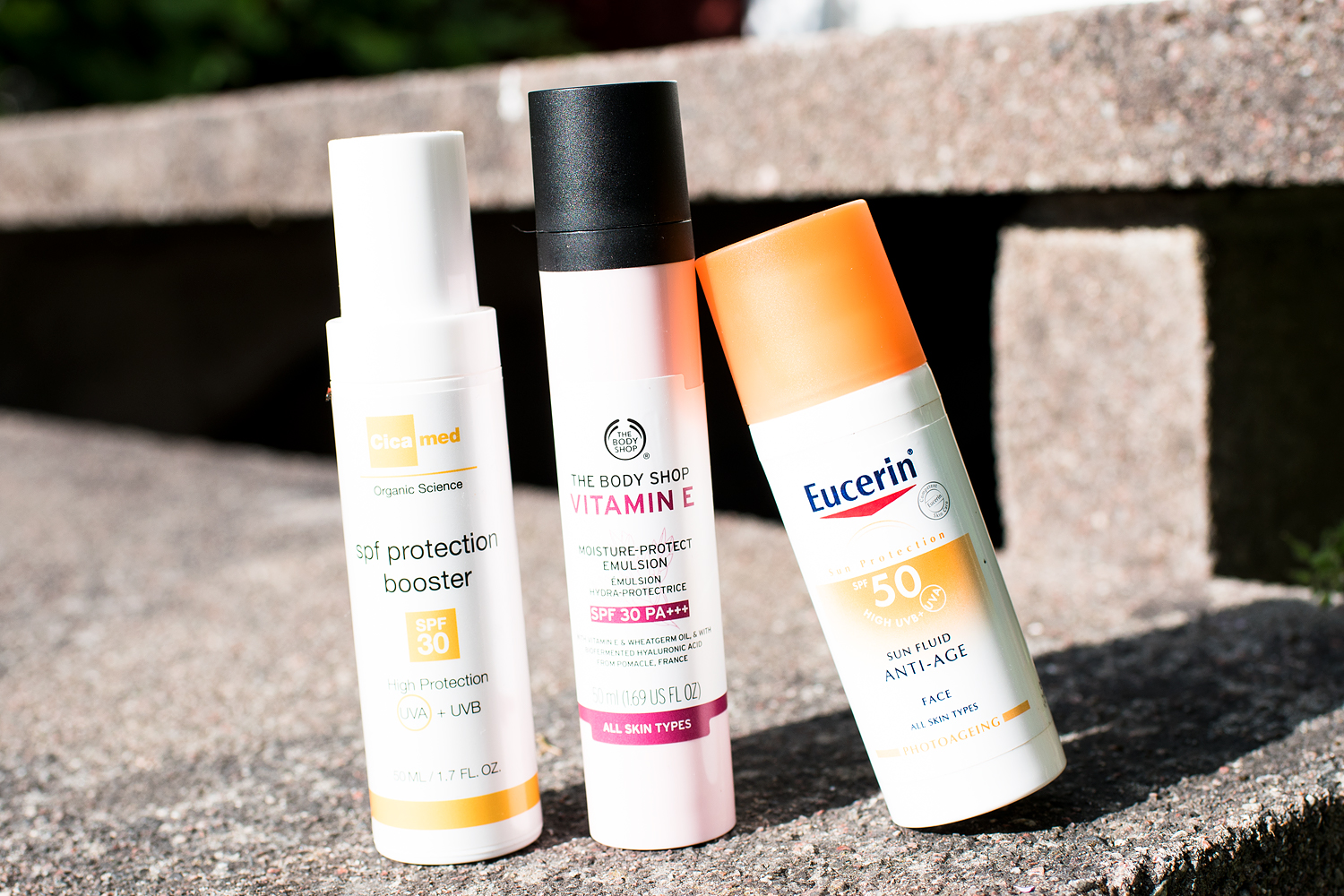 Cicamed SPF Protection Booster SPF30 är en lätt och luftig kräm med bredsprektigt UVA/UVB-skydd. Berikad med vitamin E och en exklusiv peptid som förstärker hudens försvar mot förtida åldrande samt skyddar mot fria radikaler.
The Body Shop Moisture-Protect Emulsion SPF30 PA+++ är en lätt och mjölkig emulsion som både återfuktar och skyddar huden mot både UVA/UVB-strålar. Innehåller också hyaluronsyra för att låsa in fukten i huden upp till 48h.
Eucerin Sun Fluid Anti-Age Face SPF50 är en rejält fuktgivande solkkyddskräm med både hyaluronsyra, antioxidanten Licochalcone A som skyddar hudcellerna i de djupare hudlagren i överhuden samt Glycyrrhetinic Acid som stödjer hudens eget DNA-skydd.
.
Vad är dina bästa hudvårdstips för att sminket ska vara on point?