Hej! Hoppas allt är bra med er. Med mig är det så där just nu, mycket jobb och stress som bidrar till både kroppsliga och mentala problem. Migränen har gjort sig påmind i två dagar nu och igår var jag så trött att jag låg däckad i soffan efter att vi fixat granen och julstädat. Så är det mest jobb, äta, sova för att orka med livet just nu.
---
The Good Gold Days
NABLA Goldust Collection kan vara bland de vackraste julkollektionerna någonsin. En perfekt julklapp för sminkälskare!
Kollektionen består av 8 puderögonskuggor, en krämögonskugga, 5 läppstift, 2 rouge och en eyeliner. Jag ska så klart göra en härligt julig sminkning med dessa produkter, jag ska bara ha tid!
Produkterna från denna lyxiga box är alla unika och i Limited Edition. En Dazzle Liner och fem Diva Crime-läppstift i guldskrud. En Collector's Edition i endast 400 stycken.
Klimt är en rödguld eyeliner, lätt duochrome och extremt pigmenterad. Flytande guld med en kromatisk effekt i en glänsande struktur som förgyller looken med färgstarka och praktfulla varma reflektioner.
NABLA Diva Crime Lipstick Gold, €12,90 – Limited Edition
Fem matta läppstift i en lätt och pigmenterad formula som innehåller japansk kameliaolja som återfuktar läpparna. Läppstiften har en lätt söt doft och kommer i guldiga hylsor.
Dragonfire – En flammande orangeröd
Dilemma – En intensiv mörk chokladbrun
Moulin Rouge – En kopprigt röd med liten metallisk ton
Arabesque – En bärig rosalila
Bye Bye Birdie – En ljus nude med rosa underton
Liberty-paletterna är skapade för att du ska kunna plocka ihop din egna palett med produkter med magnetisk baksida. Kombinera dina 12 favoritnyanser av ögonskuggor, eller plocka ihop en contour- & highlightpalett med 6 nyanser. Du väljer själv!
Nouveau-paletten har ett ljust blått snäckmönster med gulddetaljer.
Danae – En intensiv bronsguldig nyans. Celestial (skimmer/glitter).
Glasswork – En hasselnöts-mauve (rosa med bruna inslag). Celestial.
Harper – En ljus pastellrosa med en underton av persika.
Satellite of Love – En ljus burgundy med en aningens blå glans.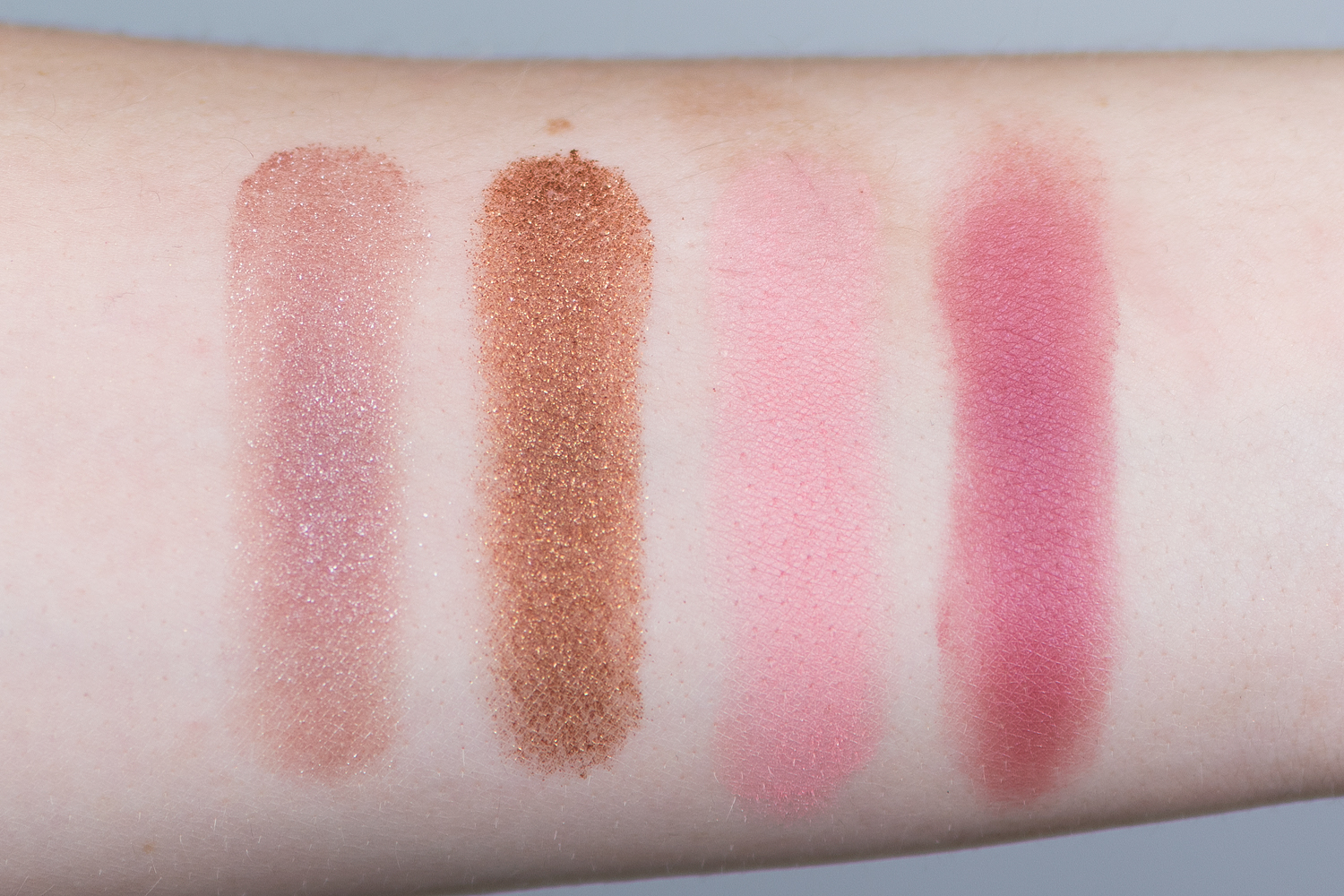 Liberty Six-paletterna är samma princip som den större paletten ovan, men här i mindre format. Déco är en mörk palett med guldigt mönster.
Snowberry – En varm gammelrosa. Satin.
Paprika – En rödorange. Matt.
Absinthe – En terracottabas med tealskimmer.
Ludwig – En mörk och färgstark kopparbrons. Skimmer.
Luna – En ljus champagnerosa. Skimmer.
Radikal – En militärgrön. Matt.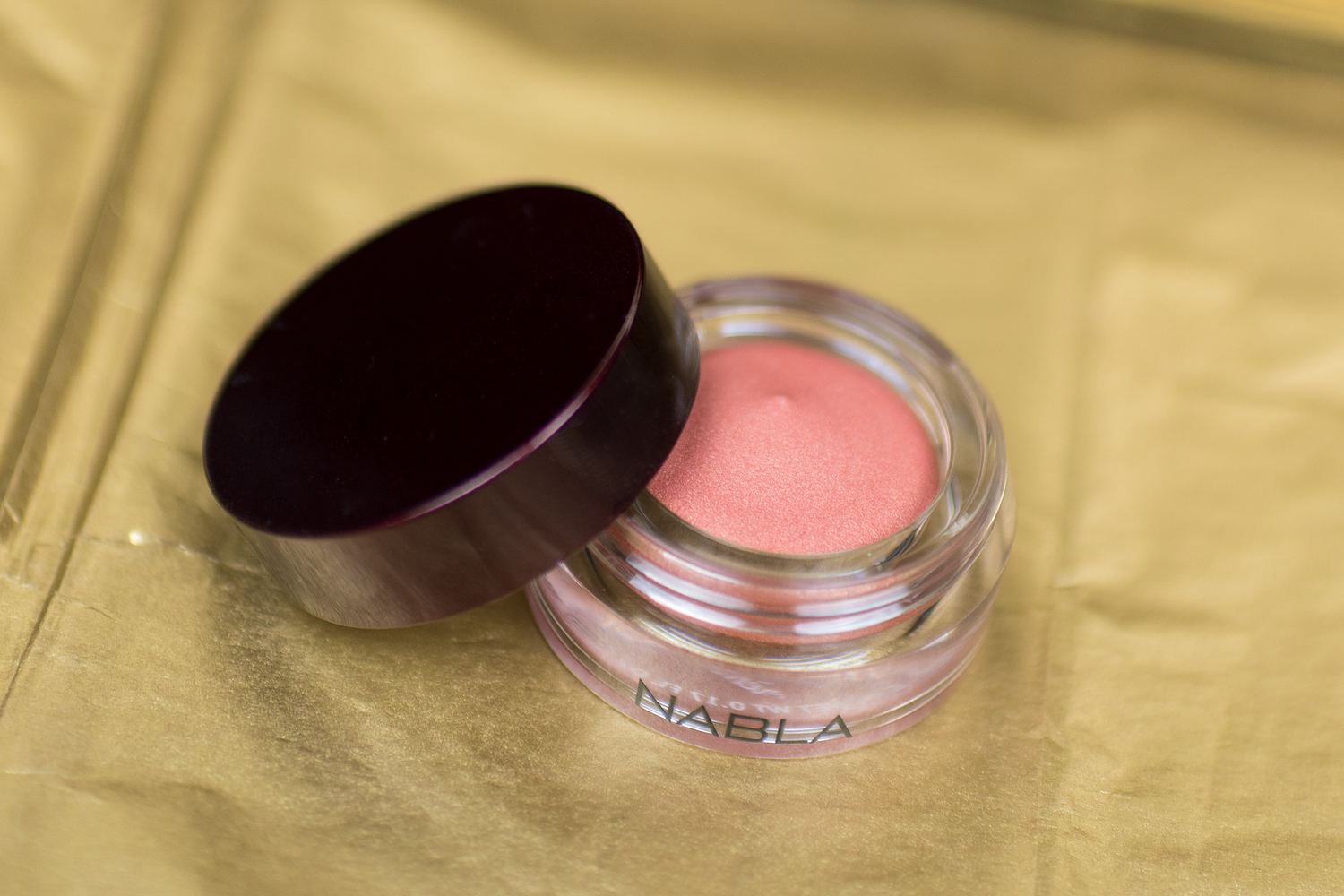 Dusk är en krämsugga i intensiv persikorosa nyans med guldreflexer.
Alltså hur läcker är inte den här kollektionen? Några klassiska och några oväntade nyanser. Jag är som sagt sååå sugen på att göra en julsminkning med den här, men är rädd att jag inte kommer ha tid. Jag ska dock försöka att fixa det på självaste julafton då jag faktiskt är helt ledig. Och just nu har NABLA faktiskt 15% rabatt på kollektionen, plus 50% på frakten.
NABLA är ett märke som är både veganskt och cruelty free.
Har du testat något från Goldust-kollektionen? Eller hittar du några favoriter du vill testa?