Jag kommer aldrig få nog av sommaren! Alla färger, att gå barfota i sanden och lapa alla vitaminer från solen, sommarens frukter och bär. Nu vill jag bara göra det mesta av den här sommaren genom att smacka på härliga läppisar i grymma färger och i olika formuleringar och låta solen smeka min highlightade hy.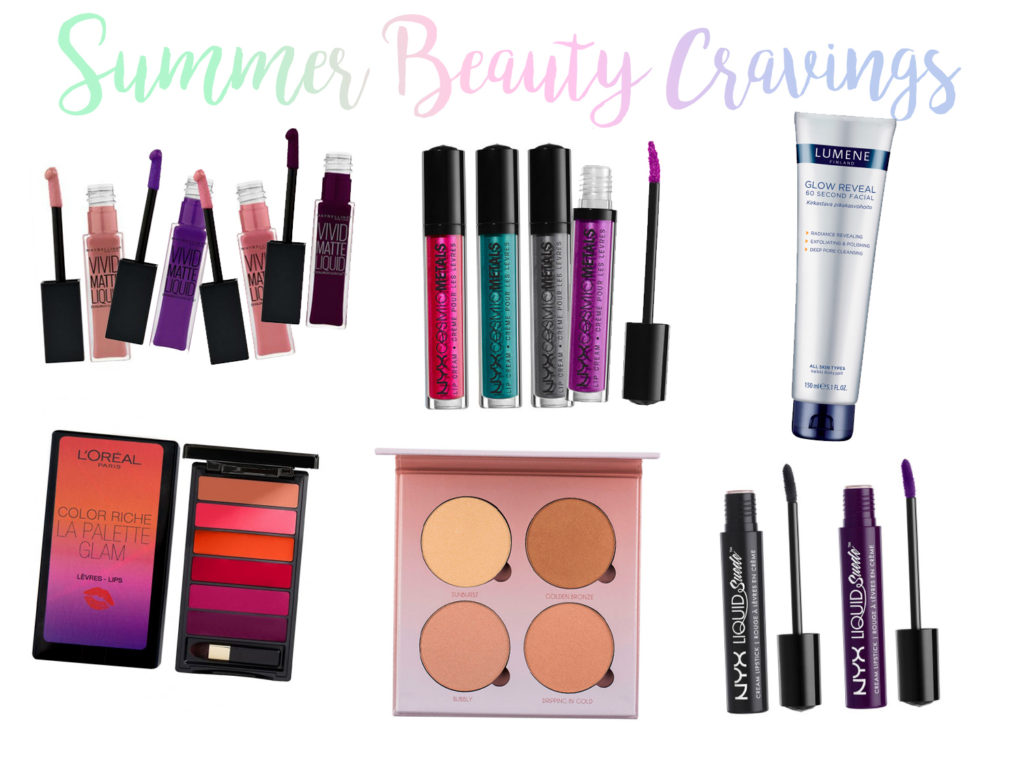 Maybelline Vivid Matte Liquid
Högpigmenterat flytande läppstift som ger dina läppar en snygg matt finish. Jag har sett dessa på flera olika håll den senaste tiden och hört relativt bra om dem. Matta lippies är nog min stora last i år och dessa inkluderade.
NYX Cosmic Metals Lip Cream
11 metalliska nyanser av rymden! Alltså, läppisar som är döpta efter rymden och dess under.. Behöver jag säga mer än att "måste ha"? Har ännu inte kommit till Sverige, om inte så lär jag beställa dem asap.
Lumene Glow Reveal 60 Second Facial
Unik ansiktsvård med en formula som kombinerar fröolja från hjortron och havtorn med peelande ingredienser. Låter lite som min älskade REN Flash Rinse (som för länge sedan är slut) och jag blev genast väldigt intresserad av att testa den här!
L'Oréal Paris Color Riche La Palette Glam
L'Oréals senaste läpp-palett med 6 stycken nya nyanser. Paletten lanseras nästa vecka (V. 27) och jag är superpepp
Anastasia Glow Kit – That Glow
Anastasia misslyckas sällan med någon produkt och vad jag har sett av Glow Kiten så är detta inget undantag. Vill smacka på alla nyanser samtidigt och lysa ikapp med solen!
NYX Liquid Suede Cream Lipstick
12 nya nyanser av mina favoriter bland Liquid Lipsticks. Alla i unika och superfina färger. One can never have to many lippies? Har heller ännu inte kommit till Sverige, men jag hoppas att de kommer!