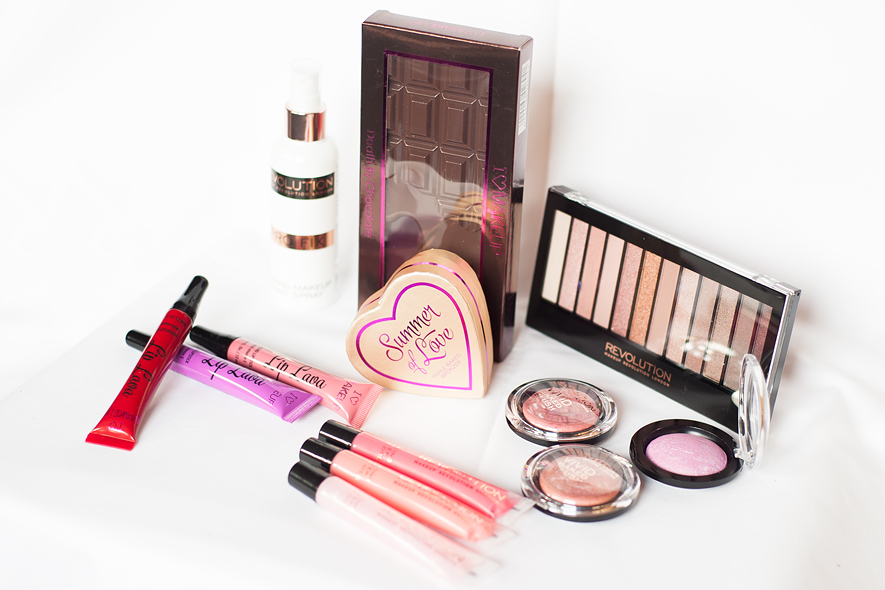 Har ni hört talas om märket Makeup Revolution? Jag har kommit i kontakt med det på ett antal bloggar och sidor sedan det lanserades i mars 2014 och det har verkligen exploderat den senaste tiden! Märket har sin bas i London och har klassats som "Budgetmärkenas Copycat" då många av produkterna är inspirerade av bl a. både Urban Decay och Too Faced. Makeup Revolution finns nu på brallis.se med priser från 29 kr!
Deras filosofi är att skapa trendiga produkter till ett bra pris utan att förlora kvalitet.
I Heart Makeup Lip Lava är en slagkraftig läpprodukt med en intensiv läppstiftsformula som smälter samman och skapar en effektfull glans. Mjuk och lätt att använda med en långvarig formula och skyddande Vitamin E. Firestorm (röd), Shockwave (lila), Tremor (rosa/nude).
Makeup Fixing Spray är en ultimat produkt i Makeup Revolutions professionella sortiment. Produkten används av både proffs och noviser varje dag för att säkerställa att sminkningen sitter hela dagen. Den unika formulan skyddar sminket från värme och fukt samt kyla och vind så oavsett hur din hud reagerar på yttre förutsättningar så bevaras din makeup perfekt i upp till 8 timmar.
Death By Chocolate är en chokladinspirerad ögonskuggspalett som går åt det mörkare hållet. En stilfull mix av matta och skimrande ögonskuggor som ger en naturlig stil på dagen medan man på kvällen går över till den mörka sidan.
Håll muspekaren över bilden för att se skuggornas namn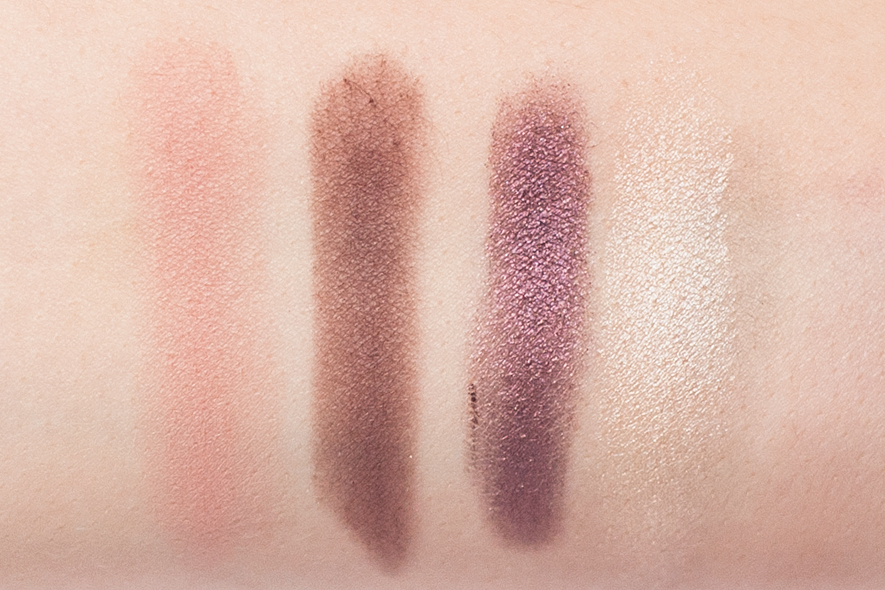 Lick me, One more bar, Love you to death, Bring down angels
I Heart Makeup Hearts Bronzer har en melerad struktur som tillför en fräsch somrig ton i ansiktet samtidigt som den ger en mjuk lyster. Den unika förpackningen av kartong skyddar det hjärtformade bronzingpudret i 3D-format och ger en kärleksfull känsla. Pudret är kompakt men är lätt att arbeta in i sminkborsten för att stegvis bygga upp en touch av solbränna.
Lipgloss Tube tillför en färgsam lyster till läpparna utan att kännas kladdig. Finns i ett flertal olika nyanser för att passa alla önskemål och ditt dagliga humör. Den praktiska förpackningen gör läppglanset lätt att applicera och det glider lätt över läpparna för att ge färg och glans. Passar perfekt i handväskan och lätt att ta med.
Uppifrån: Touch, Hey girl, Too shy
Baked Blusher är melerade och högpigmenterade rouge med en naturligt mjuk effekt. Färgerna är lätta att bygga upp och ger en diskret hint av skimmer för att framhäva kindbenen/kinderna. Makeup Revolution Baked Blusher finns i sex olika nyanser och kan appliceras på kindbenen eller endast på äppelkinden.
Make love instead
One for playing games
Loved me the best
Redemption Iconic Palette innehåller 12 högpigmenterade ögonskuggor som kan användas enskilda eller mixas med varandra för att skapa effektfulla sminkningar. Använd med fördel matta och pärlemobaserade skuggor för att skapa en naturlig vardagsmakeup medan skimrande texturer skapar extra mycket effekt till kvällen. Välj Makeup Revolution Redemption Iconic Palette utifrån din personliga stil eller utifrån ögonfärg för att framhäva din blick extra mycket.
12, 9, 6, 2
Iconic-paletterna från MR ska vara dupes för UD's Naked-paletter… och eftersom jag har Naked 3 sedan innan (och har knappt använt den…) så tänkte jag jämföra dessa två lite. Skuggorna i paletten är nästintill identiska enligt mina ögon. Vad säger ni?

Övre raden – Makeup Revolution Iconic 3: 12, 9, 6, 2
Undre raden – Urban Decay Naked 3: Blackheart, Factory, Trick, Dust
Jag har som sagt varit väldigt sugen på att testa produkter från MR så det var riktigt roligt att få hem så många och olika produkter. Och jag måste säga att jag verkligen gillar alla produkter jag testat hittills. Det är krut i pigmenten och hållbarheten är verkligen inte sämre än något annat budgetmärke jag testat. Samt att om du har spanat in någon av Naked-paletterna för sisodär 450 kr/st men inte vill lägga så mycket pengar tycker jag helt klart att Iconic-paletterna är precis lika bra (som ni ser på de swatches jag gjort)… OCH prisvärda, 79 kr liksom!
Ser ni förresten några likheter mellan MR Lip Lava och Too Faced Melted Lipsticks? Eller mellan MR Death By Chocolate-paletten och Too Faced Chocolate Bar? 😉
.
Har du testat något från Makeup Revolution? Eller har du spanat in någon produkt?