Ännu en säsong är här och The Body Shop har nu tagit fram vårens 'Beauty Must Haves' för våren 2015. En härlig bunt produkter för att förbereda huden för soliga vårdagar för att du ska känna dig som ditt bästa jag.
Spa Fit Smoothing & Refining Scrub, 295 SEK / 200 ml
En skrubb för kroppen som exfolierar med hjälp av aprikoskärnor, omedelbart rengör och gör huden silkesmjuk och smidig. Avlägsnar döda hudceller och ökar blodcirkulationen med naturliga och aktiva ingredienser.
Vitamin C Microdermabrasion, 275 SEK / 75 ml
Säg farväl till glåmig och trött hud och hej till fräsch hy med ljuvlig lyster! Små mikropartiklar av mineralen granat ger en grundlig exfoliering av ansiktet, lagom att använda en gång i veckan. De sköna partiklarna avlägsnar döda hudceller och hjälper till att ge huden en jämnare yta och ton.
Moringa Body Butter, 185 SEK / 200 ml
En av topp tre bästsäljande Body Butter i The Body Shops sortiment! En numera en berömd fuktighetsbevarare med blommig doft. Innehåller moringafröolja med naturlig oljesyra och druvkärneolja med höga halter essentiella fettsyror som hjälper till att göra huden underbart mjuk och len. Moringa Body Butter innehåller även en lång rad lyxiga Community Fair Trade-producerade ingredienser såsom kakaosmör från Ghana, sesamolja från Nicaragua, paranötsolja från Amazonasregionen och honung från Etiopien.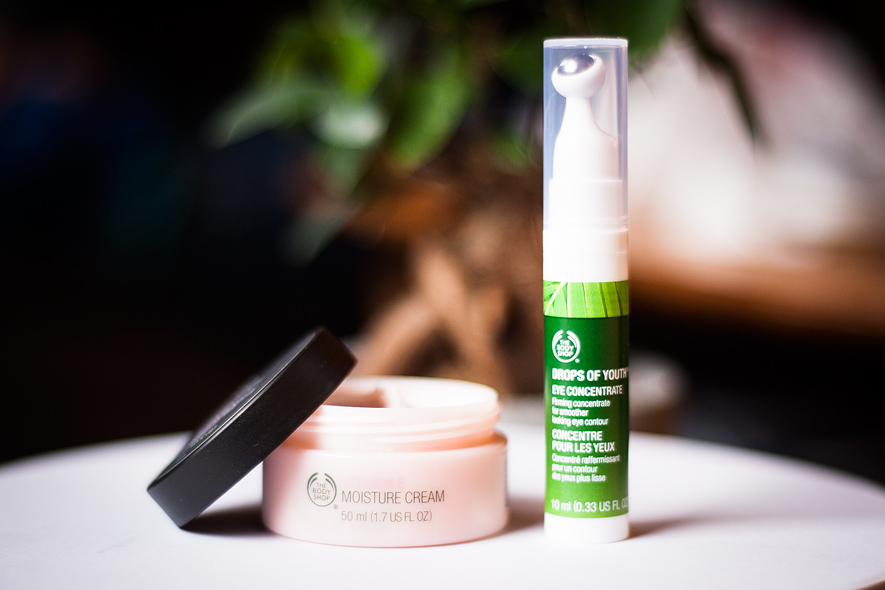 Vitamin E Day Cream, 175 SEK / 50 ml
Fräsch, lätt och riktigt fuktighetsbevarande – det är inte så konstigt att den här rosa burken är en klassisk bästsäljare. Tack vare den näringsrika vetegroddsoljan, en av naturens bästa e-vitaminkällor, är Vitamin E Day Cream en av de hudvårdshjältar som är allra mest älskad – det säljs en burk var 14 sekund!
Drops of Youth™ Eye Concentrate, 295 SEK / 10 ml
Berikad med kraften från plantstamceller från edelweiss, en sällsynt blomma som växer i Alpernas rena luft. Edelweiss elasticitets- och förnyelseegenskaper bidrar till hudens förnyelseprocess för en mjukare och fräschare hy.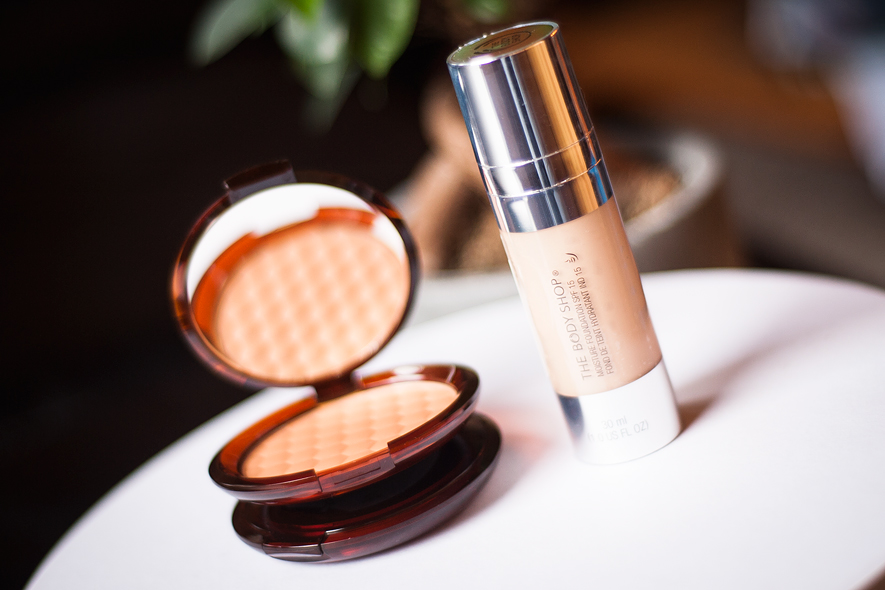 Honey Bronze Bronzing Powder, 185 SEK
Makeupartisternas favorit! Ger en matt finish som du kan applicera lätt over de områden som fortast blir solbrända. Applicera över näsryggen, pannan, kindbenen och hakan för en sommarfräsch nyans till din hud. Den matta formulan gör den också fin att använda som en shadingprodukt under kindbenen, tinningar och halsen.
Moisture Foundation SPF 15, 235 SEK
Denna bästsäljande foundation har en fjäderlätt flytande formula som täcker lätt till medium och ger en perfekt finish. Moisture Foundation SPF15 finns i åtta olika nyanser, passar för normal till torr hy och är fri från tillsatta doftämnen. Innehåller ljusreflekterande partiklar som jämnar ut intrycket av fina linjer.
För mig känns vårens måsten helt rätt, eller ja… i alla fall 5/7 produkter. Jag har dock tyvärr svårt för Moringadoften, så jag kommer nog att använda någon av de andra härliga dofter som TBS  Body Butter finns i, t ex. Early Harvest Raspberry som är en av mina all-time-favorites! Och Drops Of Youth™ Eye Concentrate fick jag allergisk reaktion av så den vågar jag liksom inte använda igen.
Vitamin E Moisture Cream har jag fått prov på förut Vitamin C Microdermabrasion och jag minns att jag gillade dem, samt att jag äääää-ä-älskar skrubbar, så SPA Fit Smoothing & Refining Scrub ska bli så härlig att testa! Honey Bronze Bronzing Powder har jag en nyans av innan så de andra två ska bli kul att testa också. Färgen på Moisture Foundation är tyvärr alldeles för mörk för mig, men jag ska ta med den till huvudstaden nästa vecka så jag kan byta till en bättre färg.
Sammanfattningsvis tycker jag att TBS har valt ut ett härligt gäng produkter för säsongen!

Vad tycker du? Har du testat någon av produkterna? Eller har du spanat in någon?