Här kommer andra delen i Best in Beauty 2014. Nu kör vi sminkprodukter, allt vad du kan tänka dig – från primers till läppstift och nagellack. Komplettera gärna med dina egna favoriter i kommentarerna nedan ♥
Smink – Ansikte
Bästa Primer Too Faced Primed & Poreless Face Primer
Av de primers jag testat har det varit två som stuckit ut gällande både hållbarhet och hur min foundation sett ut under dagen, men då den andra nu är slut har denna verkligen vuxit i mina ögon och i kombination med min absoluta favoritfoundation här under har dessa varit oslagbara!
Bästa Foundation IsaDora Hydralight Water Based Make-Up
En foundation som jag först var mycket skeptisk till då den inte skulle ge så mycket täckning – men jag har kommit på att jag kanske ska använda mindre täckande då min hy faktiskt ser bättre ut och inte som månens kraterrika yta. Den har hållit både tillvardags och fest och t o m. på jobbet utan att försvinna eller lägga sig i fina linjer osv. Som sagt, tillsammans med Too Faced Primern har mitt smink suttit på bättre än jag någonsin varit med om!
Bästa BB Cream The Body Shop All-In-One BB Cream
En lätt och fräsch BB Cream som var min favorit i somras och även när jag bara velat ha lite återfuktning och utjämning. Den kommer ut vit ur tuben men blir beige när de små pigmentkulorna krossas. Känns inte alls på huden. Ett supertips för den stressade!
Bästa Concealer L'Oréal Paris The Touche Magique Concealer
En perfekt concealer att ha under ögonen då den är uppljusande och sitter bra under hela dagen utan att lägga sig i fina linjer och veck. Två stycken förpackningar har jag avverkat under året.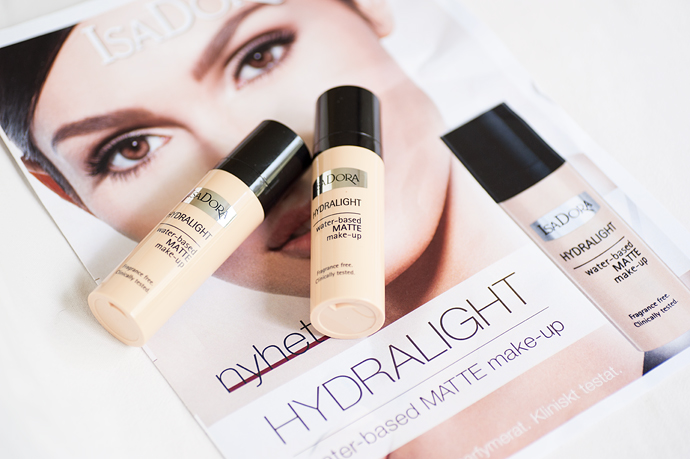 Bästa Puder MAC Mineralize Skinfinish Natural
Alltså, jag vet inte om jag någonsin kommer att hitta ett puder som fungerar för mig så bra som detta gör? Kakar inte, lägger sig fint och jämt på huden och håller länge. Nu håller det på att ta slut så jag måste köpa ett nytt.
Bästa Rouge Flormar Terracotta Blush-On – 44 Pink Bronze
Ett rouge/bronzer som jag använt sjukt mycket sedan jag fick hem det. Det är en perfekt kombination och med lite färg på huden ger produkten det mest fantastiska glowet.
Bästa Bronzer Too Faced The Bronzed & The Beautiful (French Riviera Edition) – Sun Bunny
En guldskimrande bronzer som ger ett superhärligt glow och doftar fantastiskt! Många tycker kanske att Sun Bunny är överskattad, men hos mig är den en riktig skatt.
Bästa Contouringprodukt NYX Powder Blush – Taupe
Jag har testat många matta bronzers och några produkter som ska vara till för contouring och många är alldeles för varma i undertonerna, men detta (som egentligen är ett rouge) är en perfekt färg för mig och har en mer neutral till kall underton och jag har använt den så gott som dagligen under det sista kvartalet.
Bästa Highlighter IsaDora Face Sculptor – 02 Cool Pink
En finskimrig highlighter i en kall rosa ton som ger en alldeles lagom glowig finish. Gillar highlighters som faktiskt inte är jättepigmenterade då man får mer kontroll och det går att få ytterst lite på borsten och det går också att bygga upp till önskad intensitet. Och jag tycker även att färgen kompletterar min hy jättebra.
Smink – Ögon
Bästa Ögonskuggsprimer N/A
Jag har funderat till och från på detta men jag kommer verkligen inte på någon primer som jag tyckt speciellt mycket om. Jag har varvat mellan två, men mest bara för att jag vill använda upp dem.
Bästa Singelögonskugga L'Oréal Paris Les Ombres Monos – 305 Kaki Repstyle
Som jag älskat den här ögonskuggan sedan jag först såg den! Den går att använda ensam eller i globlinjen – lila fin oavsett. Inga fler ord behövs, jag bara älskar den!
Bästa Ögonskuggspalett Anastasia Catwalk Eye Shadow Palette
En härlig palett som ger både variation och har väldigt användbara färger. Jag har nog inte sträckt mig efter någon annan palett så mycket som jag gjort med denna. Alla skuggor är rikligt pigmenterade.
Bästa Ögonbrynsprodukt Anastasia Dipbrow Pomade
Produkten som varit på mångas bryn under 2014. Lättarbetad gelprodukt som går att både få riktigt pigmenterad eller bara lite färg. Håller genom vått och torrt! Själv vill jag verkligen sugen på färgen Ebony nu när jag har mörkare hår.
Bästa Mascara The Body Shop Super Volume Mascara
Det har varit svårt att välja mellan L'Oréals Volume Million Lashes So Cotoure och denna, men So Couture höll tyvärr inte måttet på jobbet (som förövrigt är bästa stället att hårdtesta produkter då jag både står i butik och donar på lagret), vilket TBS Super Volume Mascara gör. Den kladdar inte eller smular vad jag än gör och fransarna blir långa, fylliga och precis som jag vill ha dem.
Bästa Eyeliner L'Oréal Paris Super Liner Ultra Precision
En riktigt bra budgeteyeliner som är lätthanterlig, har bra formula som inte blöder ut i fina linjer, har en bra tipp som ger fin precision. Jag har inte lyckats göra en snygg feline eyeliner i både inre och yttre ögonvrån, men med denna är det faktiskt relativt enkelt!
Bästa Kajalpenna IsaDora Inliner Kajal – 56 Blonde
En beige kajal att använda på vattenlinjen för att ge intrycket av att se piggare och fräschare ut. Bra till att få bort rödhet.
Bästa Lösögonfransar Gypsy Lashes – 906 Black
Liknar Ardells Demi Wispies och perfekt form och längd för mig. De kan ses på mig i mina sminkningar Fall Back 2 U och Light, Camera, Lashes.
Smink – Läppar
Bästa Läppbalsam Burt's Bees Rejuvenating Lip Balm with Açaí Berry
Jag använder endast läppbalsam på vintern då det är då mina läppar blir torra, annars behöver jag aldrig använda det – men jag brukar alltid ha ett eller två i väskan i fall att. Och i början av året använde jag TBS Lip Balm i Cranberry Joy – men själva förpackningen är för bulkig att lätt stoppa ner i byxfickan, vilket jag behöver kunna på jobbet. Dessutom känns det som att Burt's Bees-läppisen mjukgör och återfuktar medan TBS-läppisen känns mest som en tillfällig lösning. Liten och bra förpackning, skön formula och luktar najs!
Bästa Läppenna Maybelline Color Sensational Color Drama
Då jag inte brukar använda "vanliga" läppennor speciellt ofta har jag heller ingen favorit, men eftersom dessa knubbiga pennor/läppstiftspennor är en slags kombination av penna och stift så de får ligga i denna kategori. Men nog om det, superhärliga läppennor som sitter som berget, även genom mat och dryck! Otippat nog är mina favoritfärger den mörklila "Berry Much" och knallröda "Light It Up".
Bästa Läppstift L'Oréal Pure Reds Exclusive Lipsticks
I November fick jag förhandsvisning av dessa läppstift och jag blev helt kär med en gång! Matta stift med riktigt bra pigmentering och hållbarhet i tre fina färger. Och hylsan… den fina hylsan. Ja, även att jag köpte ett YSL-läppstift som jag också älskar så dunkar mitt hjärta väldigt mycket för dessa!
Bästa Läppglans IsaDora Twist-Up Gloss Stick – 28 Wine Red
Jag är inte ett jättefan av endast läppglans, speciellt inte kladdiga sådana med en skumapplikator. Då gillar jag Twist-Up modellen bättre, enklare och mindre kladdigt. Och just denna färgen är det älsk på!
Naglar
Bästa Nagellack L'Oréal Color Riche Pure Reds Exclusive Collection – Blake's Pure Red
Det var inte förrän nu under sista kvartalet jag tyckte att det blev roligt att måla naglarna igen och detta lack, alltså ni ser ju här ovanför. SÅ. JÄKLA. SNYGGT!
Bästa Baslack N/A
Har tyvärr inte testat något nytt baslack under året. Tips på bra baslack någon?
Bästa Topplack L'Oréal Color Riche Le Vernis Top Coat
Roliga och annorlunda topplack med både glitterflakes, stavar och annat kul i olika färger. Jag gillar färg och form så förutom de traditionella glitter-topplacken så är detta ett kul alternativ.
Bästa Nagelvårdsprodukt The Body Shop Sweet Almond Oil Nail Varnish Remover
Jag har tyvärr inte testat så mycket nagelvårdsprodukter, men denna nagellacksremover från TBS innehåller bl a. sötmandelolja och sojaolja vilket känns vårdande och produkten är inte alls uttorkande.
.
Vad är dina smink- & nagelfavoriter för 2014? Har du några tips till mig inför 2015?