The Body Shop utökar nu sin Hampaserie med Hemp Soap on a Rope som släpps den 26:e december och vill uppmärksamma hela serien i samma veva. Serien innehåller rejäla doningar för riktigt torr hud. Hemp Hand Protector spelar huvudrollen i den ikoniska Hampaserien och är en internationell bästsäljare på The Body Shop.
"Hemp is hope, not dope"
"Hampfröolja är en av de mest näringsrika naturliga ingredienserna som kan användas på huden. Den Community Fair Trade-producerade hampfröoljan som The Body Shop använder har höga halter av essentiella omega 3- och omega 6-fettsyror och gör Hemp-serien pålitlig för riktigt rejäl fuktighetsbevaring, även till de torraste av hudar."
Hemp Soap on a Rope, 125 SEK
Fuktighetsbevarande hampfröolja levererar effektiv rengöring som inte torkar ut. Häng upp den här maffiga tvålen att torka på sitt snöre efter användning, så håller den sig ren och fräsch hela vägen.
.
Övriga sortimentet
Hemp Face Protector 50 ml, 160 SEK
Hemp Lip Protector 4.2 g, 75 SEK
Hemp Body Butter 200 ml, 185 SEK
Hemp Hand Protector 100 ml, 130 SEK
Hemp Intensive Hand Butter 100 ml, 140 SEK
Hemp Foot Protector 100 ml, 130 SEK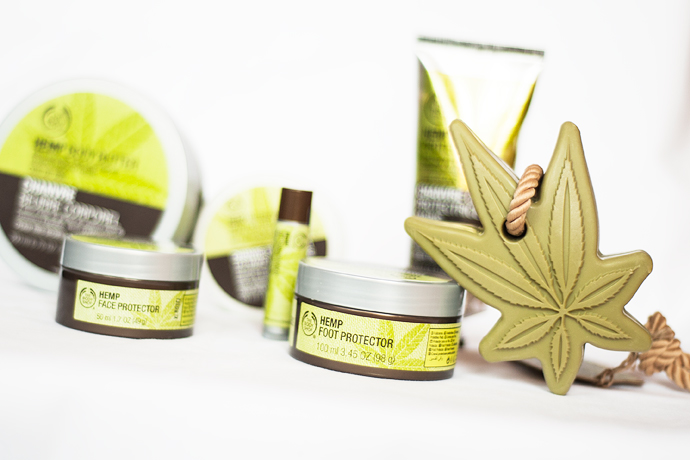 Jag har endast testat Hemp Hand Protector innan och var inte alls förtjust i doften. Kan säga att jag fick en smärre chock när jag öppnade paketet och slogs av en hejdundrande migrän… inte bara första gången – utan både andra- och sedan tredje gången när jag fotade produkterna.
Så tyvärr kommer jag nog inte kunna använda dem alls utan att bli sängliggande eller överdosering av migränmedicin. Å andra sidan får jag varken torr hud i ansiktet eller på övriga kroppen – snarare tvärt om! Så serien går nog till någon bättre behövande torris.
Har du testat någon av produkterna från The Body Shop's Hampaserie?

.
The Body Shop Hemp finns att köpa på thebodyshop.se eller i butik (förutom Soap on a Rope som lanseras 26:e december).