Har tyvärr åkt på någon slags förkylning med feber och ont i bihålorna, vilket gjort att inläggen ligger lite efter…

Andra dagen i London var full rulle från morgon till kväll med föreläsningar från Apoteket AB, L'Oréal Paris, GlossyBox, Vita Liberata och REN Skincare och sedan en fantastisk middag på Hakkasan Hanway Place.
Apoteket AB
Först ut var Pär Svahnberg, doktor i organisk kemi, som gav oss en rejäl kemilektion. Han pratade om att naturen är en stor kemikalefabrik och att vi associerar syntetiskt med något dåligt, vilket inte alltid stämmer. Han visade även INCI i en vanlig passionsfrukt och ett äpple – skulle vi verkligen äta dessa frukter om vi såg alla ingrediener som finns i? I ett äpple finns bl a. Isobutanol (kan orsaka irritation i luftvägarna), Formaldehyd (misstänks kunna orsaka cancer) och Acetofenon (giftigt vid förtäring). Allt handlar om halter och doser, allt är farligt i höga doser.
Vi pratade även om parabener och sulfater. "Parabenfritt" är någonting som blossats upp på senaste tiden, men vet man egentligen vad parabener är och hur et fungerar? Eftersom i princip allt innehåller vatten så finns där även svamp och bakterier, parabener är konserveringsmedel som finns där av en anledning, inte av ondo. Parabener har heller ingen som helst påverkan på hur din produkt fungerar.
Sulfater är det som finns i rengöringsprodukter, t ex. schampo för att det ska löddra och göra håret rent från stylingprodukter och fetter.  Och om man tar bort parabenerna och sulfaterna, vad har man då ersatt det med och är det verkligen bättre? Något att tänka på…
Åsa Asplund berättade sedan om Apotekets spännande nyheter; bl a. Apoliva Argan & Almond som är en lyxig SPA-inspirerad kroppsserie där oljan kommer från deras odlingar och tas endast från frukten, vilket betyder att inga träd skövlas. Samt Apoliva Ört & Natur, en fotvårdsserie med dofter av lavendel, apelsin, salvia och citronmeliss.
Sist men inte minst kommer även Försvarets med lite nyheter och uppdaterad design.
L'Oréal Paris
Maria Mossenberg började med att dra lite historik och även berätta om deras ambitioner och framtidsmål. L'Oréal grundades av forskaren och kemisten Eugène Schueller 1909 och idag är de ett av världens största kosmetikföretag med 30 internationella varumärken i 130 länder.
L'Oréals hållbarhetsvision är spännande och de jobbar bl a. med att skapa en bättre framtid genom nya smarta lösningar (utveckling av ett schampo som ska kunna sköljas ut med en liter vatten istället för genomsnittets 7 liter), mindre koldioxidutsläpp, mindre vattenkonsumtion och mindre avfallsmängder.
De tar även del av ett stort socialt ansvar där de har flera olika program som; Look Good Feel Better – där kvinnor som behandlas för cancer får möjlighet att delta i workshops i hudvård och make-up. Hairdressers against AIDS – är ett globalt utbildningsinitiativ grundat av L'Oréal och UNESCO i syftet att stödja arbetet mot spridningen av AIDS. L'Oréal Citizen Day – dagen då alla medarbetare världen över, frivilligt deltar i olika välgöenhetsaktiviteter.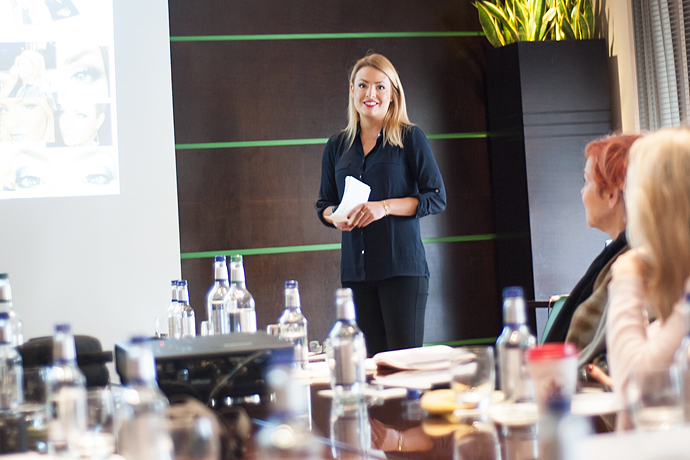 Johanna Djerf berättade om två härliga kollektioner som kommer till jul; Exlusive Collection som består av matta härliga röda läppstift med tillhörande nagellack framtagna av deras talespersoner Blake Lively, Doutzen Kroes och JLo.
Nyårslooken heter Diamantissime Imperial skapad av Karim Rahman – L'Oréal Paris internationella makeup designer och består av en samling urhärliga produkter! (jag kommer att visa kollektionerna i egna inlägg framöver med mer information)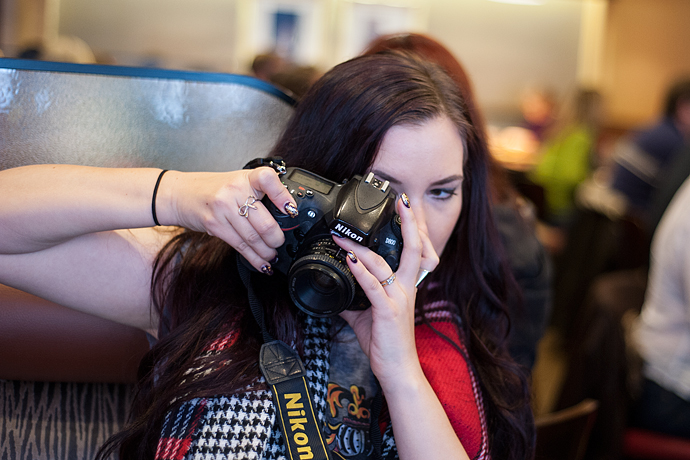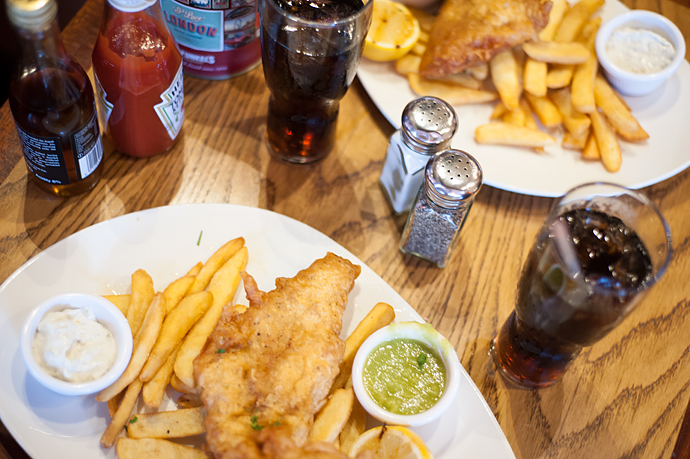 Jag och Ida tog oss en lunch på Garfunkel's och var givetvis tvungna att testa Fish & Chips.
Glossybox
Beauty Director Victoria Senkpiel berättade om hur företaget har byggt upp sitt varumärke genom "storytelling". Alla boxar har ett tema och det finns alltid en baktanke med produkterna som läggs i boxen. Glossybox finns idag i 10 länder och det är framförallt tack vare trovärdiga bloggare som fått det att sprida sig – "word of mouth"-metoden är effektiv!
Vi fick även några sneakpeaks på vad som komma skall; nytt för Sverige blir Clarinsboxen som släpps idag och innehåller fem produkter från Clarins. Decemberboxen blir en designbox skapad av Maria Nilsdotter som kommer veckan före jul. Nästa år kommer vi även få se en kärleksbox i februari, en box med sin första fotografidesign i mars, ett samarbete med Carolina Gynning i juni och en Frankrike-box . Spännande va?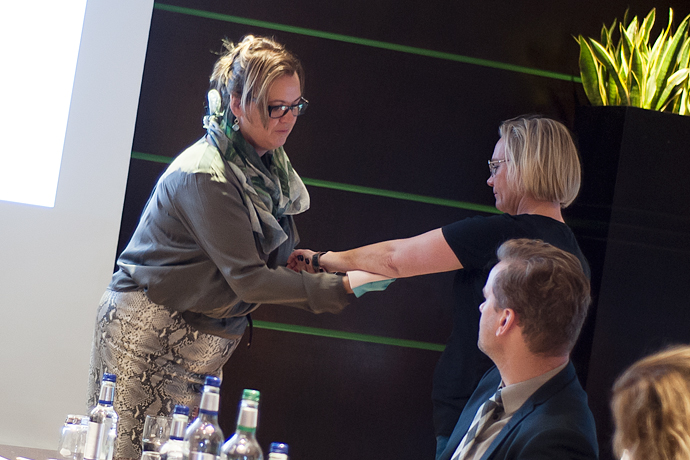 Vita Liberata
Grundaren Alyson Hogg presenterade företaget och berättade grunderna till varför hon skapade produkterna. Hon var helt enkelt trött på orangea illaluktande, tidskrävande och klibbiga BUS-produkter som fanns på marknaden och fick då tillfälle att skapa sina egna produkter.
Vita Liberata beskriver sig som "luxuty tan for busy women" och det som gör produkterna speciella är att Aloe Vera är en nyckelprodukt för att återfukta huden, innehåller inte alkohol eller parfymer och innehåller en balans av DHA som färgar alla tre aminosyrorna i huden som ska ge ett jämt och naturligt resultat.
Nytt är Capture the Light Illuminating Skin Finish är som en slags BB-cream för huden och ger massor av lyster. Denna produkt är bra för ojämn hudton, åderbråck eller bara vill ha en snygg glowig hud! Resultatet är temporärt och försvinner vid dusch. Super Dark Tinted Tan Mist är skapad för mörkhyade eller för de som vill ha ett supermörkt resultat med en gång.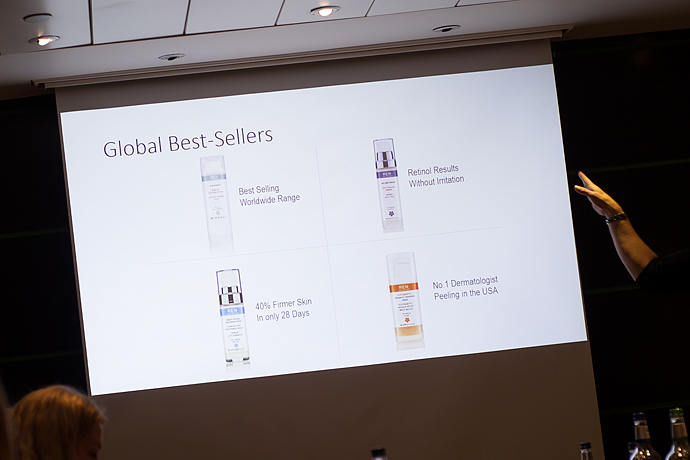 REN Skincare
Sist men inte minst var det innovativa hudvårdsmärket REN Skincare's tur. Skapat i syfte att alla ska kunna använda hudvårdprodukterna, även gravida. REN finns idag i över 50 länder och Richard Hedman, country director på Pagro AB, pratade om deras utveckling under det senaste året och skämtade även om att det till och med finns i Vatikanstaten eftersom "Påven också vill vara REN".
REN Skincare har en marknad för alla, oavsett kön, ålder eller hudtyp. De har också valt bort många ingredienser eftersom de tycker att vi har själva rätten att välja vad vi vill använda i ansiktet och inte. Visste du att en vanlig kvinna använder ca. 300 ingredienser i ansiktet varje morgon? De strävar efter att utveckla avancerad och högteknologisk hudvård baserad på ingredienser som är snälla mot huden.
Foto: Ida Eriksson
Efter konferensdag 2 vandrade jag och Ida till Waterloo Bridge och fotade lite. Så vackert!
Kvällen avslutades på den prisbelönta kinesiska restaurangen Hakkasan. Otroligt god mat (här ovan ser vi bland annat en riktigt god "duck salad"). Under kvällen var det uppstyrt platsbyte för att vi skulle få prata med så många som möjligt vilket var väldigt uppskattat.
Tack åter igen Kicki Norman och Sam Bergenstråle för ett otroligt bra jobb med denna resa, detta är något jag kommer att leva på länge! ♥
*inlägget innehåller affiliatelänkar