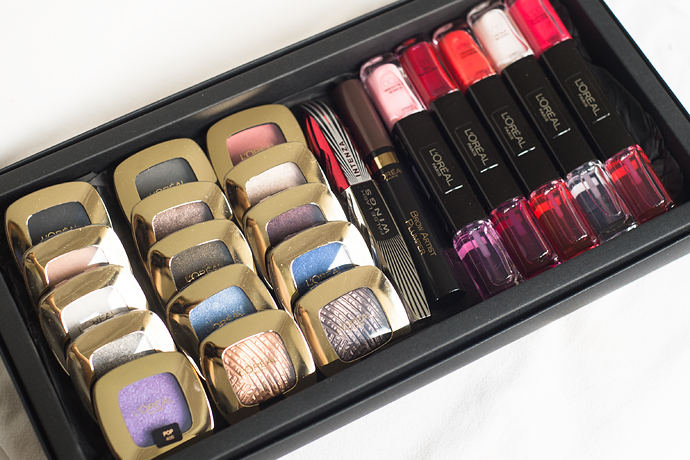 Tillsammans med nyheterna från Maybelline trillade det även ner lite nyheter från L'Oréal, som har satsat på bl a. en ögonbrynsplumper, nagellack som ska ge en salongslik manikyr och singelögonskuggor.
Infallible Nail Polish, 99 SEK
Ny 2-i-1 lösning för en salongslik manikyr, kompromisslös glans i upp till 12 dagar och efterliknar finishen av ett gellack som görs på salong (lägg på ett nytt lager överlack varannan dag) som du lätt gör hemma själv i 2 enkla steg. Kommer i 15 härliga nyanser.
001 Stay Nue
002 Gris Eternel
003 Timeless Taupe
005 Irresistible Bonbon
006 Double Entendre
007 Ocean Infini
008 Iconic Indigo
010 Keep Magenta
011 Red Infaillible
012 Forever Mink
013 Orange Extreme
016 Forever Burgundy
017 Petale Revival
020 Fuchsia For Life
021 Always A Lady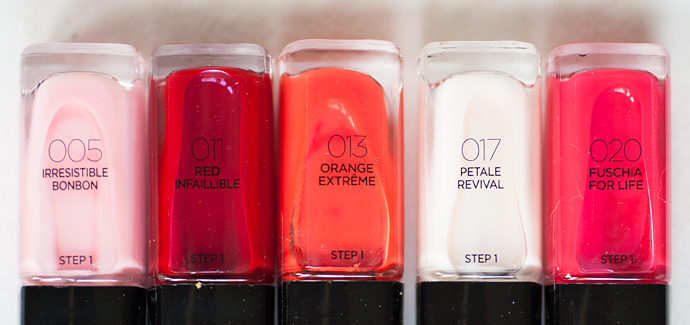 005 Irresistible Bonbon, 011 Red Infaillible, 013 Orange Extreme, 017 Petale Revival, 020 Fuchsia For Life
Brow Artist Plumper, 99 SEK
Vare sig du vill tämja dina tjocka ögonbryn eller ge mer definition till tunna bryn är det enkelt för alla att skapa säsongens djärva ögonbrynslook. Den precisa miniborsten ger perfekt mängd formula och låter dig skulptera dina bryn. Produkten med den färgade formulan innehåller även 1,2 mm fibrer för att fylla ut dina ögonbryn och ger en matt effekt utan att kladda eller stelna. Kommer i två varianter.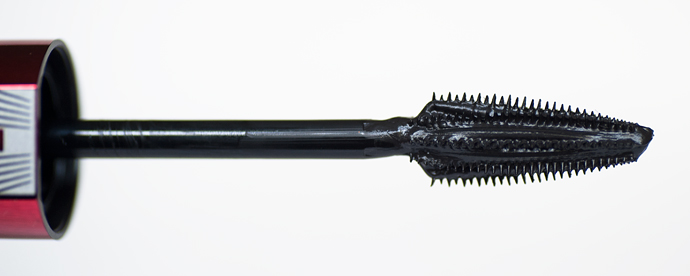 False Lash Wings Intenza Mascara, 175 SEK
En uppdaterad version av storsäljaren False Lash Wings kommer nu Intenza med en ny specialdesignad assymetrisk dubbelborste som sprider ögonfransarna utåt som fjärilsvingar. Den unika formulan tillför volym och extrem intensitet.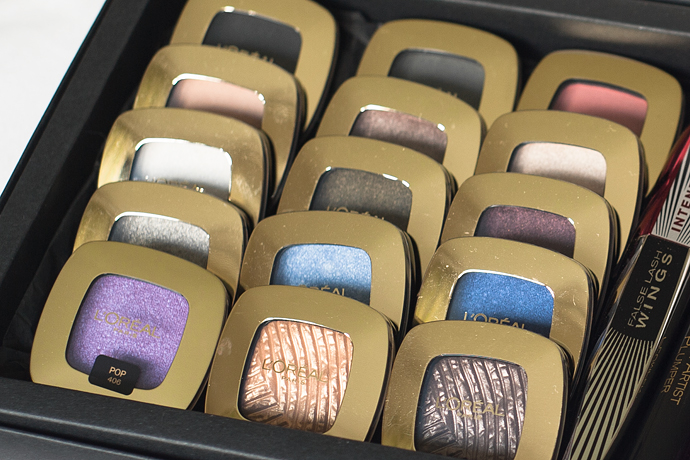 Color Riche Les Ombres Monos, 99 SEK
Ögonskuggor i puderform med gelteknologi, för ett hållbart resultat och enkel att applicera. Lanseras i 15 fantastiska skimrande och matta nyanser med intensiv färg och lång hållbarhet för att du ska kunna skapa just den look du vill ha. Välj bland de 5 familjerna; Matte, Nude, Smoky, Pop och Luminére. 3 av skuggorna släpps i begränsad upplaga.
Matte
100 Noir C'est Noir
101 Macadam Princess
104 La Vie En Rose
107 Macaron Vanille
Nude
200 Over The Taupe
206 Little Beige Dress
207 Snow In Megéve
Smoky
301 Escape In Bordeaux
305 Kaki Repstyle
306 Place Vendôme (Limited Edition)
Pop
404 Blue Jean (Limited Edition)
405 The Big Blue
406 Mauvie Star (Limited Edition)
Luminére
500 Gold Mania
502 Quartz Fumé
100 Noir C'est Noir, 101 Macadam Princess, 104 La Vie En Rose, 107 Macaron Vanille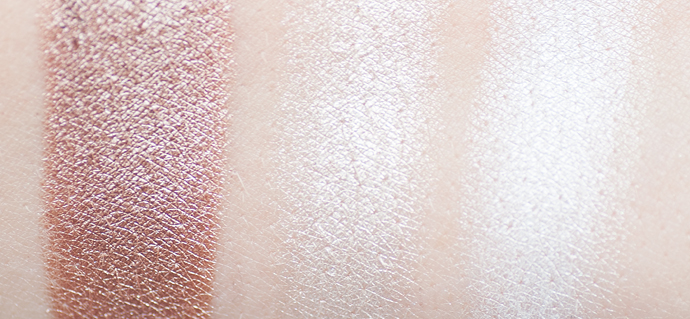 200 Over The Taupe, 206 Little Beige Dress, 207 Snow In Megéve
301 Escape In Bordeaux, 305 Kaki Repstyle, 306 Place Vendôme (Limited Edition)
404 Blue Jean (Limited Edition), 405 The Big Blue, 406 Mauvie Star (Limited Edition)
500 Gold Mania, 502 Quartz Fumé
Riktigt roliga nyheter, speciellt för mig som älskar ögon- & ögonbrynsprodukter! Ögonskuggorna (ja, till och med de matta!) är väldigt krämiga och enkla att jobba med. Jag har kärat ner mig speciellt i Smokyfamiljen – perfekta höstfärger! Nagellacken ska bli kul att testa och se hur de fungerar, och för oss som sällan använder orangea och röda lack, finns de också i blåa-, bruna- och taupenyanser som ser riktigt fina ut.
Kommer du spana in några av nyheterna?
L'Oréal's nyheter finns ute i butik nu och kan köpas på ICA, Åhléns, Coop, City Gross och H&M.
*pressutskick