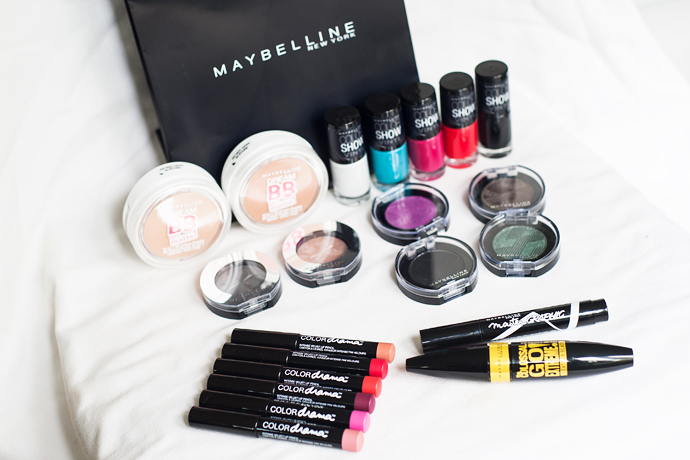 För någon vecka sedan hämtade jag ut lite nyheter från Maybelline, ni har säkert sett en del av dem på de andra skönhetsbloggarna. Nyheterna består av härliga läpp-pennor, en spännande eyeliner, nagellack med semimatt finish, BB Creme-puder osv.
Color Show Vinyl, 39 SEK
Nagellack med soft touch partiklar som ger den ultimata gummikänsla och semimatta finish som vinyl har. Dessa 5 höstiga färgerna är Limited Edition.
400 Grey Beats
401 Teal The Deal
402 Pink Punk
403 Record Red
404 Black To The Basics
Colossal Go Extreme! Leather Black, 145 SEK
Tack vare sen senaste formulan och 20x mer collagen (jämfört med den klassiska Colossal-mascaran) sam den specialutvecklade borsten laddas fransarna med extrem volym och ger dig den djärvaste blicken någonsin.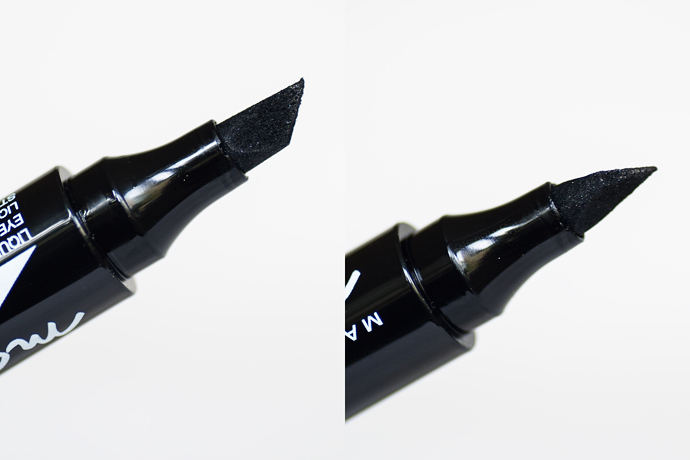 Master Graphic Liner, 99 SEK
Till skillnad från andra klassiska eyeliners har Graphic Liner en unik triangelformad spets som gör det extra enkelt att måla både tunna och tjocka linjer med superskarp kant i ett enda drag.

Dream BB Go Matte!, 119 SEK
Nu kan även du med oljig och fet hy få samma fräscha känsla och jämn finish som en vanlig BB Cream ger med nya Dream BB Go Matte! Maybellines första BB Cream-puder med SPF25 och den unika formulan med återfuktande krämbas som förvandlas till puder vid applicering. Kommer i Light och Medium.
Color Show Monos, 89 SEK
Color Show kommer i 9 härliga nyanser med 3 olika familjer av slutresultat; Vava Velvet för en sofistikerad matt look, Sleekest Satin för en silkesskimrande finish och Magnetic Metals för en lyxig metallskimrande effekt – så att du kan skapa just den look du önskar.
Vava Velvet
06 Ashy Woods
08 Violet Vice
Sleekest Satin
12 Tiffanys White
13 Soultry Sand
20 Beetle Green
21 Nidnight Navy (lanseras v. 50)
22 Blackout
Magnetic Metals
34 Lustrous Beige
38 Silver Oyster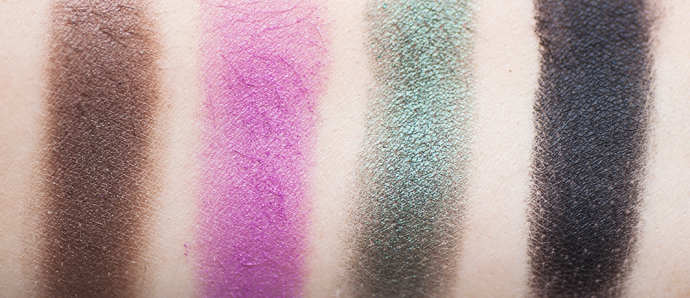 06 Ashy Woods, 08 Violet Vice, 20 Beetle Green, 22 Blackout
34 Lustrous Beige & 38 Silver Oyster
Color Sensational Color Drama, 89 SEK
Med dessa läppstiftspennor är det enkelt och smidigt att applicera den krämiga formulan med intensiva kohlpigment och få de mest sammetslena och heta läpparna! Välj mellan 8 chockerande färger.
130 Love My Pink (lanseras v. 42)
140 Minimalist
150 Fuchsia Desire
210 Keep It Classy  (lanseras v. 42)
310 Berry Much
410 Fab Orange
520 Light It Up
630 Nude Perfection

140 Minimalist, 150 Fuchsia Desire, 310 Berry Much, 410 Fab Orange, 520 Light It Up, 630 Nude Perfection
Har definitivt hittat många härliga favoriter bland dessa nyheter! Mono-skuggan Beetle Green är helt fantastisk, Graphic Liner är en av de enklaste eyeliners jag någonsin testat och jag bara kastade mig över Berry Much-pennan. Och även att jag inte var jättesugen på Grey Beats-lacket så var jag tvungen att testa det först och jag gillar det faktiskt. Superhärliga nyheter tycker jag ♥
Har du testat några av nyheterna eller är du sugen på att testa något?
.
.
Maybelline's nyheter finns ute i butik nu och kan köpas på ICA, Åhlens, Lindex, Cubus och H&M.
*pressutskick