På onsdag släpper The Body Shop sin nya bad- och kroppsserie Wild Argan Oil och jisses vilka härliga höstprodukter som kan användas från topp till tå! Förra årets höstserie Honeymania älskade jag och Wild Argan Oil ligger hack i häl. Jag skulle beskriva doften som en söt blommig och nötig doft. För min näsa är mängden doft alldeles lagom.
Som flera skönhetsbloggare redan påpekat har arganoljan hamnat långt ner på ingredienslistan och innehåller istället en stor del andra oljor som ricin-, oliv- och sötmandelolja. För mig har det egentligen ingen större betydelse då jag gillar både doften och konsistensen på produkterna, men rent praktiskt ville jag informera er om det ändå.
Arganolja är väletablerad inom skönhetsindustrin, och då främst inom hårprodukter och kallas för "oljornas drottning". Djupt nere vid de låga kullarna av Atlasbergen i Marocko finns det vildvuxna arganträdet – det enda området i värden där trädet frodas på naturlig väg. I århundraden har de berberska kvinnorna använt arganolja, som en traditionell del av deras hamamskönhetsritualer, för att skydda och vårda hår och hud.

The Body Shop arbetar i nära samarbete med Targanine, ett lokalt kooperativ skapat av kvinnor, för kvinnor, i syfte att hitta köpare av deras olja, ge teknisk support och för att utveckla industrin i en positiv riktning.

Genom att handla hos The Body Shop hjälper du till att stärka lokala berberkvinnors självkänsla, då de kan förse sin familj med en stabil inkomst samtidigt som de får möjlighet att fördjupa sina vänskapsrelationer med andra kvinnor i kooperativet.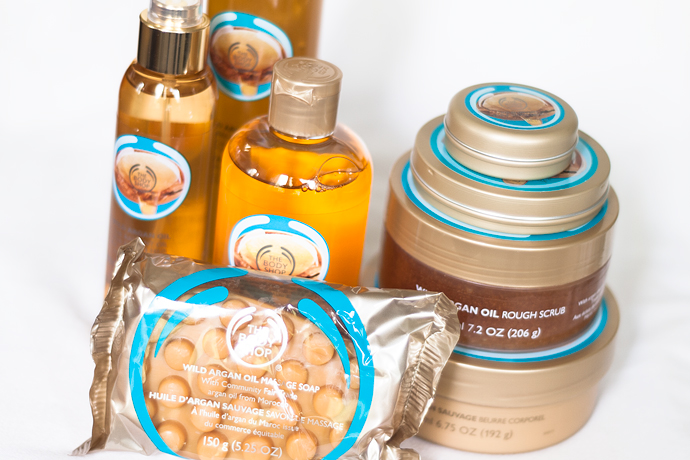 Wild Argan Oil Bath & Body består av
Massage Soap (75 SEK / 150 g)
Bubbling Bath (160 SEK / 250 ml)
The Radiant Oil (225 SEK / 125 ml)
Shower Gel /85 SEK / 250 ml)
Solid Oil Lips (95 SEK / 20 ml)
Miracle Solid Oil (145 SEK / 50 g)
Rough Scrub (195 SEK / 200 ml)
Body Butter (185 SEK / 200 ml)
Body Lotion (155 SEK / 250 ml) – ej med på bild
.
Kommer du att spana in något från denna kollektion?