The Body Shop sätter ibland ihop små kit med produkter som är de mest älskade och mest sålda produkter som är perfekta under respektive årstid. Ikonprodukterna All-In-One BB Cream och Nutriganics™ Drops of Youth ingår i Beauty Must Haves året runt, men den fina rosa lådan innehöll även andra härliga sommarprodukter.
All-In-One BB Cream, 200 SEK
All-In-One™ BB Cream förvandlas från en vit kräm till en vårdande foundation. Hur? Pigmentfyllda kapslar frisätter färgen inuti när krämen appliceras på huden – genialt! Bara applicera för en perfekt matchning och en jämn finish. Med 24-timmars fuktighetsbevarande, är denna All-In-One™ BB Cream makeup och hudvård i ett. Finns i fyra nyanser. Innehåller Community Fair Trade-producerad marulaolja från Namibia som fungerar fuktighetsbevarande.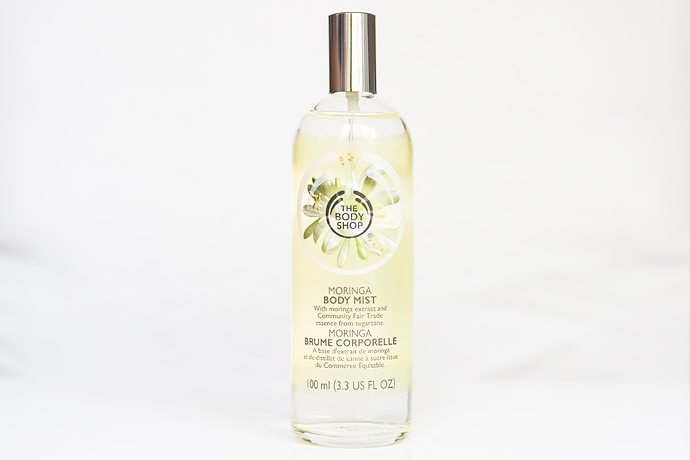 Moringa Body Mist, 125 SEK
Våra Body Mists är framtagna av extrakter ur frukt, nötter och blommor från naturen och innehåller ekologisk Community Fair Trade-producerad alkohol från Ecuador. De är perfekta om du vill ha en lätt och fräsch doft för hela kroppen. Våra Body Mists kommer i 9 härliga dofter; Brazil Nut, Coconut, Strawberry, Satsuma, Mango, Pink Grapefruit, Shea, Moringa och Vanilla.
Nutriganics™ Drops of Youth, 375-495 SEK
Nutriganics™ Drops of Youth hjälper dig att uppnå ungdomlig skönhet och gör att din hy ser slätare, fräschare och friskare ut. Massera in ett par droppar, dag som natt, som ett kompletterande första steg i din dagliga skönhetsrutin. Otroligt, det tar så lite som fem dagar för att se och känna skillnaden. Innehåller ekologisk Community Fair Trade-producerad babassuolja från Brasilien och plantcellsextrakt från strandsilja och bokträdets knoppar.
Lip Gloss, 130 SEK
Våra Lip Gloss fuktighetsbevarar dina läppar, finns i flera fruktiga färger och är fyllda med glittrande lyster. När du bär dessa fruktiga läppglans blir dina läppar superglansiga med en härlig fruktliknande doft. Dina läppar blir mjuka och lena tack vare vår formula som är berikad med vitaminer och ekologisk Community Fair Trade-producerad kokosnötsolja från Samoaöarna. Finns i 11 härliga nyanser; Coconut, Peach, Raspberry, Mint, Lychee, Cocoa, Mango, Strawberry, Pink Grapefruit, Watermelon och Plum.
Aloe Soothing Gel, 150 SEK
Denna produkt har flera funktioner då den både lenar och svalkar samtidigt som den verkar fuktighetsbevarande för huden. Används direkt efter rengöring och ansiktsvatten för att svalka, lena och fuktighetsbevara känslig eller solbränd hy. Kan användas i hela ansiktet eller på delar av ansiktet. Alla våra Aloe-produkter innehåller högkvalitativ Community Fair Trade-producerad aloe vera från Guatemala som hjälper till att svalka och fuktighetsbevara huden.
Super Volume Mascara, 175 SEK
En mascara som sitter länge och ger riklig volym och färg till fransarna utan att smeta av sig. Har både långa och korta strån på applikatorn som är skruvad vilket gör att produkten kan appliceras snabbt och jämnt över fransarna. Passar alla som vill ha dramatiska fransar, även personer med kontaktlinser. Finns i Black, Brown och Cobalt Blue. Innehåller Community Fair Trade-producerat bivax.
Spa Wisdom Polynesia Monoi Miracle Oil, 185 SEK
En mångsidig och lätt olja som inte känns fet. Den kan användas för att smörja in eller massera kroppen, som badolja eller som behandling av håret innan du tvättar det. Oljan har en exotisk, blommig doft. Innehåller ekologisk, kallpressad Community Fair Trade-producerad kokosolja från Samoaöarna som bevarar fukten och hjälper till att göra huden mjuk.
En del produkter har jag testat innan, men några är helt nya för mig. Har redan använt Aloe Soothing Gel på både mig och mannen, sedan är jag supernyfiken på mascaran och oljan.
Har du spanat in någon av TBS Beauty Must Haves?