Denna vecka släpper IsaDora sin nya vårkollektion Ray of Light. Jag blev förälskad vid första ögonkastet. Ljusa härliga pasteller och en hel del nyheter. Jag fick hem större delar av kollektionen igår och har precis fotat och swatchat allting. Shall we?
Eye Shadow Trio 78 Secret Garden – 119 SEK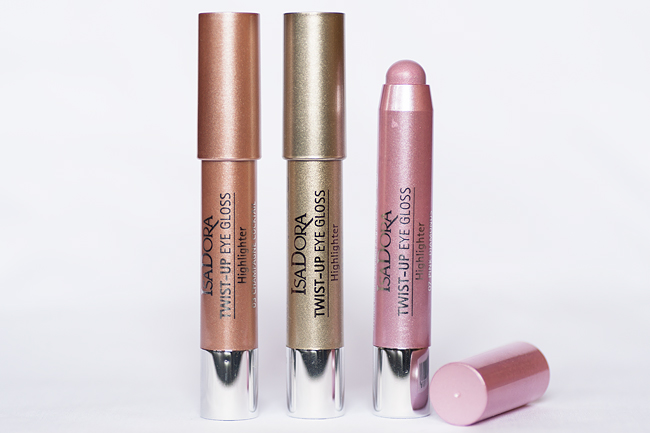 Twist-Up Eye Gloss 03 Champagne, 05 Jet Set, 07 Pink Diamond – 119 SEK
Eye Lighter Contour – 89 SEK
80 Limelight, 81 Pink Opal, 82 Blue Illusion
Colorful Eyeliner 714 Navy Blue – 109 SEK
Twist-Up Blush & Go 80 Spring in Paris, 82 Coral Island, 83 English Rose – 129 SEK
Twist-Up Gloss Stick (12 Baby Doll), 17 Sorbet, 18 Opals – 129 SEK
Perfect Moisture Lipstick 169 Pink Peony – 119 SEK
Wonder Nail 777 Dragonfly, 778 Halo, 779 Glorious, 780 Opaline, 781 Ray of Light – 69 SEK
777 Dragonfly
778 Halo
779 Glorious
780 Opaline
781 Ray of Light
I kollektionen ingår också All Day Long Lash Mascara, Colorful Eyeliner 12 Dark Brown och Perfect Lipliner 29 Candy Pink.
Jag tycker att hela kollektionen är jättefin och jag har faktiskt redan testat en del av produkterna idag och även gjort en första sminkning (som kommer upp i morgon). Det enda jag är lite besviken på är Colorful Eyeliner som jag fick bättra på 3 gånger innan sminkningen var klar, den smular en del under ögonen – inte okej.
Jag blev positivt överraskad av Eye Lighter Contour då jag inte är så förtjust i pennor, men dessa är fantastiskt fina – svåra att fånga på bild dock. Twist-Up Blush & Go i färgen 84 English Rose har redan blivit en favorit, jäklar vilket snyggt rouge!
Vad tycker ni?